Quick and easy super seed granola with chia, flax, hemp, and sunflower seeds (vegan, gluten-free)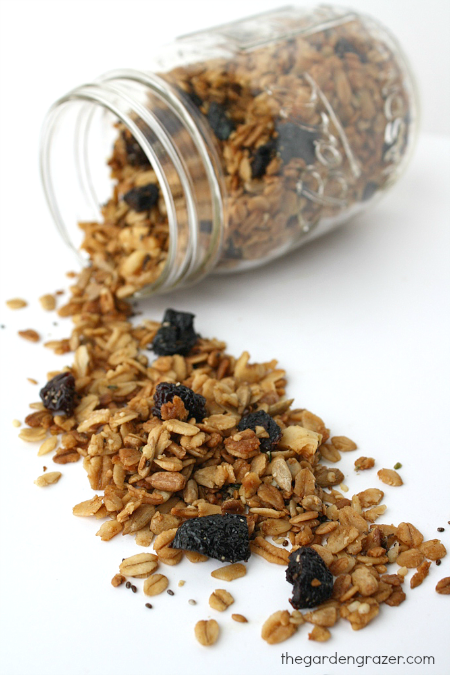 It's no wonder why granola is so popular. It's the perfect, healthy, fast food for breakfast, lunch, or an energy-packed snack. For some reason I didn't get the memo until recently, but am so glad I did because it immediately became a staple in our kitchen. For that I can thank Kare, from
Kitchen Treaty
, who posted an amazing tutorial for homemade granola. It's basically my equivalent of those yellow tutorial books – you know, like "Granola For Dummies" 😉 She broke it down so simply and gave me the spark of confidence I needed to venture into granola-land. I love that it's so EASY to make! My mind immediately took off running with potential combinations. I wanted to do a "super seed combo" with hemp, flax, sunflower, and chia – packed with protein, omega-3's, fiber, and nutrients to help keep us powered throughout the day. It's a family favorite from toddler to husband, and awesome time-saver when we need a quick meal. Be sure to visit Kare to check out the full tutorial in all it's glory! –> 
How To Make Granola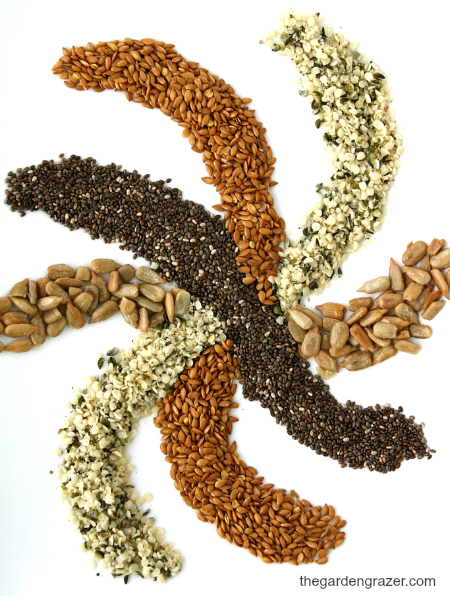 Vegan, gluten-free (with gf oats)
Adapted from Kitchen Treaty
Makes about 5 cups granola (can easily double – it keeps for a month!)
Ingredients
2 1/2 cups rolled oats
1 cup walnuts, finely chopped
1/2 cup sunflower seeds
1/4 cup hemp seeds (I use this brand)
1/8 cup chia seeds (I use this brand)
1/8 cup flax seeds (ground or whole)
1/2 cup maple syrup
1/2 cup coconut oil (or vegetable oil, etc.)
1 1/2 Tbsp. vegan butter (or more oil)
1 1/2 tsp. vanilla
1/2 cup dried cherries
Directions
Preheat oven to 325.
In a small saucepan over low heat, add maple syrup, oil, and butter. Heat until butter is melted, stirring occasionally. Add vanilla.
Meanwhile, in a large bowl, add oats, walnuts, hemp, chia, sunflower, and flax. (Note: dried fruit is added after baking!)
Add liquid from pan to the oat mixture and toss until thoroughly combined. Salt to taste if desired.
On a large rimmed baking sheet, place parchment paper. Spread granola evenly on the pan.
Bake for 30-35 minutes, stirring about every 10 minutes, until granola is golden brown.
After granola cools, add dried cherries.
Stores in a sealed container at room temp for about a month.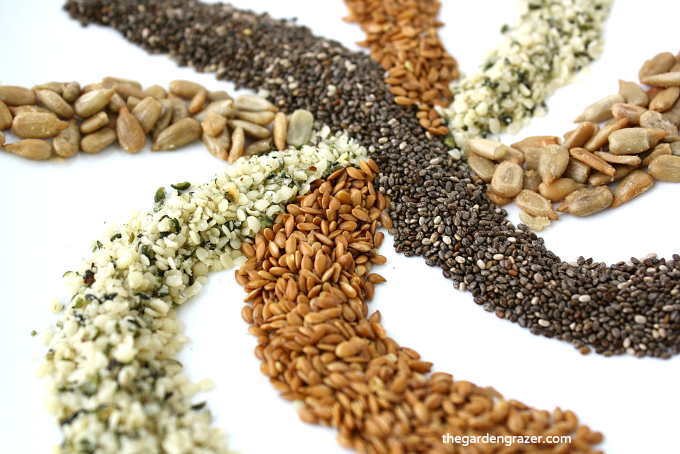 Disclosure: The Garden Grazer is a participant in the Amazon Services LLC Associates Program, an affiliate advertising program designed to provide a means for sites to earn fees by linking to amazon.com and affiliated sites. I only share things I absolutely LOVE and personally use! (There is no additional cost to you in clicking the affiliate link.)