I'm still floating on a cloud of warm-fuzzies after our family field trip on an amazing Heartland Farm Sanctuary tour. After a couple hours watching, learning, and snuggling the critters, I'm tempted to start a full-time position as "volunteer goat-petter". (Please tell me that's a real thing?!) Animals have such a gentle, yet undeniably powerful presence that immediately calms your mind and soothes your soul. As much as the workers and volunteers are doing to help these beautiful creatures, the animals have their own way of giving back just as much in return. Full circle happiness!
Meet The Animals
Entering the barn, we immediately saw Baine scooting around in his wheelchair. (That face, that hair!) He was born with his back legs paralyzed, and a University of Wisconsin Engineering team designed and built this contraption just for him. Update: sadly, Baine passed away in June 2017 due to complications – this sweet little soul will be missed.
Winnie's story captured my heart and I was so excited to meet her in person. We watched her playfully root around the mud before coming over to greet us.
Sweet Daisy and her buddy Beau were happily grazing when we walked down to visit them. My daughter still giggles about Beau giving her a playful lick on the face.
Frosty was calmly gazing over the beautiful grassland – this handsome fella got his name from severely frostbitten ears that caused the tips to fall off. Thankfully he found a beautiful, caring home at Heartland!
My daughter felt an instant connection to Amy, the elderly sheep with arthritis who has free range to roam the barn. Amy's also a big fan of bananas, and my daughter loved feeding her!
Spending some quality time with Opal… while seriously contemplating life as an official goat-petter.
Lola emerged from her cozy pile of blankets to snack on some yummy apples.
Majestic Nilly soaked in the beautiful November sunshine!
Maxine melted my heart with those soft, sweet eyes.
Don't let the soft, fluffy exterior fool you – Frances is a firecracker!
Fonsi and his brother Chachi were happily grazing near the barn during their lunch hour when we strolled over to say hi.
Bertram came over to check us out – hi Bert!
My daughter and I couldn't help but keep snuggling Michael – such a sweetie!
Gracie the goose and Amy the sheep are adorable together – apparently they're best buds and like to stick close to each other.
About Heartland Farm Sanctuary
I first learned about Heartland when they were mentioned in VegNews Magazine. I immediately jumped on their website, and within in hour I was excitedly emailing them; hopeful with the opportunity to set up a tour. The sanctuary is located a little southwest of Madison and it's also the only dedicated farm animal sanctuary in Wisconsin. As stated on their site, they're a "non-profit organization who's mission is to provide care for farm animals in need, nurture people through the human-animal bond, and foster respect and kindness toward animals and each other." If you're ever in the Madison area, I highly recommend making it part of your visit!
Human-Animal Connection
The connection between people and animals is a powerful, beautiful thing. Heartland also puts heavy emphasis on creating this bond through programs designed to provide meaningful therapeutic activities for vulnerable youth and others. It certainly left a lasting impression on us – my daughter continues to talk about the farm and animals, and I still think about their sweet faces and stories.
Thanks to the Farm
A big shout out and special thanks to Sarah for taking time out of her day to be our amazingly awesome tour guide.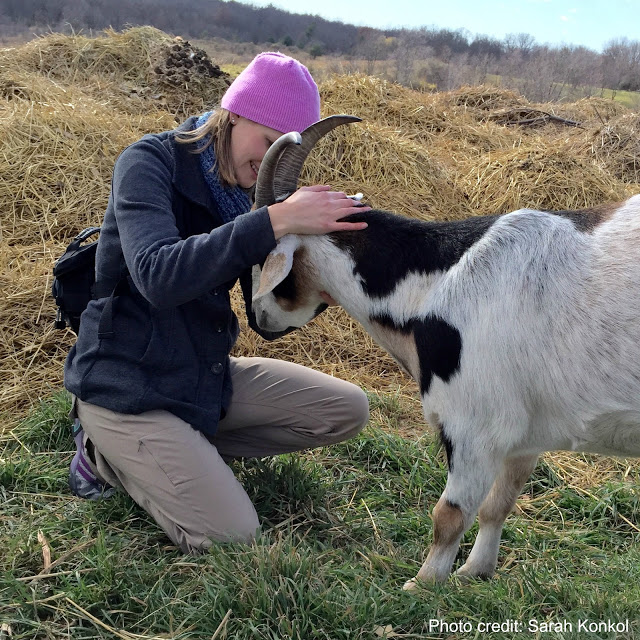 If you enjoyed this Heartland Farm Sanctuary Tour, you may also like my charity:water post as well! (Another organization that's near and dear to my heart.) Or also my June 2018 Updates lifestyle post.