We love these easy, nutrient-packed, vegan Lentil Spinach Burritos! Great for busy weeknights.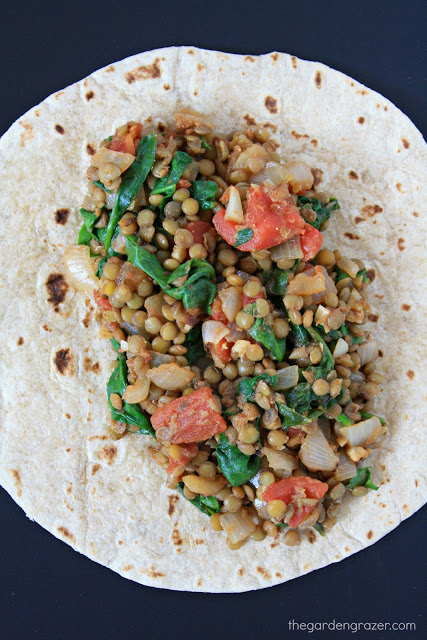 These easy, 8-ingredient burritos are perfect for busy weeknights! They're packed with plenty of healthy plant-fuel to keep your body happy and energized. (It's similar to my
Lentil Spinach Soup
, but in burrito form – YES!) I actually posted this recipe years ago, but I love to revisit them and make little tweaks as necessary. We make this dish often because it's so simple, flavorful, and pleasantly filling. Plus lentils are an incredible source of protein, fiber, and nutrients (and so inexpensive!) I also love pulling the leftovers out of the fridge for quick snacks as a protein-packed chip dip!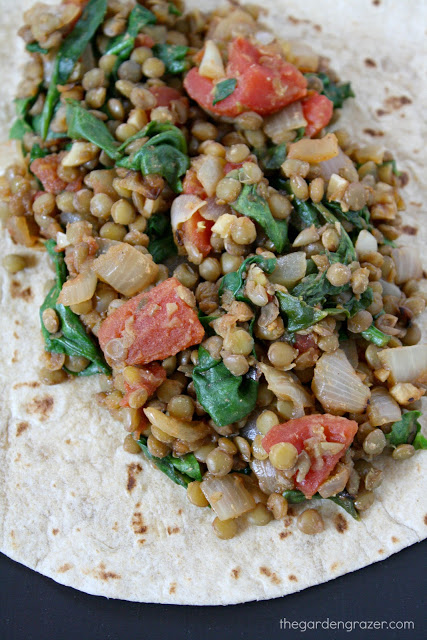 Vegan, gluten-free (with gf tortillas)
Serves about 4

Ingredients
1 1/4 cups dried brown lentils
15 oz. can diced tomatoes
3 oz. baby spinach (I often double this)
4 cloves garlic
1 medium onion
2 tsp. cumin
1 tsp. oregano
4-5 tortillas
Salt to taste
Optional: change it up with other spices; cumin & smoked paprika is an awesome combo as well!
Directions
Cook lentils: pour about 5 cups water and lentils in a saucepan. Bring to boil, cover, reduce heat to low. Simmer for 20 minutes or until tender. Drain well in a colander.
While lentils are cooking, dice onion and mince garlic.
In a large skillet over med-high, saute onion for 7-8 minutes.
Add garlic, cumin, and oregano. Saute for 1 minute.
Reduce heat to med-low. Add cooked lentils and tomatoes with juice. Heat for 10 minutes, stirring occasionally.
Stir in spinach and let cook 1-2 minutes to slightly wilt. Salt to taste.
Spoon the mixture onto tortillas, and top with more fresh spinach if desired. Roll up tightly, tucking in one or both ends.
More lentil lovin'!