Ten of our very favorite easy vegan soup recipes that are satisfying and nutrient-packed!
Don't get me wrong, I love summer and playing outdoors but I get just as excited for chilly "hunker down" weather. Cozying up in front of the fire, watching fluffy snow flakes fall, and hugging warm bowls of comfort food is SO GOOD for the soul! In winter, my days are basically soup + matcha on repeat . Here are some of my favorite go-to soups (well, technically 7 soups, 2 chilis, and a chowder). Soup is wonderfully versatile, so have fun playing around with the recipes! They all make great take-along lunches to easily reheat, and awesome leftovers. Grab a blanket, get cozy, and enjoy!
Let's start with this crowd-favorite and super versatile veggie soup! Follow the recipe, or use it as a "base recipe" and throw in whatever you have on hand. Quinoa, rice, and beans are awesome additions for a protein boost!
"I made this the other night. I kept out mushrooms, carrots, corn, and peas and added yellow squash. The meat eaters (aka fiance and friends) asked for the recipe!! It was so good and easy to make. I will be holding on to this recipe for chilly nights." -Jen P.
"Made this for a second time! Have to say I'm only a good cook because I know my way around following a good recipe. Without one I don't even dare enter the kitchen! However, tonight I didn't even MEASURE the veggies this time!! Crazy right?! It was just so good the first time, I knew even I couldn't get this wrong! Big thanks for the recipe and boost in confidence." -Stephanie W.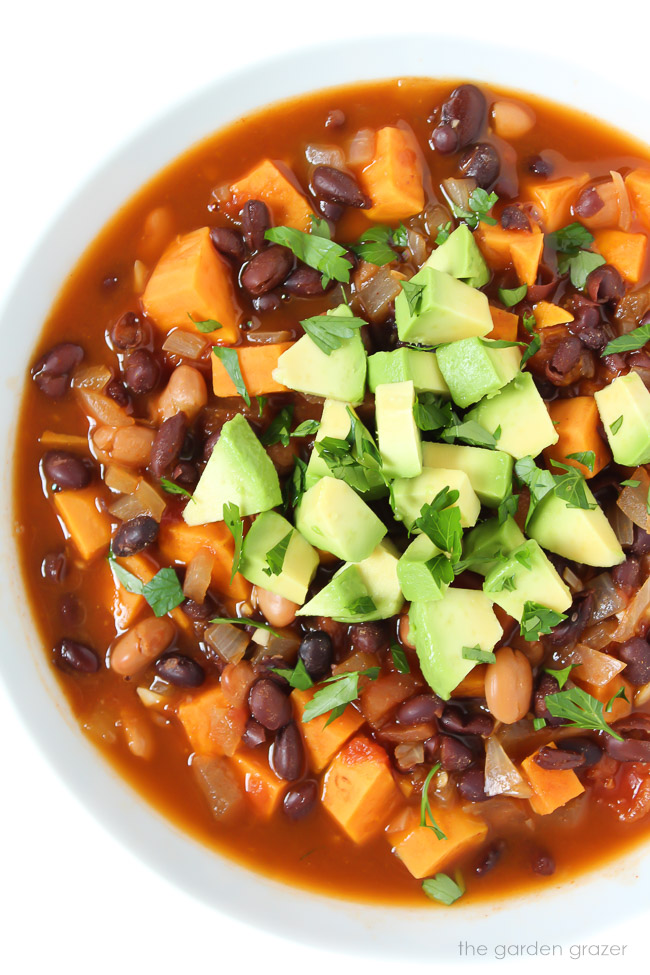 I'm prone to loving just about any (plant-based) chili, but I admit this is my personal favorite! The sweet potatoes are such a natural fit, and provide a great nutrient boost 🙂

"This is my favorite chili – hands down. Love it. Heartiest vegetarian chili I have had. A+!" -Laura B.

"I love this chili recipe. I've used it so many times for family and friends." -Molly S.
My favorite go-to lentil soup recipe! It's a budget-friendly meal that doesn't skimp on taste or nutrition.

"Thank you so much for the recipe. It is so healthy and delicious. I doubled the recipe for lunches at work!" -Elizabeth S.

"What a wonderful soup! My whole family likes it. I even made a vegan home made broth for it. It's cost effective and the ingredients are readily available." -Wendy D.
If you're in a time crunch, this savory chili comes together in about 30 minutes! A great go-to chili that's easy to modify.

"I've made this chili 2 times now and it's been delicious both times. Great recipe!" -Lily

"Great flavor! I added one small can of corn and 1/2 package of Boca Veggie Crumbles and a little extra water. Everyone in the family from the 25 year old to the 85 year old loved it. It is replacing the recipe I've used for the past 30 years!" -MMR
This soup totally reminds me of a vegan version of classic beef stew! The textures and flavors are SO hearty and comforting. We love it even more the next day after the flavors intensify 🙂
"I made this last night and it was so delicious and filling. Thank you!" -Katherine E.

"My husband just loved it! I didn't have spinach, but we didn't miss it at all. I used fresh parsley and celery instead. Thank you for the recipe!" -Aura L.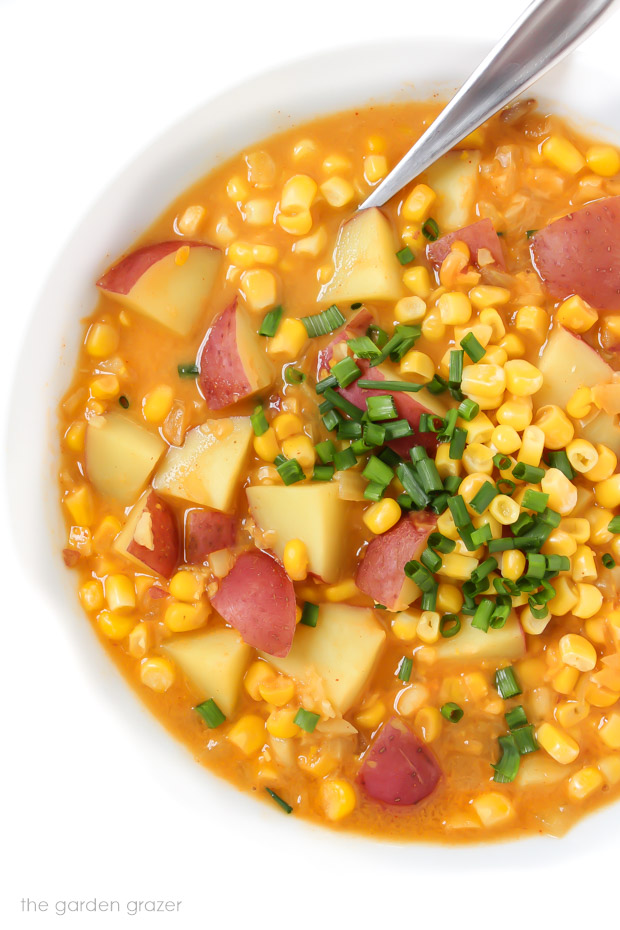 Rich, creamy, cheesy, and 100% plant-based! The golden broth is PACKED with flavor from smoked paprika and nutritional yeast – and it's only 8 simple ingredients! I've made this for a few different get-togethers and it's always a hit 🙂
This is one of my most-made meals of all time. SO perfect for busy nights! You can still get a satisfying, comforting meal on the table in 20 minutes!
It's not too pretty, but I promise the flavor is there! Creamy sweet potato and healthy split peas combined with smoked paprika is pretty amazing. We're huge fans of this nutrient powerhouse meal, and it's actually been my 4-year-old's favorite soup for the past couple years!
Classic chicken noodle soup gone vegan! Bring back the childhood favorite comfort meal with a plant-based twist, replacing chicken with chickpeas.
This is your basic minestrone but with a nutrient boost using quinoa in place of the usual pasta! Feel free to sub back in some pasta if you'd like the classic version – we love it both ways 🙂

"Hi, Kaitlin, I made this last night, and it was delicious! Thanks!" -Nicki E.
Need more plant-based inspiration? Check out my other favorite roundup: