Nothing beats a warm, cozy bowl of soup in the winter! These are my 12 favorite satisfying vegan soup recipes I find myself continually going back to. Great variety if you're looking for some chilly weather comfort!
These are my favorite easy vegan soup recipes to cozy up with all winter long. (Technically it's nine soups, two chilis, and a chowder but you get the idea.)

All warm, delicious goodness that I hope will bring you comfort and satisfy your winter cravings as well.
Vegan Soup Recipes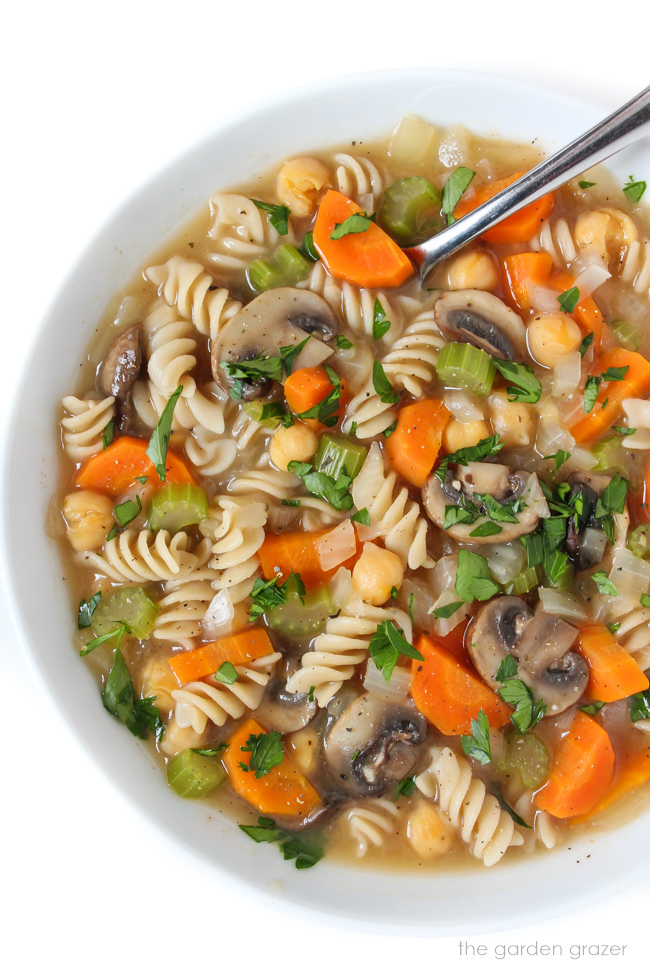 No chickens harmed in the making of this soup! Soothing vegan "chicken-less" Chickpea Noodle Soup. A wonderful comfort meal for chilly days or when you're feeling a little under the weather.
Tacos… but in soup form! Hearty lentils & black beans combine for some awesome (and affordable) plant-based nutrition in this super easy & flavorful meal. It's spiked with a homemade taco seasoning so you can be sure there's plenty of delicious fiesta flavor. (Not to mention family-friendly – everyone can have fun loading theirs up with their own favorite taco toppings!)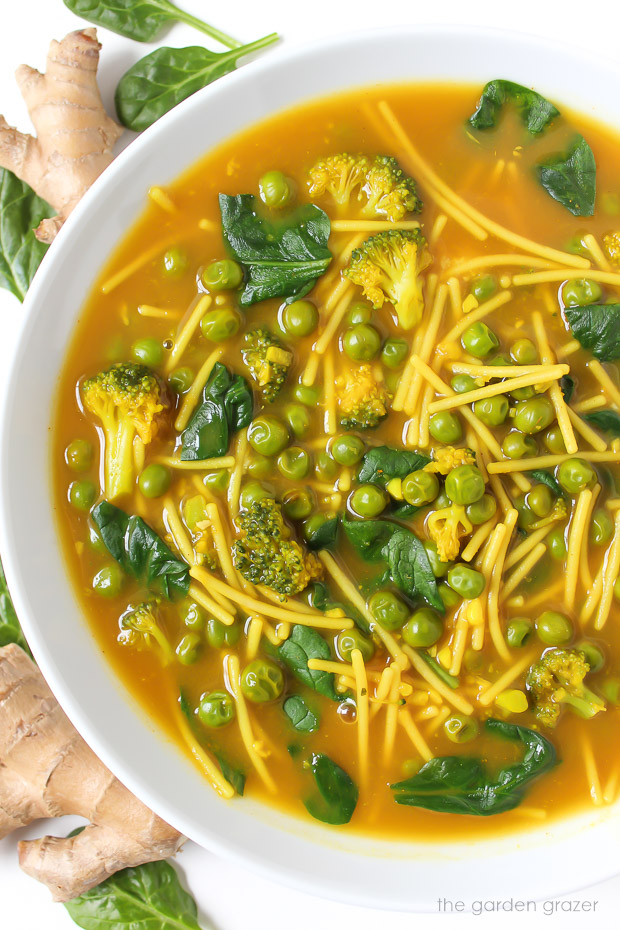 Got the sniffles? (Or looking to avoid the sniffles?) This is the soup we crave most in winter! Filled with nutritious greens + noodley goodness all swimming in a golden broth with bold, warming flavors of garlic, ginger, and turmeric. It feels like a healing magic elixir and is always a huge hit in our house. (Bonus: it looks like bright sunshine in a bowl on those dreary winter days!)
This soup uses a lot of pantry staples so it's always a great meal to throw together when we're low on fresh produce. For a gluten-free option, substitute the orzo with quinoa, rice, or your favorite gf pasta!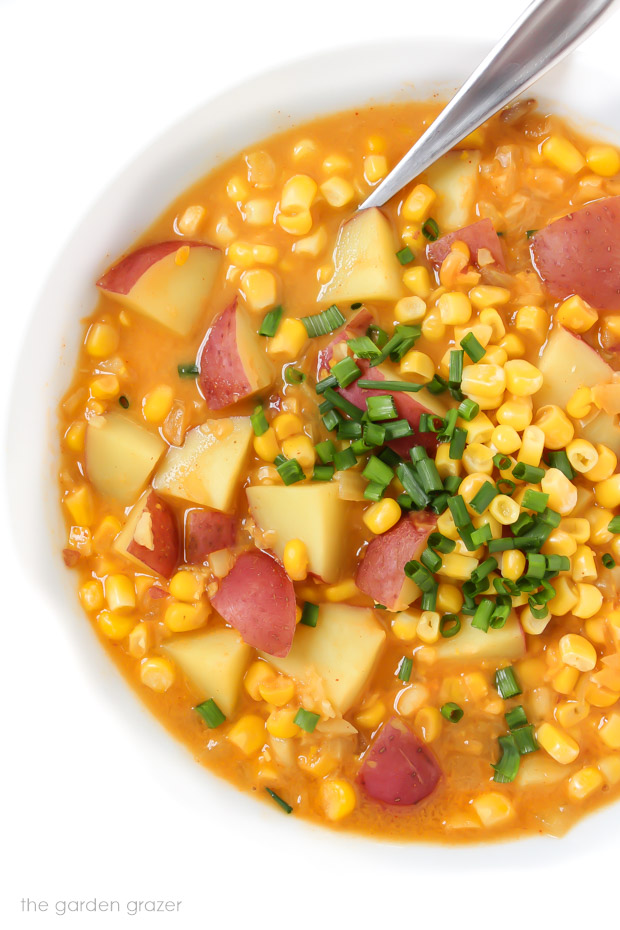 We get pretty excited about this vegan take on classic corn chowder – it's healthier but you'd never know based on the rich flavors. It has the most luxurious, cheesy, golden broth and only 8 (healthy!) ingredients with super easy assembly. One of our favorite recipes!
People rave about avocado toast (I get it, I love it too)… but avocado on chili? Be. Still. My. Heart. This is hands down my most-made chili recipe and we can't get enough. It always seems to be a crowd pleaser with herbivores and carnivores alike!
Not much beats a classic minestrone when you're looking to warm yourself from the inside out. It's basically comfort in a bowl with a beautiful mishmash of veggies, beans, and pasta. And you don't have to wait long – this one comes together in 30 minutes!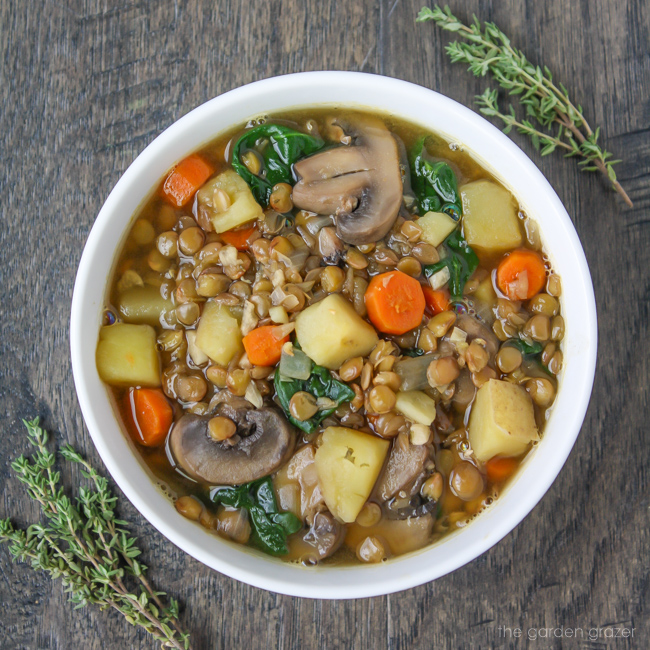 I always say this reminds me of a vegan version of classic beef stew. Chunky potatoes, carrots, and hearty mushrooms in a rich and savory broth. You can whip it up and enjoy for the whole week – the leftovers only get more delicious!
If you're looking for a different spin on chili, I think you'll enjoy this satisfying, nutrient-packed rendition. Quinoa + black beans combine in a thick, smoky broth made with a little chipotle magic!
All the flavor and goodness of stuffed peppers but in easy, delicious soup form! That classic stuffed pepper flavor really shines through in the thick, tomatoey broth in this easy, 10-ingredient, 1-pot meal. (Great for meal prep and leftovers as it becomes even more flavorful the next day!)
Delicious split pea soup gets remixed with creamy sweet potatoes and a nice, smoky touch. This recipe doesn't get a lot of action on the site, but I had to include it because our family goes wild for it. (Surprisingly, it's one of my daughter's most-requested meals!) You can also check out this recipe for "Everyday Split Pea Soup" that we love as well!
Back to basics with this simple yet satisfying go-to Lentil Soup! It's easy, healthy, and spiked with flavorful cumin and smoked paprika. A great budget-friendly meal that's nutrient-dense!
If you're looking for an early taste of summer and can find some fresh basil, try this simple 30-minute meal. It's bursting with lovely tomato-spinach-basil goodness and will have you dreaming of summertime.
That's a wrap! I often find soup is best paired with a good book in front of the fire. Come join The Garden Grazer on Instagram and share a photo if you make any of these! I love seeing your beautiful recreations.
-Kaitlin