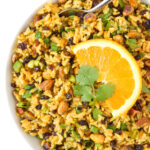 Curried Rice Salad with Orange
Curried Rice Salad with a flavorful orange-curry dressing and crunchy pistachios. Delicious dish for picnics, potlucks, and make-ahead meals. Vegan, gluten-free, oil-free and done in the time it takes the rice to cook!
Servings:
6
side servings
For the orange-curry dressing
Cook rice according to package instructions.

Meanwhile, slice green onions and roughly chop cilantro, stems removed. Place in a medium-large mixing bowl with currants and pistachios.

Make the dressing: in a small bowl, squeeze the juice from the orange (I use about 1/3 cup juice). Add the curry powder, maple syrup, rice vinegar, and salt. Whisk to combine. Set aside.

When rice is done cooking, add to bowl with cilantro, green onions, currants, and pistachios.

Pour dressing over top and stir well to thoroughly combine.

Can serve immediately or refrigerate for at least an hour to let flavors mellow and combine further.
I use zante currants which I find in the bulk food section of our co-op and grocery stores. If you can't find them near you, raisins are a great replacement. If saving for later, feel free to make it a full day ahead of time. (Sometimes I like to squeeze a little extra fresh orange juice on top right before serving to brighten it a bit). After a couple days of sitting, I find the rice starts to dry out a little. I haven't tried this yet, but I bet this recipe would work well with other grains - just swap out the rice for farro, quinoa, kamut, wheat berry, etc.
Calories:
165
kcal
|
Carbohydrates:
36
g
|
Protein:
3
g
|
Fat:
1
g
|
Potassium:
246
mg
|
Fiber:
2
g
|
Sugar:
9
g
|
Vitamin A:
3.1
%
|
Vitamin C:
2.7
%
|
Calcium:
4
%
|
Iron:
9.9
%