An easy vegan + gluten-free lasagna recipe made with zucchini, spinach, and mushrooms, plus a delicious homemade chickpea ricotta cheese! This healthy lasagna is so satisfying and easy to customize with your favorite veggies.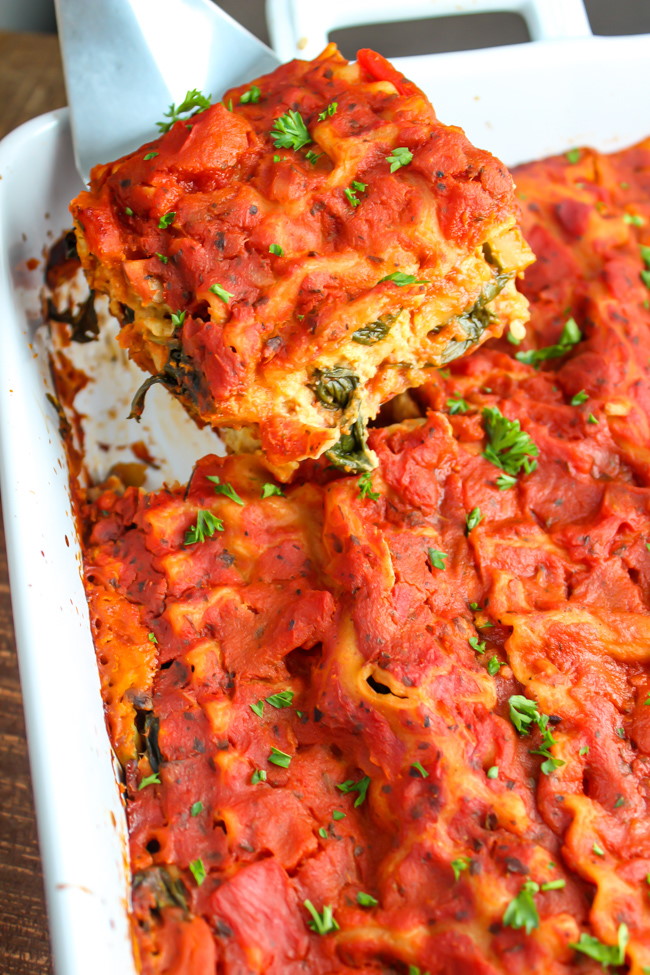 This easy vegan lasagna recipe includes tasty layers of pasta, tomato sauce, veggies, and dairy-free ricotta cheese.

The homemade vegan ricotta is made with chickpeas (and no tofu or cashews). It is thick, creamy, and a great replacement for traditional ricotta cheese.

The prep time for lasagna is a bit longer, but here we keep it simple with no-boil noodles and jarred pasta sauce.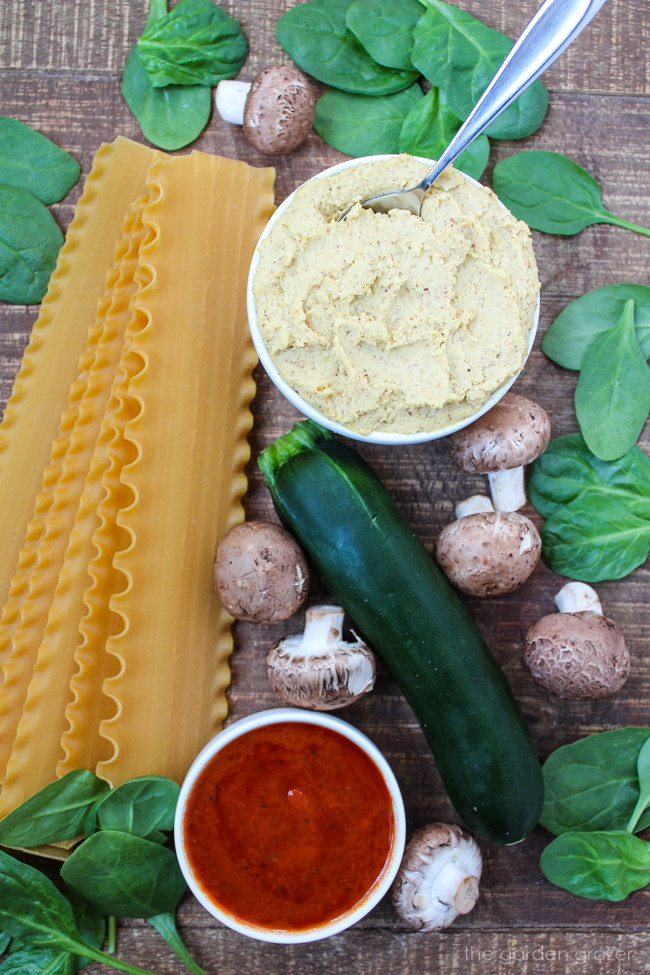 Ingredients for Vegan Lasagna
For the lasagna and vegetable portion you will need:
Lasagna noodles: I use an 8 oz. box of Chickapea oven ready gluten-free noodles. The ingredients are only organic chickpeas and lentils, and do not require precooking.
Zucchini
Mushrooms*: I use cremini mushrooms, but white button, shiitake, or portobello would work too.
Fresh baby spinach
Marinara sauce: Either use two full 26 oz. jars of store-bought marinara sauce, or Homemade Marinara Sauce. (If using my homemade sauce, you will need to double the recipe.) You need at least 6 cups of marinara sauce for this recipe, or more if you like it extra saucy.
*Don't care for mushrooms? No problem! Simply omit and stir in more spinach or other veggies instead.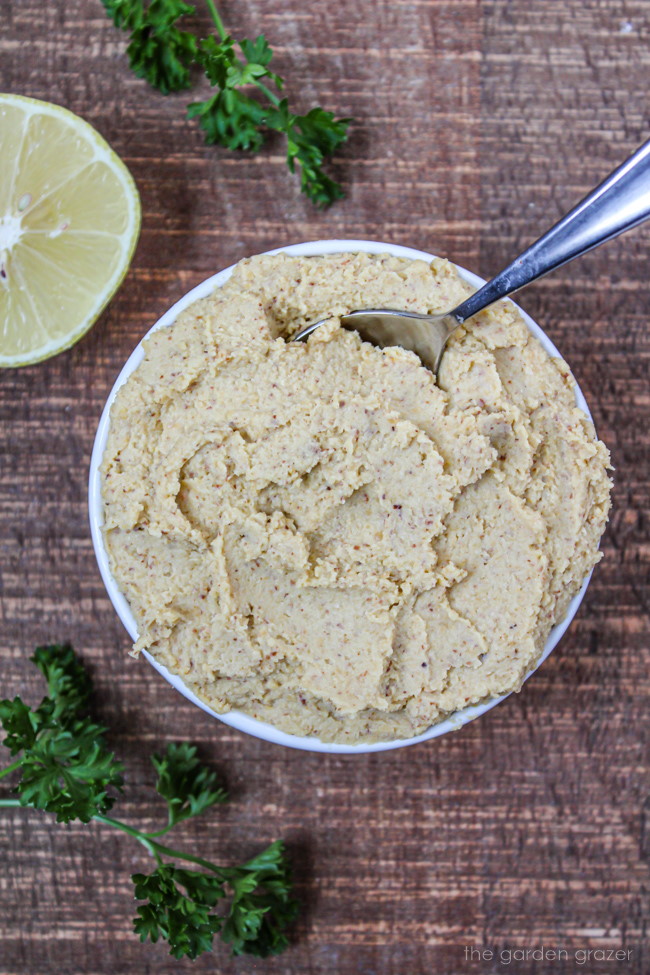 Ingredients for Chickpea Ricotta
For the vegan ricotta cheese you will need:
Chickpeas (garbanzo beans): Use a 15 oz. can chickpeas, or about 1.5 cups freshly cooked chickpeas.
Almond flour: I use super-fine almond flour from Bob's Red Mill. This helps bind the mixture and gives it a buttery, creamy texture and taste. (I have not tried substituting soaked cashews in place of the almond flour, but I suspect it would work just fine.)
Nutritional yeast: This is what gives it a savory, cheesy flavor. You can add more if desired.
Fresh lemon juice: A little acidity is essential to help brighten and bring it all together.
Garlic powder: Or roasted garlic or 1 clove garlic. (Roasted garlic is really tasty.)
Salt: I use fine grain salt for this recipe.
Water: You will add a little water to the mixture to help thin to desired consistency.
Fresh basil is a great addition as well.

The ricotta can be made 1-2 days ahead of time if desired. Simply prepare in a food processor, then store it in an airtight container in the refrigerator until ready to use.

Or use your own favorite vegan ricotta for this recipe!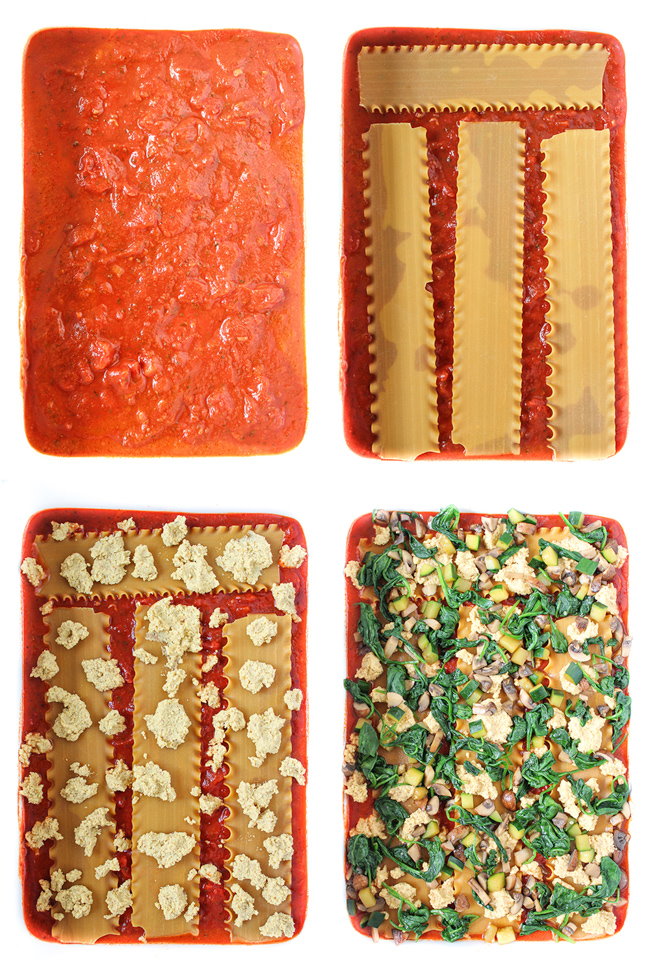 Tips for No-Boil Noodles
If you can find oven ready no-boil lasagna noodles, they won't require boiling before assembling. They are super convenient, however not always perfect. Here are a few tips for better success:
Use plenty of marinara sauce which helps them soften and cook. A thinner marinara sauce works best.
Make sure the noodles are completely covered in sauce before baking.
Cover the dish with foil to help keep moisture in.
The noodles expand during baking, so I leave a little space in between when placing them in the dish.
If you want to use regular lasagna noodles, that's great too! Simply precook them in boiling water until they are still al dente (slightly firm).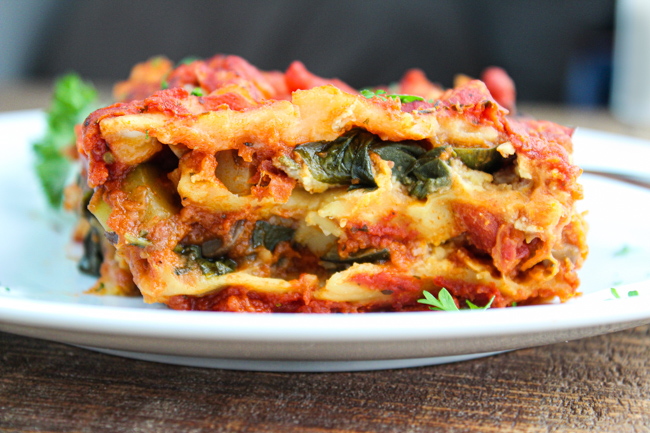 Customizing
Customize the chickpea lasagna how you see fit. A few ideas include:
Vegetables and herbs: Switch it up and include carrots, peas, kale, bell pepper, onion, or garlic cloves. Use about 3-4 cups raw veggies. A tablespoon or more of fresh basil and fresh parsley add great taste and aromatics.

Make it meaty: Add cooked lentils or your favorite vegan ground beef crumbles in place of the veggies. (Cook the crumbles separately according to package instructions before layering them in.)

Make it extra-cheesy: We use the vegan ricotta for cheesy flavor, but you can add other vegan cheese too. Sprinkle vegan mozzarella cheese shreds on top for the last 10 minutes of bake time.
Note: My favorite "meaty" variation is using Beyond Meat plant-based ground beef (omitting the zucchini + mushroom). Then topping the lasagna with Follow Your Heart mozzarella shreds during the last 15 minutes of bake time.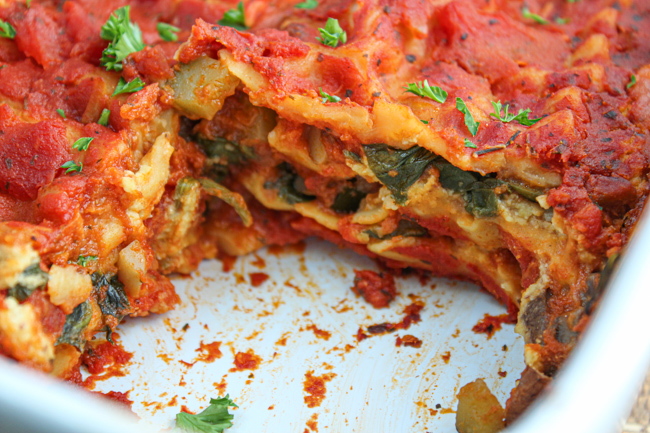 Serving
Some easy sides to pair this with include:
Simple tossed salad
Garlic bread
Steamed veggies (such as green beans, asparagus, or broccoli)
Storage
This makes 8 large servings, or 10-12 smaller/medium servings. Leftovers keep well in the refrigerator for about 4 days. We love to enjoy them throughout the week.

Freezing: If saving some for later in the freezer, it is best to freeze in individual portions. This helps for easier thawing and reheating.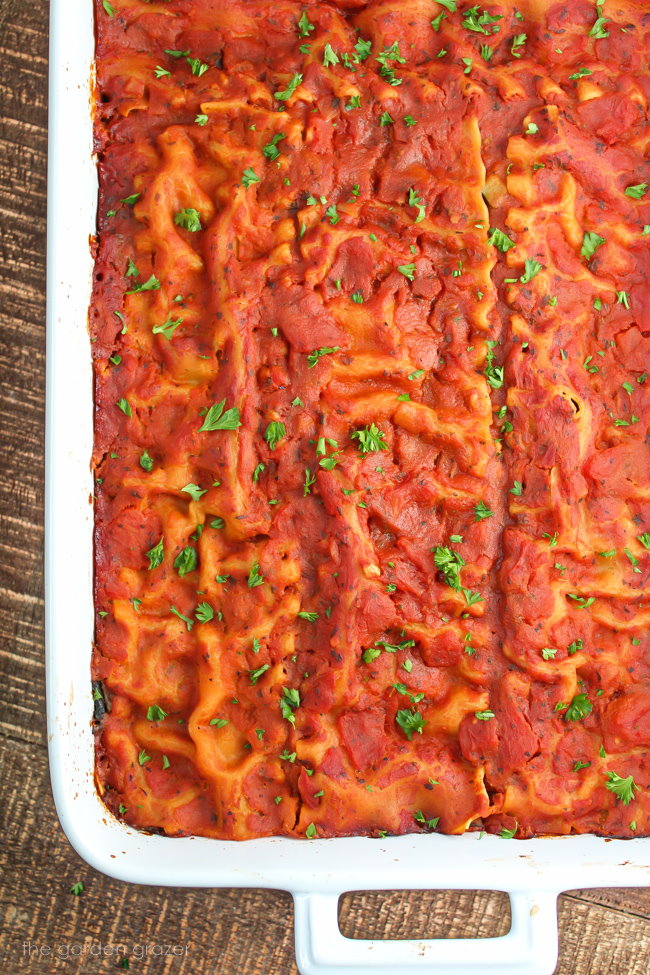 For more inspiration, browse all vegan main dish recipes.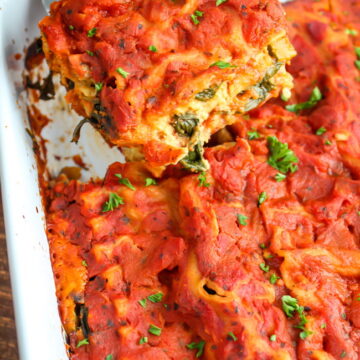 Easy Vegan Lasagna with Chickpea Ricotta
An easy lasagna made with fresh veggies and homemade chickpea ricotta! So satisfying, plus easy to customize.
Print Recipe
Pin Recipe
Comment
Ingredients
For the lasagna:
12

no-boil lasagna noodles*

(gluten-free if desired)

1

medium zucchini

8

oz.

mushrooms

5-6

oz.

fresh baby spinach

Two 26 oz. jars marinara sauce

(or at least 6 cups homemade)
For the chickpea ricotta:
15

oz.

can chickpeas

(rinsed and drained)

1/3

cup

almond flour

(super-fine, natural)

3

Tbsp.

nutritional yeast

1

Tbsp.

fresh lemon juice

1/4 - 1/2

tsp.

garlic powder

(or garlic cloves or roasted garlic)

1/4

tsp.

salt

1/4

cup

water

(more/less to desired consistency)

Optional: fresh basil, dried basil, Italian seasonings
Instructions
Preheat oven to 375°F (190°C).
Make the ricotta:
Add all ricotta ingredients to a food processor and blend. I start with about 3 Tbsp. water, then add more 1 Tbsp. at a time to achieve desired consistency. (It should be creamy, but very thick.) You will need to stop and scrape down the sides a few times between blending. Taste and adjust flavors if desired.
Prepare the veggies:
Dice mushrooms and zucchini.

In a large skillet over medium-high heat, sauté mushrooms for 3 minutes. (I use 3 Tbsp. water/broth for no-oil sauté method, adding more as needed.)

Add zucchini, and sauté for another 5 minutes. Add spinach, stirring often, until slightly wilted. Turn off heat and set aside.
Layer the lasagna:
In a deep 9" x 13" casserole dish, spread 1.5 cups marinara sauce on bottom. Then add 4 noodles.

Add half of the ricotta in small dollops, then half of the veggies, then 1.5 cups marinara.

Place 4 more noodles, then the rest of the ricotta and veggies, and 1.5 cups sauce. Finish with 4 noodles, and top with 1.5 cups marinara. Be sure noodles are covered in sauce.
Bake:
Cover dish with tin foil. Place in oven and bake for 45 minutes.

Then remove foil and bake uncovered for another 10-15 minutes. Let cool for 10 minutes before slicing and serving.
Notes
*Noodles: I use Chickapea brand oven ready no-boil noodles that are gluten-free. If not using no-boil noodles, you will need to cook the noodles ahead of time according to package instructions, leaving al dente (slightly firm). Marinara: You will need at least 6 cups marinara sauce, or even more if you like it extra saucy. Oil-free: Use the oil-free sauté method and a marinara sauce with no added oil. Yield: Recipe makes 8 large servings, or 10-12 smaller/medium servings. Nutrition: Estimated nutritional content is calculated using Chickapea noodles, so adjust as needed based on the exact ingredients you use.
Nutrition Per Serving (Estimate)
Nutrition Facts
Easy Vegan Lasagna with Chickpea Ricotta
Amount per Serving
% Daily Value*
* Percent Daily Values are based on a 2000 calorie diet.
Sodium: This is omitted as I cannot provide an accurate number. I encourage you to calculate your own to provide a much more precise reading based on the exact ingredients, brands, and amounts you're using.
If you are enjoying this gluten-free vegan lasagna recipe with zucchini and chickpea ricotta, also check out:
Follow The Garden Grazer on Instagram, Pinterest, or Facebook for more updates and inspiration.