This healthy Cheesy Vegan Scalloped Potatoes recipe is completely dairy-free, oil-free, and made with whole-food plant-based ingredients. But they have all the richness and creaminess of traditional scalloped potatoes! (Gluten-free)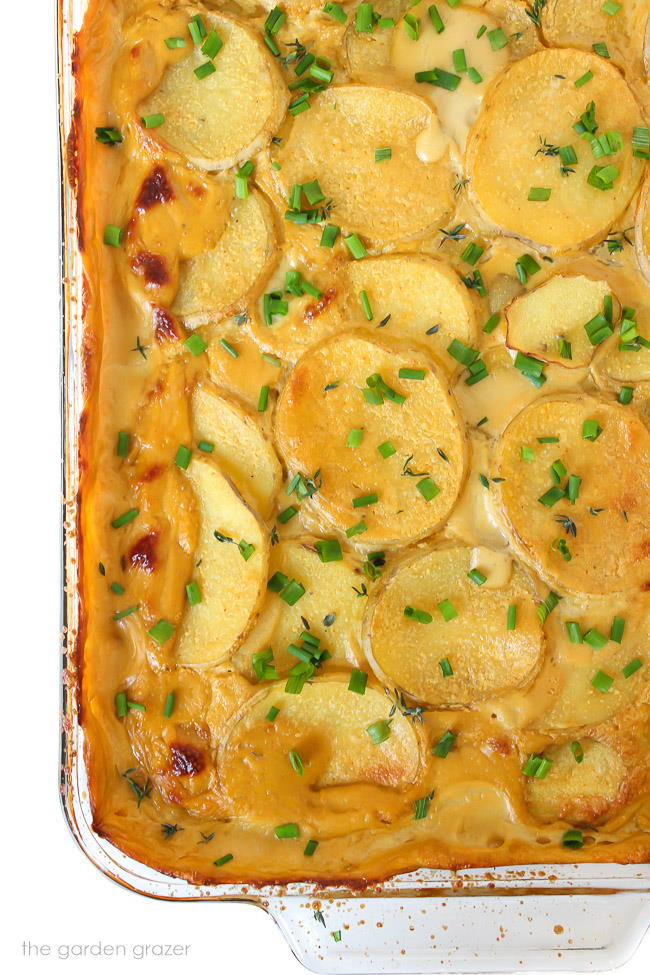 This healthier scalloped potatoes recipe is just as creamy and delicious as the traditional version!

Except it is made with no heavy cream or butter and all whole food, plant-based ingredients.

There is so much flavor from the onions, garlic, and vegan cheese sauce, plus it has protein and fiber.

It makes a satisfying side dish to bake in the oven for Thanksgiving, Christmas, holidays, get-togethers, or simply an everyday dinner side.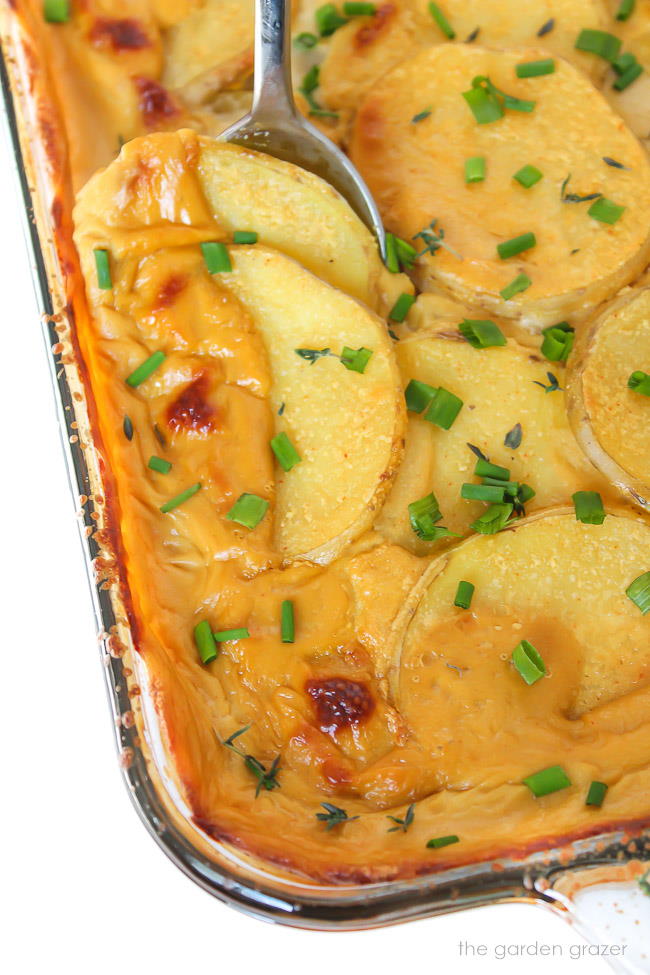 Ingredients for Vegan Scalloped Potatoes
For this recipe you will need:
Potatoes: I use Yukon gold potatoes since they're naturally creamy and buttery, but you can use russet potatoes if desired.
Yellow onion
Garlic
Raw cashews
Soy milk: Be sure to use plain and unsweetened plant milk. (Or substitute with your own favorite variety of dairy-free milk such as cashew milk, oat milk, or almond milk.)
Vegetable broth
Nutritional yeast: This adds the "cheesy" flavor.
White miso: Or substitute sea salt, but I recommend miso if you have it.
Smoked paprika: This provides a nice richness and slight smoky flavor.
Before serving, you can also garnish with a couple teaspoons of chopped fresh herbs if desired (such as fresh thyme, sage, oregano, or sliced chives).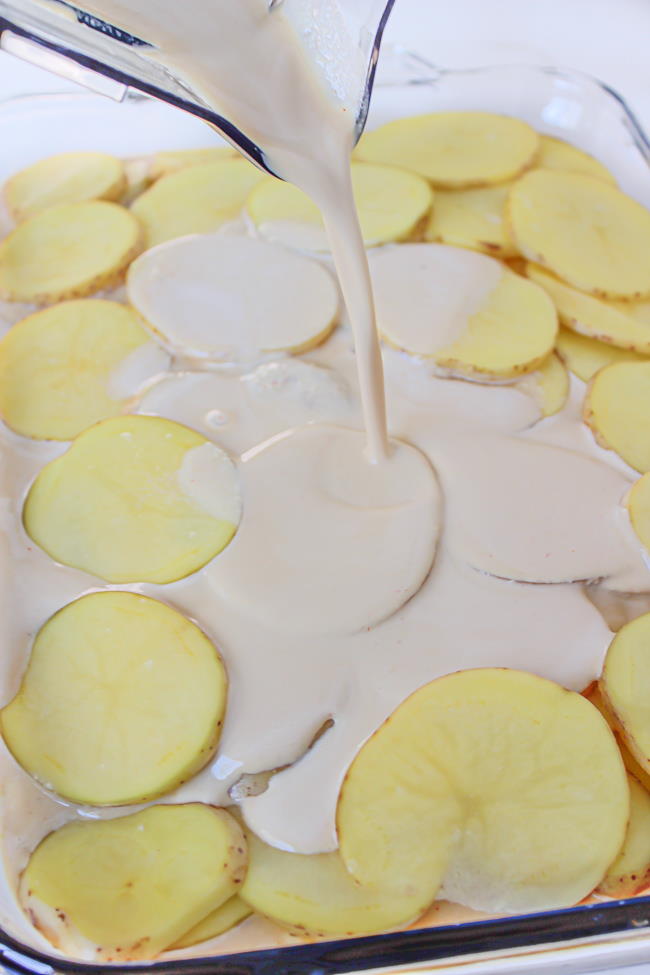 Preparation and Tips
Slicing the potatoes: You will thinly slice the potatoes to layer in a baking dish. Use a mandoline slicer if you have one. However I just very carefully slice as thin and evenly as possible.
Making the cashew cream sauce: You'll use a blender to blend the cashew sauce to pour over the sliced potatoes in a casserole dish. Adjust the taste as desired or add black pepper. If you do not have a high-powered blender, I suggest soaking your cashews several hours or overnight to help blend a smoother sauce.
Add richness: This version is completely whole food plant-based, however you can opt to add vegan butter, vegan cheese, or olive oil for added richness if desired.
Leftovers: Store leftovers in the refrigerator covered with foil or an airtight container. We find they keep for about 3-4 days.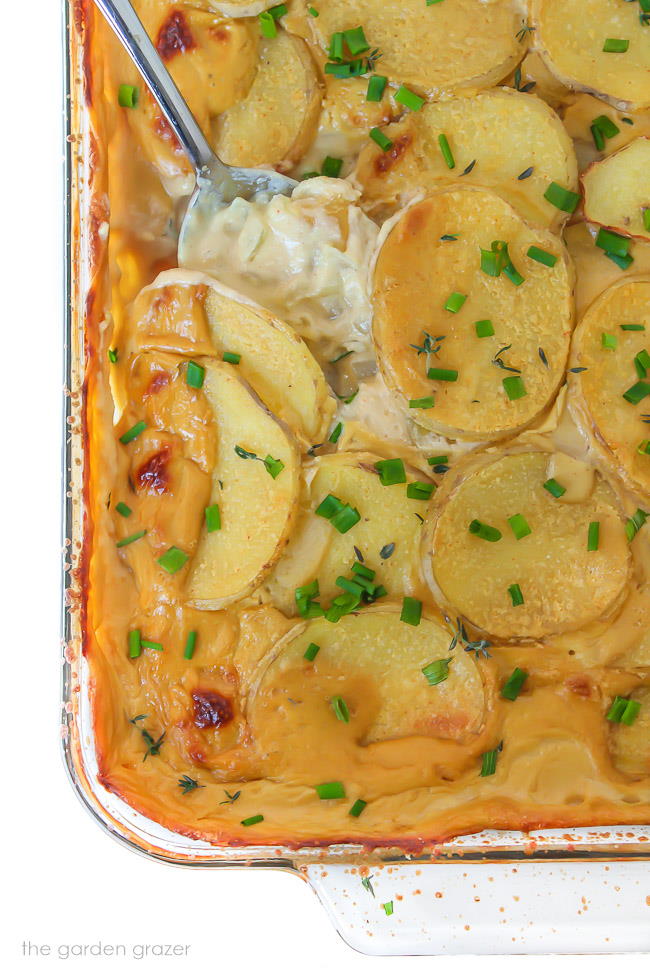 For more inspiration, browse all potato recipes or side dish recipes.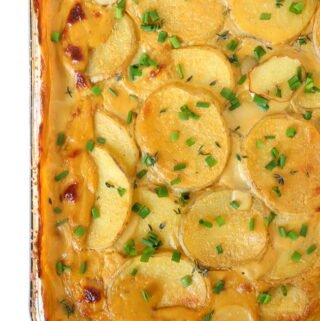 Vegan Scalloped Potatoes
A healthier scalloped potato recipe made with whole-food, plant-based ingredients. But still as rich and creamy as the traditional version!
Print Recipe
Pin Recipe
Comment
Ingredients
3 1/2

lbs.

potatoes

(I use yukon gold)

2

small/medium yellow onions

5

cloves

garlic

(or more)
For the creamy sauce:
1 1/2

cups

raw cashews

2

cups

plain soy milk

(unsweetened)

1 3/4

cups

vegetable broth

2/3

cup

nutritional yeast

1 1/2

Tbsp.

white miso paste

(or 1 1/2 tsp. salt)

1/2

tsp.

smoked paprika

(or more)
Garnish (optional):
Chives, thyme, sage, rosemary, parsley, etc.
Instructions
Quick soak the cashews: in a bowl, cover the raw cashews with hot water (~160°F / 71°C) until they're submerged. Set aside and let sit for about 10-15 minutes. (This makes them easier to blend.)*

Preheat oven to 400°F (204°C).

Dice onions and mince garlic.

In a skillet over medium-high heat, sauté onions with a little salt for 7-8 minutes. (I use 3 Tbsp. vegetable broth/water for no-oil sauté method, adding more as needed.) Add garlic, stir, and sauté 1 more minute. Set aside.

Meanwhile, thinly slice the potatoes about 1/8-inch thick. Set aside.

Make the creamy sauce: drain water from the soaked cashews and add them to a high-powered blender with the rest of the sauce ingredients. Blend for 1 minute or until smooth.

In a 9 x 13-inch casserole dish (lightly sprayed or buttered to help prevent sticking if desired), begin layering. Layer half the potatoes, then the entire onion/garlic mixture, then pour half the sauce on top.

Layer the rest of the potatoes and pour the remaining sauce on top. (Potatoes should be mostly submerged – you can gently press down if needed.)

Bake for 60 minutes or until crust is lightly golden and potatoes are cooked through.

Add garnishes if desired and salt/pepper to taste.
Notes
*Blender: If you don't have a high-speed blender, you may want to soak your cashews 8 hours or overnight. Layering: When layering, be sure to leave a little room (not filling it completely to the brim) as the sauce will thicken and bubble in the oven. Baking time: This can vary based on your oven and how thin you sliced the potatoes. After 60 minutes, gently pierce potatoes with a fork to check tenderness and return to oven for 10-20 minutes if necessary. Potatoes: I prefer Yukon golds since they're creamy/buttery, but feel free to substitute russets or even sweet potatoes or yams. Peeling the potatoes is personal preference – I usually don't bother, but peel yours if you'd like. Extra-cheesy option: Sprinkle a light layer of dairy-free cheddar shreds in the middle layer as you're assembling before baking. (Or top with cheese during the last 10-15 minutes of bake time.)
Nutrition Per Serving (Estimate)
Nutrition Facts
Vegan Scalloped Potatoes
Amount per Serving
% Daily Value*
* Percent Daily Values are based on a 2000 calorie diet.
If you are enjoying these healthy oil free Vegan Scalloped Potatoes, also check out:
Follow The Garden Grazer on Instagram, Pinterest, Facebook, or RSS for more updates and inspiration.