A collection of 30 creative and delicious Vegan Enchilada Recipes! They're plant-based with tons of savory, satisfying flavor.
A collection of 30 mouthwatering, vegan enchilada recipes! You'll find a variety of creative ingredients like sweet potatoes, roasted vegetables, tofu, pumpkin, mushrooms, butternut squash, zucchini, lentils, and quinoa.

Also included are five sauce recipes to further inspire your creations. Making your own Mexican-inspired Homemade Enchilada Sauce is such an easy, tasty way to personalize them. (Plus you can leave out unwanted additives from store-bought versions.)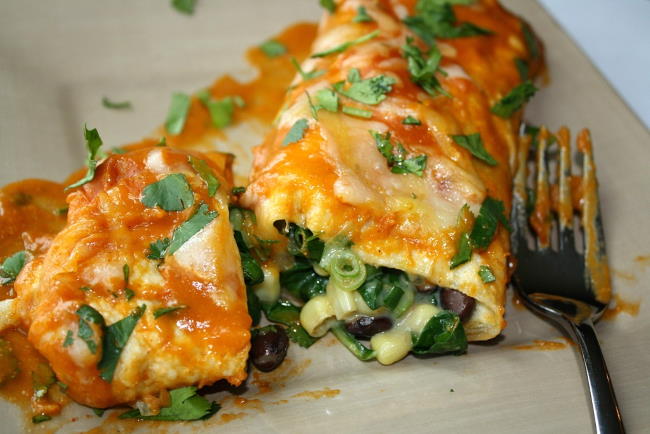 Black Bean Spinach Enchiladas (pictured above)
Vegan Enchiladas with Tofu and Black Beans – Well Plated
Next Level Vegan Enchiladas – Oh She Glows
Poblano "Crema" Enchiladas – Love and Lemons
Black Bean and Summer Squash Enchiladas – Fat Free Vegan Kitchen
Spinach Enchiladas with Lentils – Naturally Ella
Roasted Vegetable Enchiladas – Eating Well
Black Bean Veggie Enchiladas with Nacho Cheese Sauce – Full of Beans
Protein Monster Vegan Enchiladas (pictured above)
White Bean Zucchini Enchiladas
Sweet Potato and Black Bean Enchiladas – Cilantro and Citronella
Gluten-Free Vegan Pumpkin Enchiladas – Lauren Vacula
Spicy Quinoa and Black Bean Enchiladas – A Sweet Pea Chef
Vegan Enchiladas Verde with Cashew Cream – My Darling Vegan
Black-Eyed Pea Enchiladas with Mole Sauce – Vegan Yack Attack
Vegan Enchiladas with Lentils – ElaVegan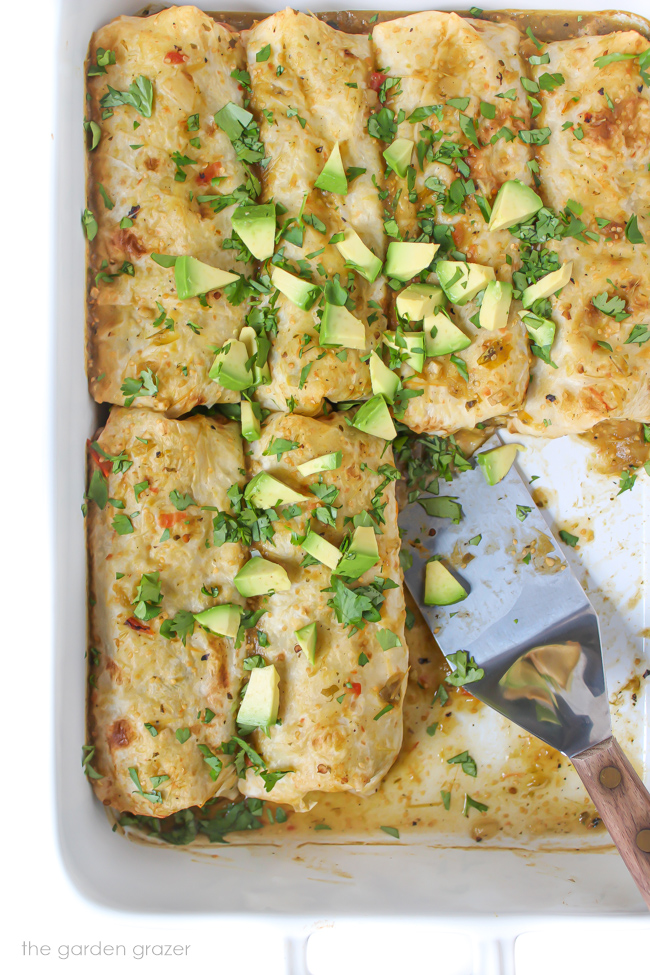 Vegan Green Enchiladas with White Beans (pictured above)
Black Bean Avocado Enchiladas
Vegan Enchiladas with Lentils and Black Beans – Vegan Richa
Black Bean Potato Vegan Enchiladas – This Savory Vegan
Portobello and Poblano Enchiladas – Blissful Basil
Bean and Corn Enchiladas – Forks Over Knives
Southwestern Enchilada Casserole – Forks Over Knives
Easy Vegan Bean Enchiladas (pictured above)
Tofu Scramble Breakfast Enchiladas – The Full Helping
Vegan BBQ Jackfruit, Kale & Black Bean Enchiladas – The Full Helping
Mashed Potato Enchiladas – Thyme & Love
Black Bean & Veggie Enchiladas – One Ingredient Chef
Sweet Potato Black Bean Enchiladas – Gluten-Free Goddess
Veggie Chili Enchiladas – Whole Foods Market
Homemade Enchilada Sauce Recipes
Enchilada Sauce (pictured above)
Avocado Cilantro Sauce
Mexican Enchilada Sauce from Food
Easy Mole Sauce by Vegetarian Times
Tomatillo Enchilada Sauce from Martha Stewart
Craving more Mexican-Inspired deliciousness? Also check out these 110+ Vegan Mexican Recipes.