EASY 6-ingredient Lemon Garlic Orzo with Asparagus! A lovely spring side dish with a pop of fresh flavors and it only takes 20 minutes to prepare.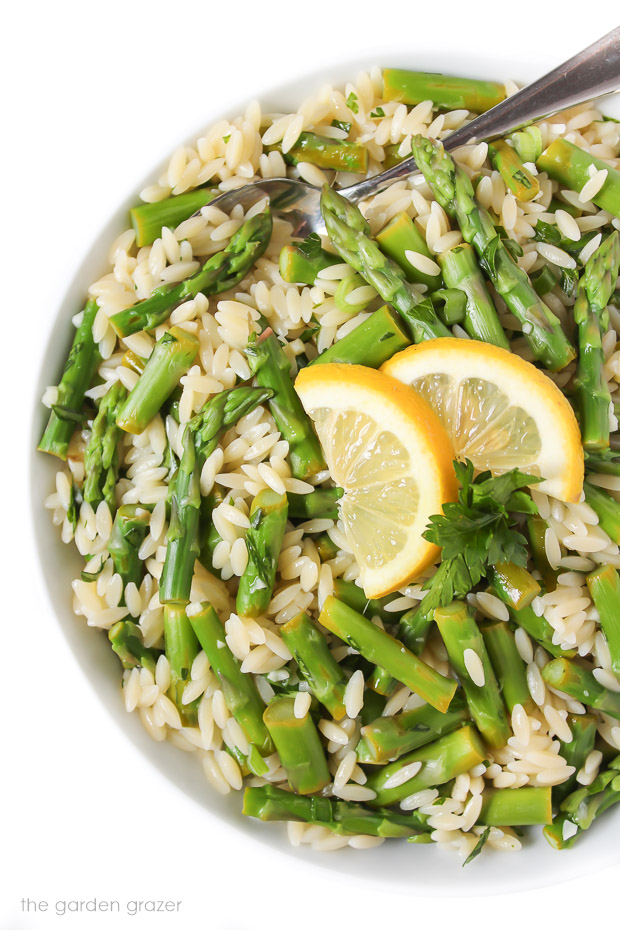 Happy Spring! Let's take a moment to celebrate asparagus back in season – woo! I love the fresh, new flavors each season brings. And this easy side dish highlights one of spring's finest. Plus it's only 6 simple ingredients & 20 minutes to prepare.
How To Cook Asparagus
I lightly steam my asparagus, but this recipe works with whatever your cooking method. Roasting, grilling, broiling, etc. (If you need inspiration or more guidance, here's an article from The Spruce with 8 Ways to Cook Asparagus.) Most veggies dull in color when cooked, but isn't it beautiful how asparagus actually brightens up even more when steamed? Gorgeous!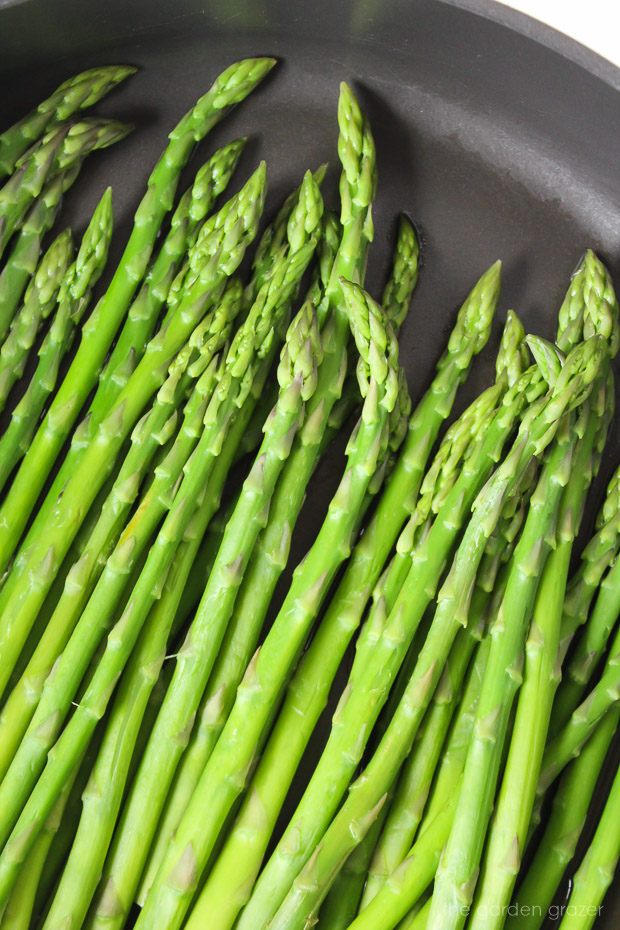 Lemons can vary quite a bit in size & juiciness so you may want to grab two to be on the safe side. A medium lemon usually gives about 2-3 Tbsp. juice, and a large can give about 4 Tbsp. (1/4 cup). I like to use about 1/4 cup lemon juice for this recipe. (Plus the optional zest for even more bright, lemony flavor but feel free to increase/decrease the amount based on your palette.) It's such a simple dish but with bright pops of flavor from the fresh lemon, garlic, and parsley. An easy recipe to modify to your taste so have fun!

PS – if you're looking for an orzo recipe with more veggies, we love this Roasted Vegetable Orzo with Garlic-Balsamic!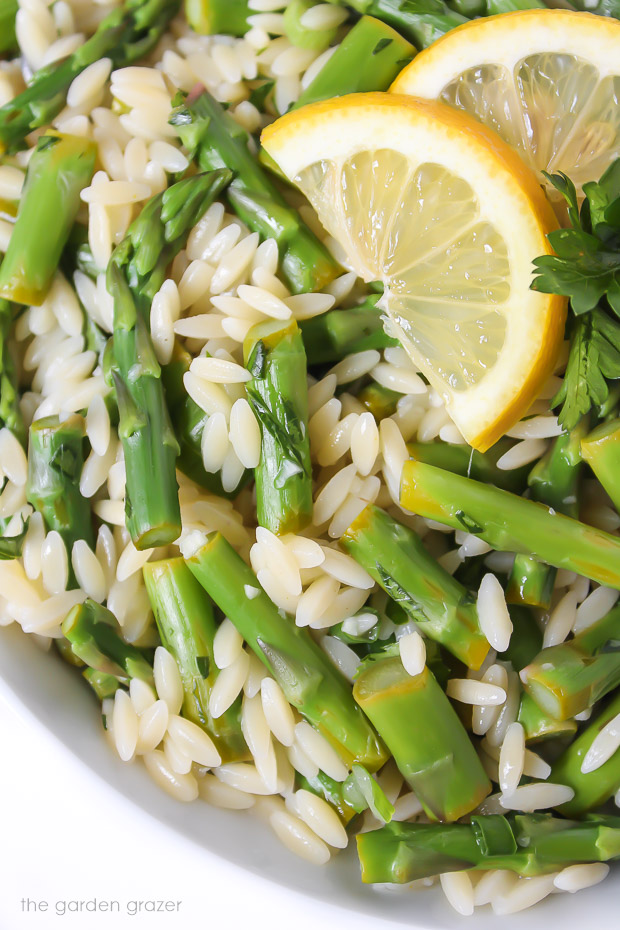 Lemon Garlic Orzo with Asparagus
EASY 6-ingredient Lemon Garlic Orzo with Asparagus! A lovely spring side dish with a pop of fresh flavors and it only takes 20 minutes to prepare.
Ingredients
1

lb.

asparagus

1

cup

orzo pasta

(uncooked)

1

large lemon

(& optional zest)

1-2

cloves

garlic

(I like 2)

1-2

green onions

3

Tbsp.

fresh parsley

(more to taste)

Salt/pepper to taste

Optional: fresh basil, baby spinach, spring peas, cherry tomatoes, shallot, pine nuts, dairy-free parmesan for topping, etc.
Instructions
Cook orzo: in a medium saucepan, bring 2 cups water to a boil. (You can opt for vegetable broth to add more flavor.) Add orzo, stir well, then reduce heat and simmer for about 10 minutes or until tender. Drain.

Meanwhile, make the dressing: mince garlic and juice 1 large lemon, yielding about 1/4 cup lemon juice. (Zest a bit of lemon peel first if desired – I use a microplane grater/zester.)

Place lemon juice and garlic in a small bowl, and set aside.

Prepare asparagus: trim off woody ends, rinse, and cook as desired until just tender.* (See notes below for cooking options.)

When cooked, cut asparagus into 1-inch pieces.

Roughly chop parsley, stems removed. Slice green onions.

In a medium bowl, add all ingredients and pour lemon-garlic dressing on top. Toss to combine and salt/pepper to taste if desired.
Notes
*Two methods of steaming asparagus:
1. If you have a steamer basket, steam for about 3-7 minutes, depending on how thick the stalks are.
2. Place 1 cup water in a large skillet and bring to a boil. Add asparagus, cover, and steam for 3-7 minutes or until stalks are just tender (taking care not to overcook!)
You could also grill, roast, or broil, etc. the asparagus – any will work for this recipe!
Gluten-free option: use GF orzo, or substitute your favorite gluten-free pasta instead of the orzo.
Nutrition Per Serving (estimate)
Calories:
117
kcal
|
Carbohydrates:
24
g
|
Protein:
5
g
|
Fat:
1
g
|
Saturated Fat:
1
g
|
Potassium:
274
mg
|
Fiber:
3
g
|
Sugar:
3
g
|
Vitamin A:
1214
IU
|
Vitamin C:
24
mg
|
Calcium:
38
mg
|
Iron:
3
mg

Enjoying this Lemon Asparagus Orzo? Also check out these Miso-Glazed Green Beans for more inspiration!