An easy, comforting Vegan Potato Leek Soup! It's rich and creamy, but made without any butter, heavy cream, or dairy. Deliciously healthy and finished with a cashew-miso cream sauce and flavorful fresh herbs! (Vegan, gluten-free, oil-free, nut-free option.)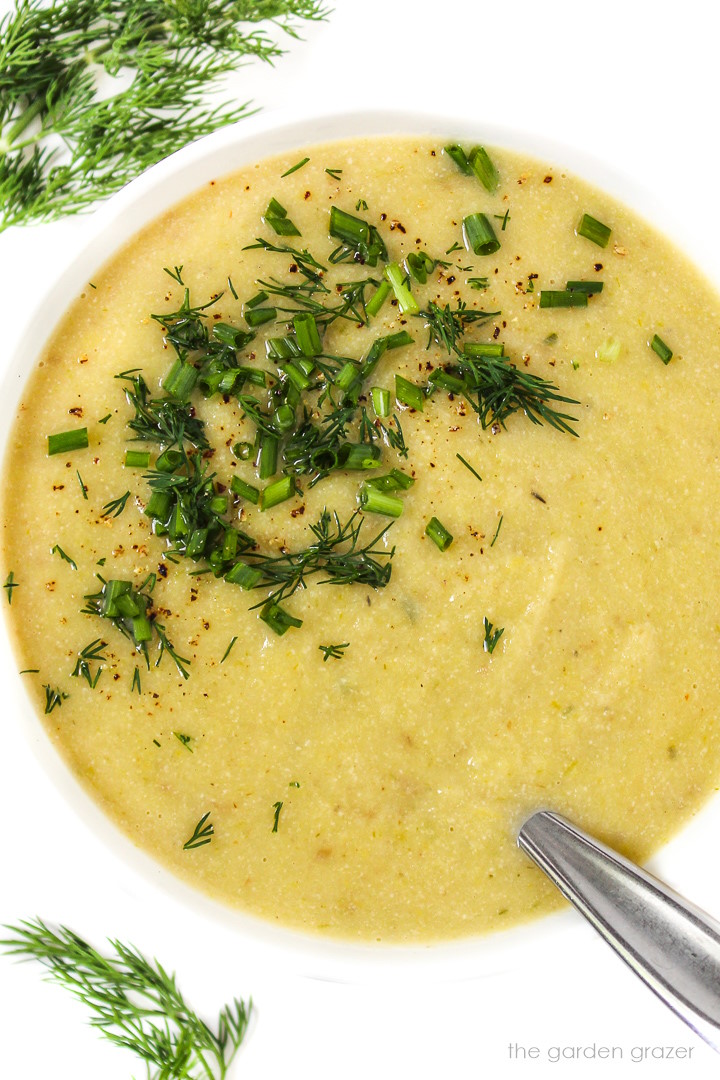 Let's make some cozy, comforting vegan potato leek soup! It's made with simple, healthy ingredients and no butter, heavy cream, or oil.

Leeks are a classic spring vegetable, but they're typically available year round. They have a slightly sweet, mild onion flavor that add delicious depth to this soup.

We combine them with potatoes, then stir in a cashew-miso sauce for creamy richness and flavor. (But see options below for preparing it cashew-free if needed!)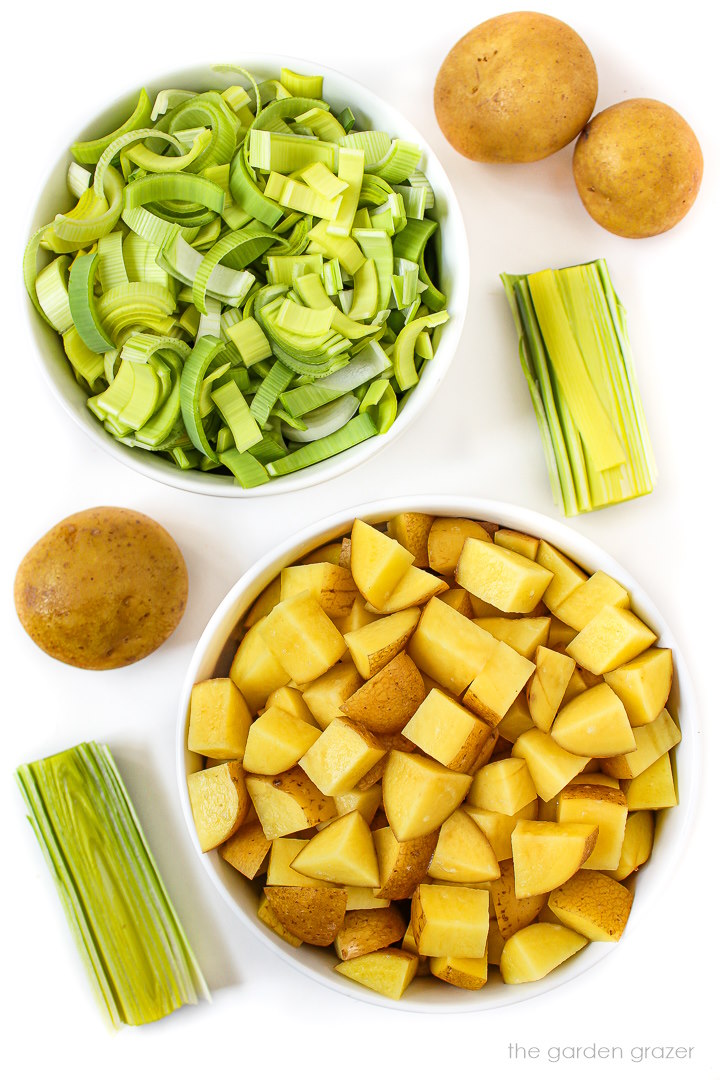 Ingredients for Potato Leek Soup
For this recipe you'll simmer in a large stockpot on the stove then blend together:
Leeks: You'll need about four leeks for this recipe. We'll use the white and light-green parts only. It's important to rinse leeks well to remove the dirt that's often trapped inside. I slice them in half, then gently fan them out to help rinse.
Potatoes: I use Yukon gold potatoes because they have a rich, buttery flavor. But russet potatoes or other starchy white potato can work too. I purchase organic potatoes when possible, then leave the skins on to retain the most nutrients.
Vegetable broth: Be sure to use low sodium if desired. This recipe calls for 5 cups broth, but a standard carton is usually 4 cups. So you can use 4 cups broth + 1 cup water if preferred.
Italian seasoning
Fresh dill: Fresh herbs are the finishing touch in this soup. They add a wonderful, vibrant taste so I don't recommend omitting them. It's usually best to add fresh herbs at the end of cooking time to preserve their flavor and nutrients.
Fresh chives
Cashews: We'll use soaked raw cashews to blend up a silky cashew cream. Then we'll pour it in the soup at the end of cooking time. The cashews also add extra plant-based protein and fiber to the dish. (If you don't have cashews, then you can omit the cashew cream and use a can of coconut milk instead. However this will slightly change the flavor.) Or see another option below if you need a nut-free version.
White miso: This adds depth and tasty umami flavor to the cashew cream. But if you don't have it, then simply salt well to taste.
Nutritional yeast: This is completely optional if you prefer to omit it or don't have it on hand. It adds a slight cheesiness to the cashew cream. You could even add a bit more if you really enjoy the flavor.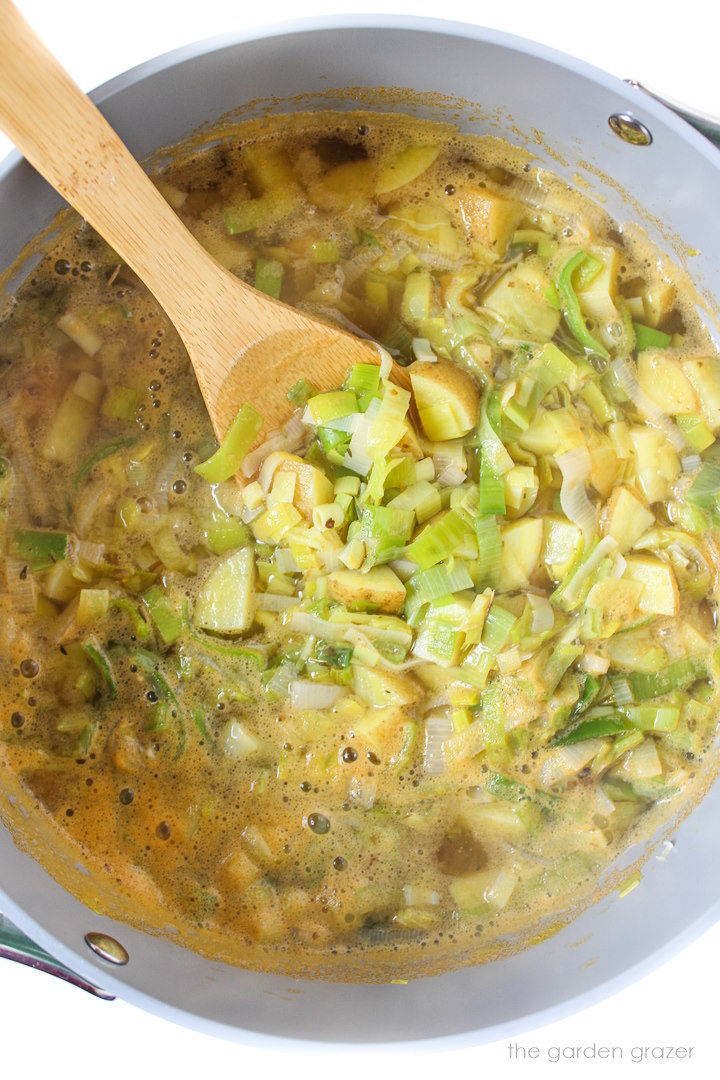 Customizing
Nut-free option: For a cashew free version, omit the cashew cream. Replace it with 1 cup dairy-free milk (be sure it's nut-free, plain, and unsweetened). Then for added richness and slight cheesy, savory flavor stir in up to a quarter cup nutritional yeast.

Dried herbs: Instead of the Italian seasoning, you can change up the flavor. Substitute dried rosemary, thyme, basil, oregano, etc. You can also include bay leaves while simmering, but remove them before blending. A couple cloves garlic would be tasty as well.

Puree: You can either enjoy this soup chunky, blend it until creamy & smooth, or leave it somewhere in between! I prefer blended.
Blending tip: I use an immersion blender which works great for soups. It allows you to blend it right in the pot with no need to transfer to a blender. (If using a blender, use caution and make sure your blender can handle hot foods. Let the soup cool a bit first and allow the steam to vent.)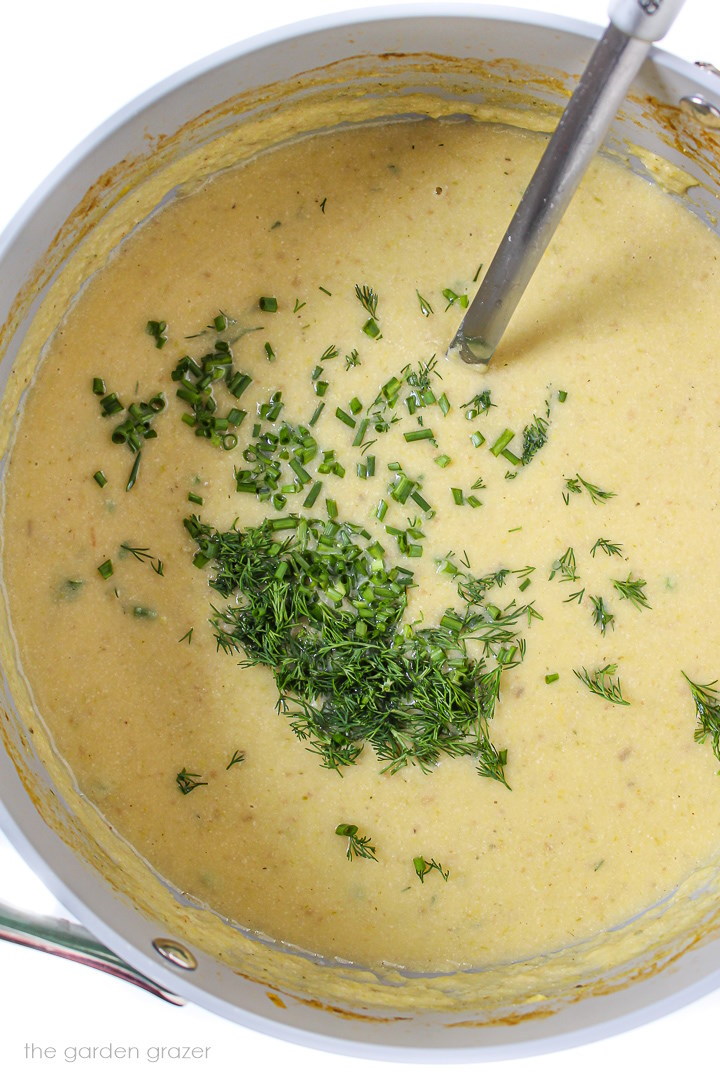 Serving
Garnish: Top your bowl with fresh herbs like more dill and chives, or try fresh parsley or green onions as well. You can also add black pepper to taste, a squeeze of fresh lemon juice, or red pepper flakes for a little heat.

Croutons: Sprinkle on crunchy croutons for added texture or even some Smoky Roasted Chickpeas.
Storing
Store leftovers in an airtight container in the refrigerator. I find it keeps well for about 4-5 days. Reheat in the microwave when ready to enjoy.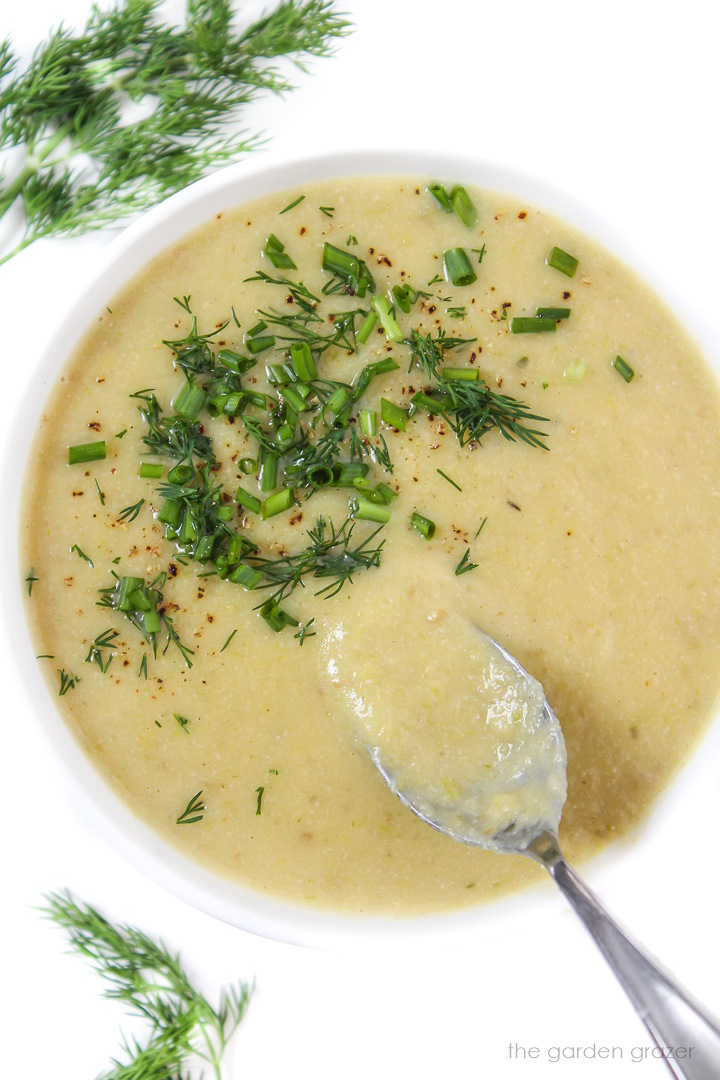 For more inspiration, also browse all potato recipes or vegan soup recipes.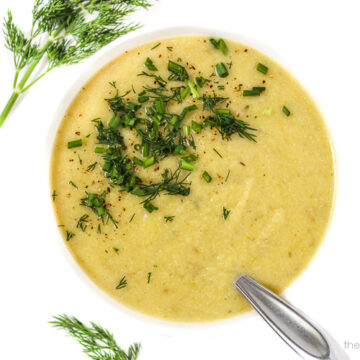 Vegan Potato Leek Soup
A creamy, comforting soup filled with fresh leeks and potatoes. Finished with a cashew-miso cream sauce and tasty fresh herbs!
Print Recipe
Pin Recipe
Comment
Ingredients
4

large

leeks

(about 5-6 cups sliced)

2

lbs.

potatoes*

(about 6 cups diced)

5

cups

vegetable broth

1

tsp.

Italian seasoning

2

Tbsp.

fresh dill

2

Tbsp.

fresh chives
For the cashew cream:
3/4

cup

raw cashews

1

cup

water

1

Tbsp.

white miso

1-2

Tbsp.

nutritional yeast

(optional)
Instructions
Soak cashews: Place cashews in a heat-safe bowl. Top with hot/boiling water until cashews are submerged. Set aside to soak.

Prepare leeks: Trim off the roots and dark green tops. (You'll use the white & pale green parts only.) Cut leeks in half lengthwise. Rinse very well under the faucet, fanning out the layers to remove any stubborn grit/soil trapped inside. Drain well, then slice into half-moons.

Dice potatoes. (I leave the skins on but you can peel if preferred.)

In a large stockpot over medium-high heat, sauté leeks for about 6-7 minutes. (I use 3 Tbsp. water/broth for no-oil sauté method, adding more as needed.) When leeks are softened, add Italian seasoning. Stir and sauté 1 minute.

Add broth and potatoes. Bring to a light boil, then cover and simmer for about 10-12 minutes or until potatoes are tender.

Meanwhile, make cashew cream: Drain and rinse cashews. Add all cashew cream ingredients to a small blender. Blend for 20-30 seconds until smooth. Set aside.

When potatoes are tender, carefully blend soup with an immersion blender until smooth. Then add cashew cream and stir well to combine. Turn off heat.

Finely chop fresh dill and chives. Stir into the soup. Salt/pepper to taste to enhance the flavors. Add more fresh herbs for garnish and flavor if desired.
Notes
*Potatoes: I use Yukon gold but russet potatoes work too. Nut-free option: Omit cashew cream and stir in 1 cup plant milk (nut-free, plain, and unsweetened). I also recommend adding up to 1/4 cup nutritional yeast for extra richness & savory, cheesy flavor.
Nutrition Per Serving (Estimate)
Nutrition Facts
Vegan Potato Leek Soup
Amount per Serving
% Daily Value*
* Percent Daily Values are based on a 2000 calorie diet.
Sodium: This is omitted as I cannot provide an accurate number. I encourage you to calculate your own to provide a much more precise reading based on the exact ingredients, brands, and amounts you're using.
If you are enjoying this vegan potato leek soup recipe, also check out:
Follow The Garden Grazer on Instagram, Pinterest, or Facebook for more updates and inspiration.