This healthy Corn & Potato Chowder has the most luxurious golden, cheesy broth! Only 8 ingredients and easy assembly makes it a perfect, cozy weeknight meal. (Vegan, gluten-free, oil-free)
Silky, creamy, cheesy, smoky Vegan Corn & Potato Chowder! This is one of our family's favorite recipes. I LOVE the balance of the rich, savory flavors paired with the subtle sweetness of the corn. I always have fun veganizing old comfort food favorites (and I find I enjoy them even more with healthier, fresh ingredients.) 💛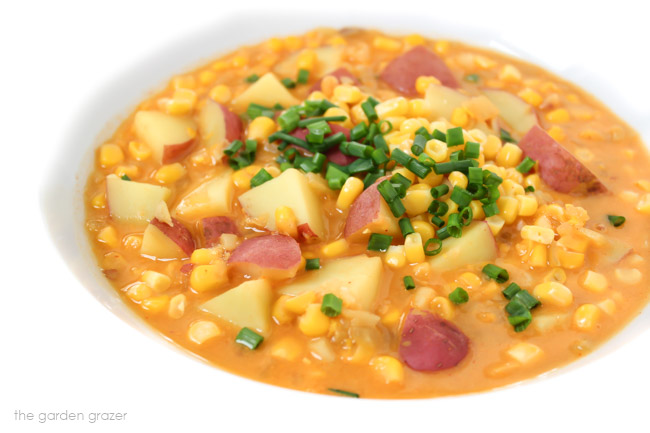 Either serve it as is, or blend half to create more of a creamy consistency (and achieve that extra golden, cheesy broth… yum!) With only 8 simple ingredients and super easy assembly, it always makes a great weeknight meal. Hope you enjoy as much as we do!
Come join The Garden Grazer on Instagram 🍓 and share a pic if you make this! I love seeing your recreations.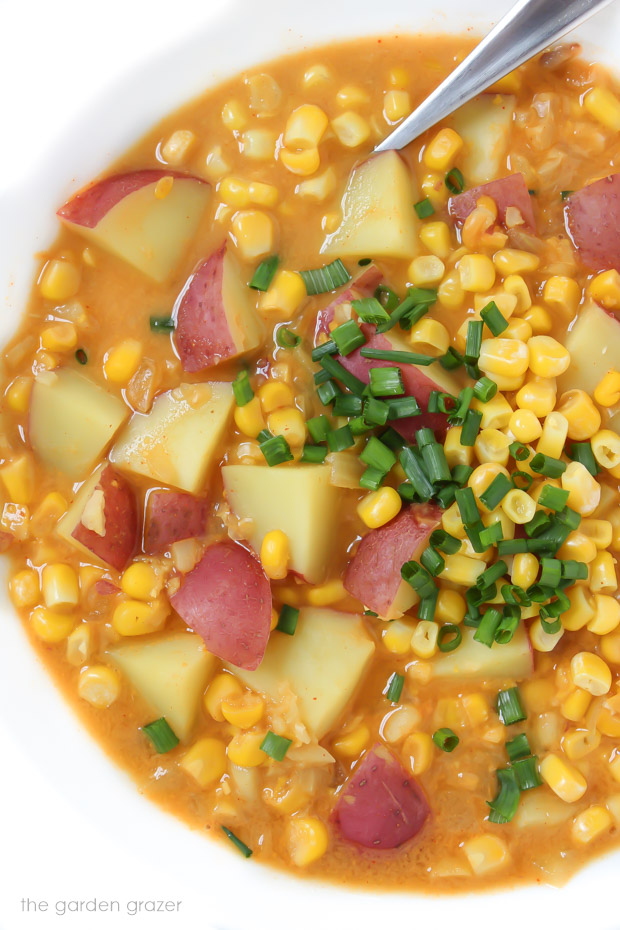 Vegan, gluten-free, oil-free
Serves about 4-6

Ingredients
1 onion
8-10 small red potatoes (about 2 lbs. or 4-5 cups diced)
3-4 cloves garlic
3 cups organic corn (frozen or fresh)
3 1/2 cups vegetable broth
2 cups plain almond milk, unsweetened
1 1/2 tsp. smoked paprika
Salt/pepper to taste
Optional: fresh chives or green onions for garnish

Directions
Dice onion. In a large stockpot over medium-high heat, saute onion in 3 Tbsp. broth/water for about 7-8 minutes.
Meanwhile, mince garlic and cut potatoes into about 3/4″ chunks.
Add potatoes and smoked paprika to pot. Cook 3-4 minutes, stirring occasionally.
Add minced garlic and cook for 1 minute.
Add broth, milk, corn, and nutritional yeast. Increase heat and bring to a light boil.
Cover, reduce heat, and simmer for 15-20 minutes or until potatoes are tender.
Salt/pepper to taste, and add more nutritional yeast if desired.
Leave as is, or blend some for a creamier texture. (I like to blend about half with an
immersion blender
.)
Garnish with fresh chives, green onion, etc. if desired.

Disclosure: The Garden Grazer is a participant in the Amazon Services LLC Associates Program, an affiliate advertising program designed to provide a means for sites to earn fees by linking to amazon.com and affiliated sites. I only share things I absolutely LOVE and personally use! (There is no additional cost to you in clicking the affiliate link.)