Our favorite Thai peanut sauce with garlic, ginger, and a little sweetness! Only 6 simple ingredients, 10 minutes to make, and super versatile. Vegan, gluten-free, oil-free.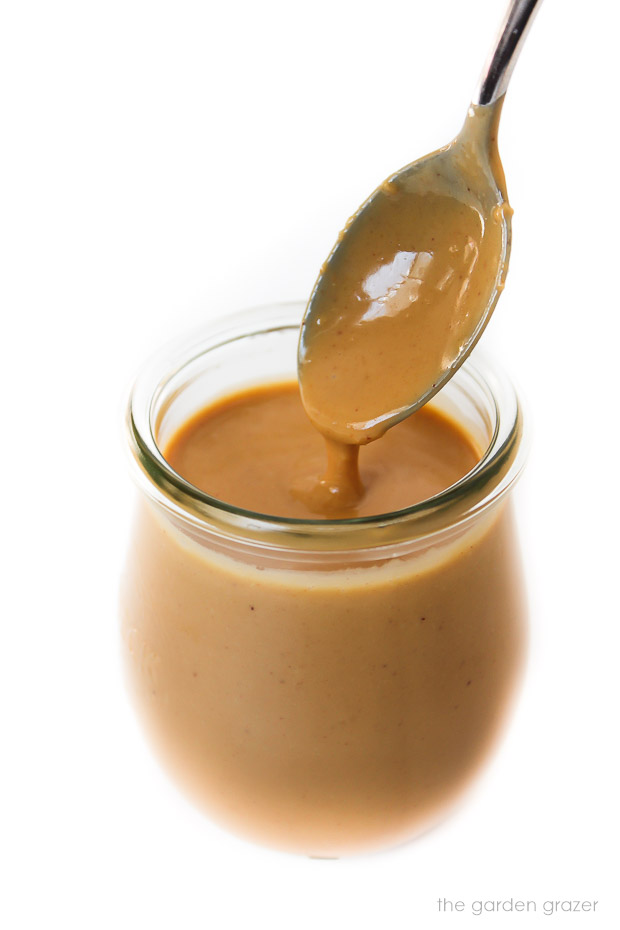 I cannot contain my excitement for this sauce! It's got garlic. It's got ginger. It's got yummy tangy sweetness. All swirled into a luscious, creamy peanut butter base. And it's EASY. Only 6 ingredients and less than 10 minutes! What I love (besides how quick and easy it is) is the all-around flexibility. There are countless ways to make it & use it. For dipping spring rolls, with vegetable stir-fries, on tempeh/tofu dishes (it's a great baked tofu dip), with Thai noodles,
quinoa salads
, or you can thin it out with more water to make a super flavorful salad dressing. There's also a chance you may find yourself just eating it with a spoon from time to time…  😉
I encourage you to play around with different flavors/amounts that suit your palette! It's a fun and delicious recipe to tinker around with. I'd love to hear what combos you find!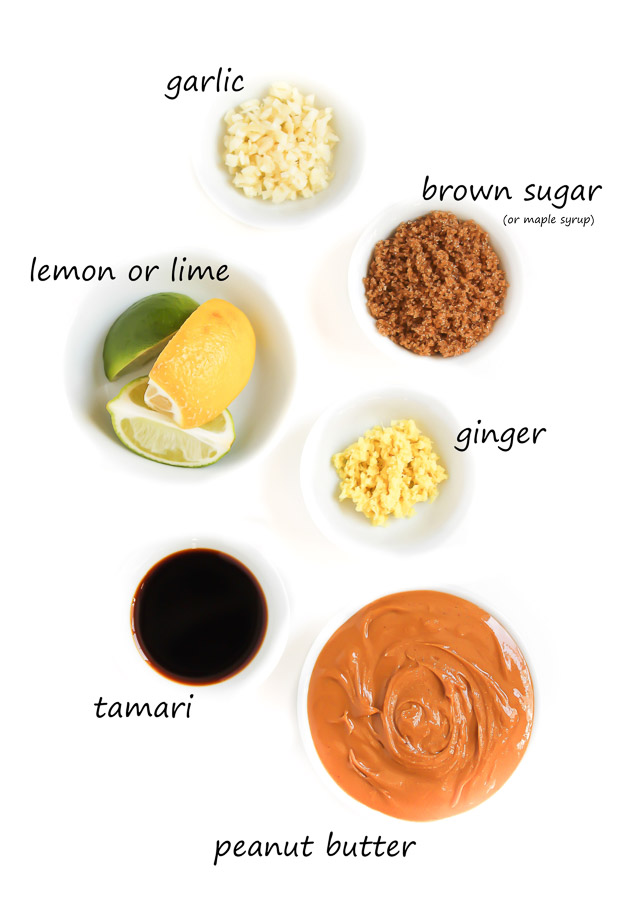 Vegan, gluten-free (with tamari), oil-free
Makes about 1 1/3 cup
Inspired by The Spruce
Ingredients
1/2 cup peanut butter (I use creamy, natural)
2 Tbsp. brown sugar or maple syrup (more/less to taste)
1 1/2 Tbsp. tamari/soy sauce
2 Tbsp. fresh lemon or lime juice
1-2 cloves garlic
1 tsp. fresh grated ginger, more to taste
Hot water (to thin to desired consistency)
Optional: red pepper flakes
Directions
Mince garlic and grate ginger. (I use a microplane grater.)
In a mixing bowl, add all ingredients except water.
Heat about 3/4 cup of water to just under boiling. (I love our tea kettle with thermometer.)
Add water a couple tablespoons at a time, slowly whisking and working the mixture together.
Continue adding water and whisking until sauce reaches your desired consistency. (I usually end up adding roughly 1/2 cup hot water.)
Salt to taste if desired or adjust flavors as needed; more tamari for saltiness, more sweetener, garlic, ginger, or fresh lemon/lime juice.
Play around with the measurements to find the taste you love!

Tips:
For easier whisking, you can microwave/warm peanut butter for a few seconds before adding to bowl.
To create a salad dressing, simply add a bit more water to thin it out to desired consistency.
Come join The Garden Grazer on Instagram 🍓 and share your pics if you try this! I love seeing what you guys cook up.

Need some recipe inspiration? 🌿

Disclosure: The Garden Grazer is a participant in the Amazon Services LLC Associates Program, an affiliate advertising program designed to provide a means for sites to earn fees by linking to amazon.com and affiliated sites. I only share things I absolutely LOVE and personally use! (There is no additional cost to you in clicking the affiliate link.)