Our favorite easy baked tofu recipe! It's simple to prepare, only 6 ingredients, and has such delicious savory flavor. Perfect for snacking, salads, rice bowls, etc. (Vegan, gluten-free, oil-free.)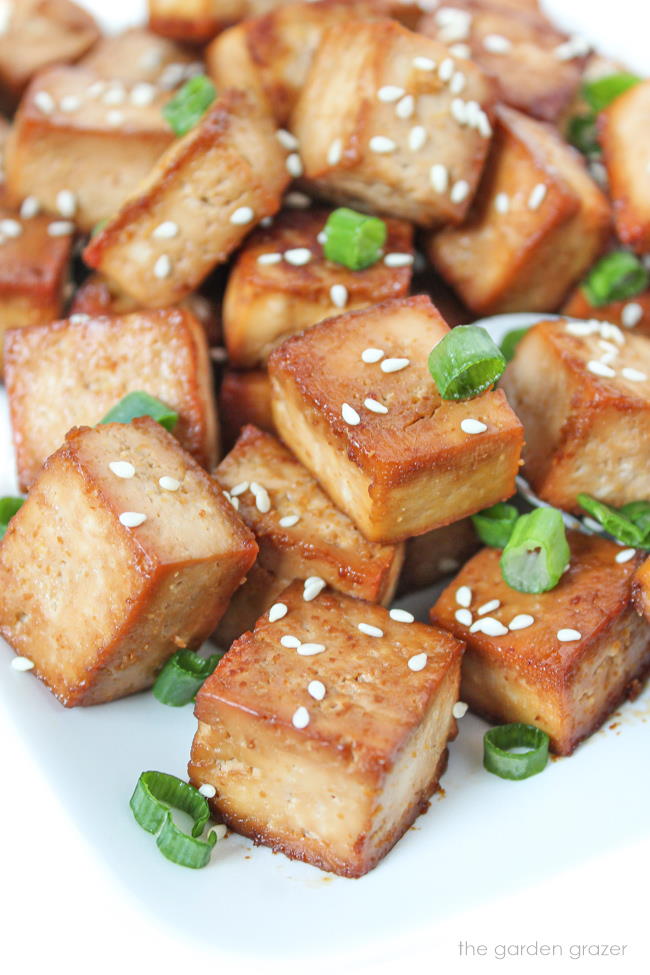 This simple marinated baked tofu is so flavorful and versatile!

Plus it is only 6 ingredients and filled with plant-based protein.

Since tofu is basically a blank palette, we stir together an easy marinade that brings LOTS of savory flavor.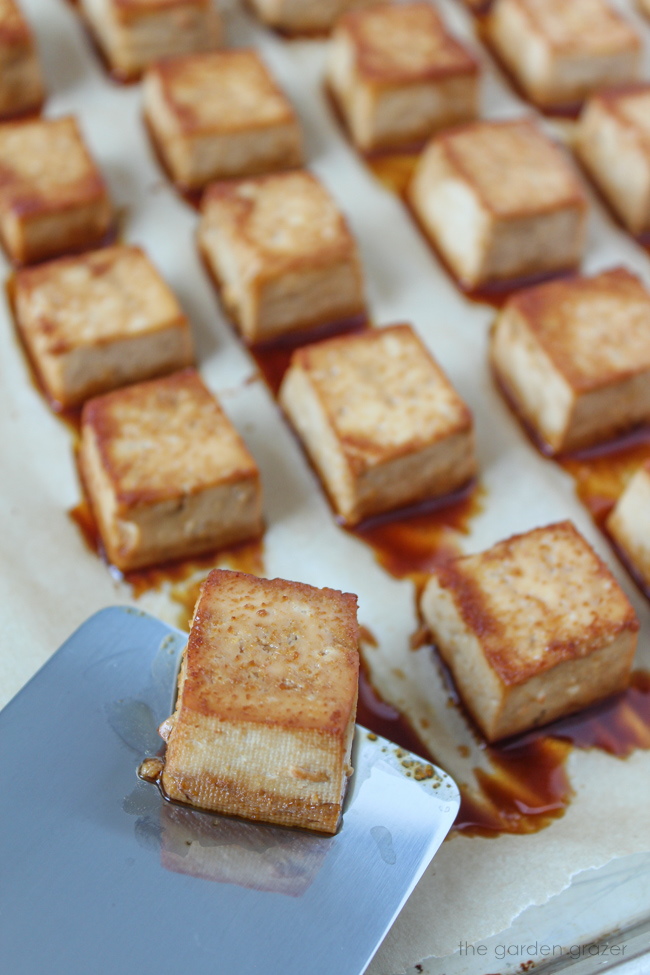 Ingredients for Baked Tofu
For this recipe you will need:
Extra-firm tofu: I purchase organic tofu whenever possible.
Tamari: Or you can substitute soy sauce, but I use tamari for gluten-free. Be sure to use low sodium if desired. Coconut aminos could also work.
Rice vinegar: I use unseasoned vinegar. (Seasoned rice vinegar contains added sugar and salt.)
Pure maple syrup: This is a great natural sweetener, and it helps balance the flavors in the marinade.
Onion powder
Garlic powder
Tip: You can also garnish your bowl with sesame seeds and sliced green onion if desired!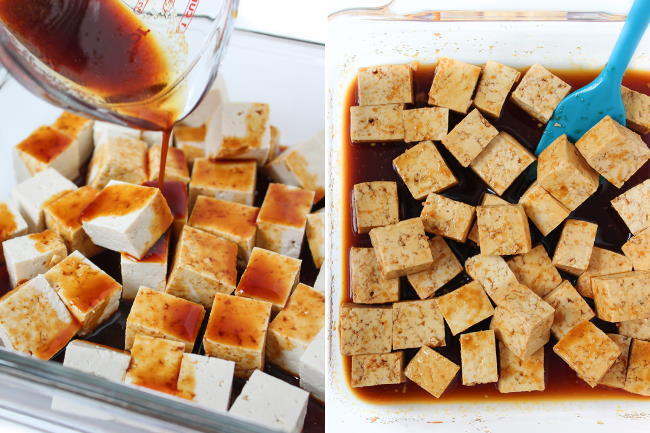 How to Make
This recipe is simple to prepare in just a few easy steps.

Drain: First, we will drain and remove excess moisture from the tofu block. Either use a tofu press if you have one, or gently squeeze the tofu between a layer of paper towels.

Cut: Then we'll slice the tofu in cubes. (I make mine about 3/4-inches each.) You could also try other shapes like triangles or longer strips if desired.

Make the marinade: Then we'll whisk together the flavorful marinade sauce, and pour it over the tofu.

Marinate the tofu: Next we'll let the tofu marinate in the fridge for at least 30 minutes to soak up all the flavors. The longer it marinates, the more sauce it will soak up. (I've let this sit overnight before and the tofu soaks up all of the sauce by then. But 30 minutes is fine too if that's all you have!)

Bake: Finally, we line a baking sheet with parchment paper or Silpat. Then place tofu and bake in the oven at 375°F (190°C).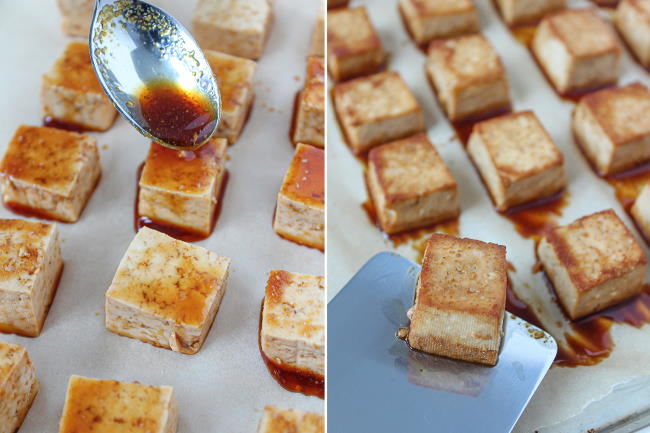 Serving
There are so many ways to enjoy this baked tofu. A few ideas include:
Tossed in Asian-inspired salads: We love this Asian Kale + Tofu Salad with Peanut Dressing.
In rice bowls: Pair it with cooked rice and these saucy Teriyaki Mushrooms.
Wraps and sandwiches: For sandwiches, simply slice the tofu in thinner strips instead of cubes.
Appetizers and snacks: Snack on them hot of the pan, or with a dipping sauce like this Easy Peanut Sauce. (So good!)
Combined with stir-fry veggies for a simple meal
Texture Notes
It's neat how tofu takes on a whole new flavor and texture when baked.

Hot out of the oven, it's golden brown, soft, and tender. Then as it cools, it becomes more dense and firm which holds up well in salads, rice bowls, etc.

We find this tofu is great warm or chilled!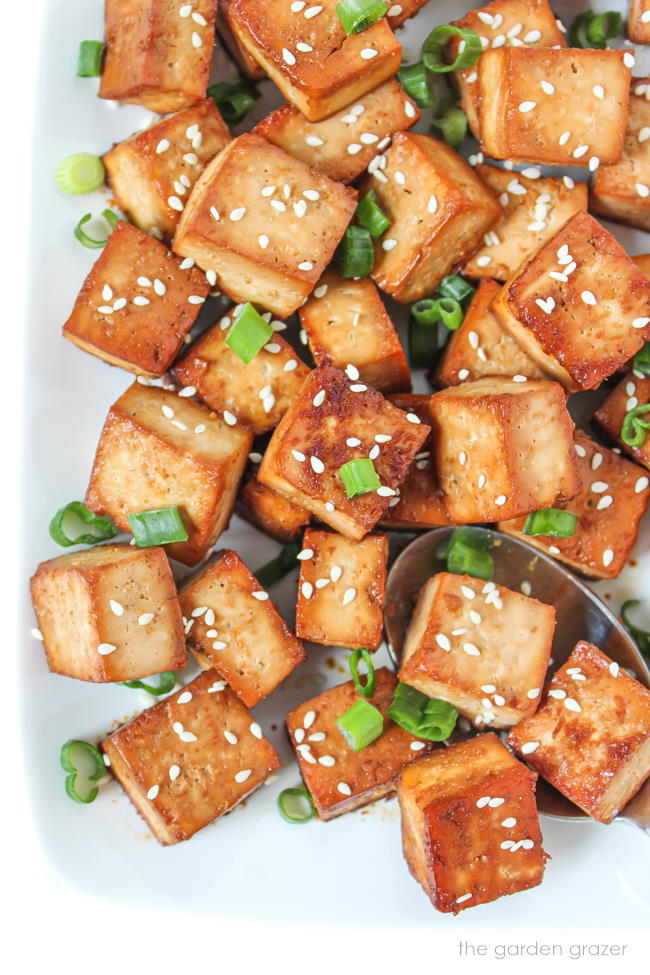 For more inspiration, also browse all tofu recipes.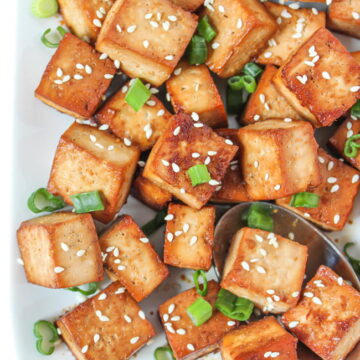 Easy Baked Tofu
Our favorite baked tofu recipe! Simple to prepare, only 6 ingredients, and such delicious savory flavor. Perfect for snacking, salads, rice bowls, etc.
Print Recipe
Pin Recipe
Comment
Ingredients
15

oz.

extra-firm tofu

1/4

cup

tamari

(or soy sauce)

1

Tbsp.

rice vinegar

1

Tbsp.

pure maple syrup

1/2

tsp.

garlic powder

1/2

tsp.

onion powder
Garnish (optional):
Sesame seeds, sliced green onion, etc.
Instructions
Drain tofu and lightly press between towels to remove excess moisture (or use a tofu press if you have one).

Cut tofu in about 3/4″ cubes (or other desired shape). Place in a shallow container where they will marinate. I use an 8" x 8" glass baking dish.

In a small bowl, make the marinade: combine tamari, rice vinegar, maple syrup, garlic powder, and onion powder. Stir/whisk to combine.

Pour marinade over tofu and gently toss to thoroughly coat.

Cover and refrigerate to marinate for at least 30 minutes.*

When ready to bake, preheat oven to 375°F (190°C).

Line a rimmed baking sheet with parchment paper or Silpat. Place tofu on pan in a single, separated layer. (If you have leftover marinade, spoon it over the top of the tofu cubes to maximize the flavor.)

Bake for about 25-30 minutes, or until edges are golden brown, tossing halfway through.

Serve immediately, or keep refrigerated for about 4-5 days.
Notes
*Marinating: The longer the tofu marinates, the more flavor it soaks up. I find 30 minutes works great, but feel free to marinate longer or overnight. It can be a great dish to prepare in the morning for later in the day. I've also prepared this without the 30-minute marinating step and it works fine (just slightly less flavorful). Texture: The tofu cubes are very soft right after baking, but firm up as they cool.
Nutrition Per Serving (Estimate)
Nutrition Facts
Easy Baked Tofu
Amount per Serving
% Daily Value*
* Percent Daily Values are based on a 2000 calorie diet.
Sodium: This is omitted as I cannot provide an accurate number. I encourage you to calculate your own to provide a much more precise reading based on the exact ingredients, brands, and amounts you're using.
For more tofu recipe inspiration, also check out:
Follow The Garden Grazer on Instagram, Pinterest, or Facebook for more updates and inspiration.