Fun and colorful Mexican Quinoa Stuffed Peppers! Easy fiesta-flavored quinoa with black beans and corn is stuffed into these pretty pepper packages for an awesome healthy meal! (Vegan, gluten-free)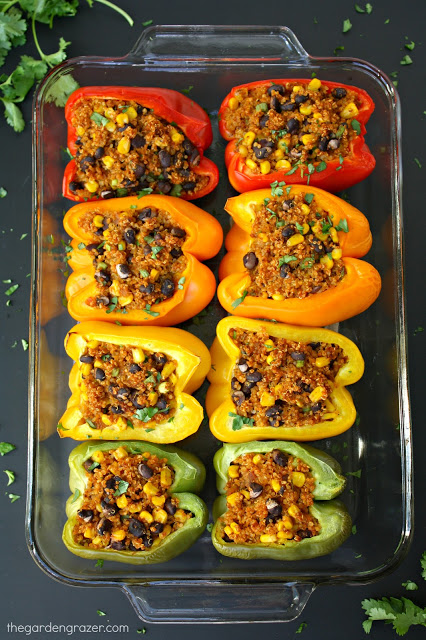 These fun & colorful stuffed peppers are a fiesta for the eyes
and
the mouth 😉 It all starts with a delicious (and incredibly easy) Mexican-style quinoa filling with TONS of flavor… stuffed in a pretty pepper package! By the time it takes the quinoa to cook, you can have everything prepped and ready to go. Then just let the oven do the work!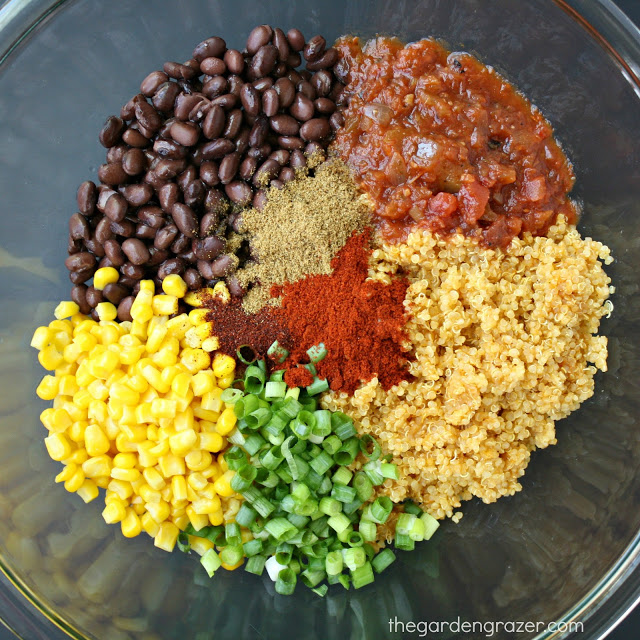 It's a fun recipe to customize based on your own tastes or what you have on hand. Swap out the black beans for pinto beans, add a can of diced tomatoes for a juicier filling (we love this!), swap out the quinoa for rice, or add some spice with smoky chipotle, etc. They're great served as is, or with any desired toppings (guacamole/avocado is my favorite). Hope you enjoy them too – let the pepper party commence!
PS – come join The Garden Grazer on Instagram 🍓 and share a photo if you make this! I love seeing what you guys cook up.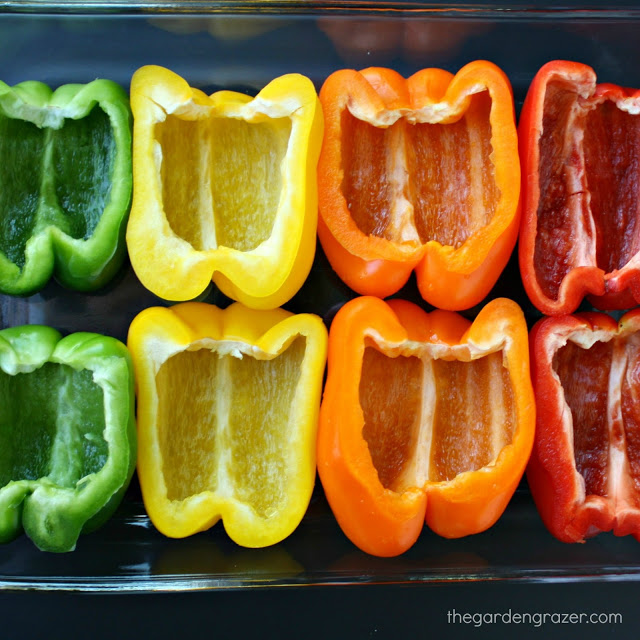 Vegan, gluten-free
Serves about 4
Ingredients
4 large bell peppers
3/4 cup dry quinoa
15 oz. can black beans
1 cup corn (I use frozen, thawed)
2 green onions
2/3 cup salsa
2 Tbsp. nutritional yeast (I use this brand)
1 1/2 tsp. cumin
1 tsp. smoked paprika
1 tsp. chili powder
Optional additions: chipotle, tomatoes, cilantro, green chiles, garlic powder, hemp hearts (I use this brand)
Toppings of choice: guacamole (yum!), salsa, hot sauce, etc.
Directions
Cook quinoa according to package directions with 1 1/2 cups water/broth. (I often use vegetable broth in place of water for more flavor.)
Meanwhile, halve bell peppers and remove stems, seeds and ribs.
Rinse and drain black beans, thaw corn, and slice green onions.
In a large mixing bowl, add cooked quinoa and all other ingredients except bell peppers. Stir to combine, and adjust taste if necessary (salt, more seasonings, nutritional yeast).
Preheat oven to 350.
In a 9×13″ baking dish, place pepper halves, and generously stuff them with the quinoa filling. Lightly press down to compact and fill all the crevices.
Cover with tin foil and bake for 35-40 minutes. Remove foil, and bake 10 minutes more.
Serve with any desired toppings.
Tip: to make them a bit "juicier" just add a can of diced tomatoes – I love this addition!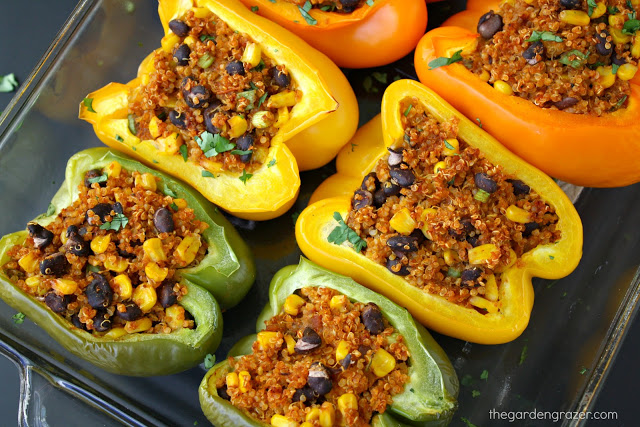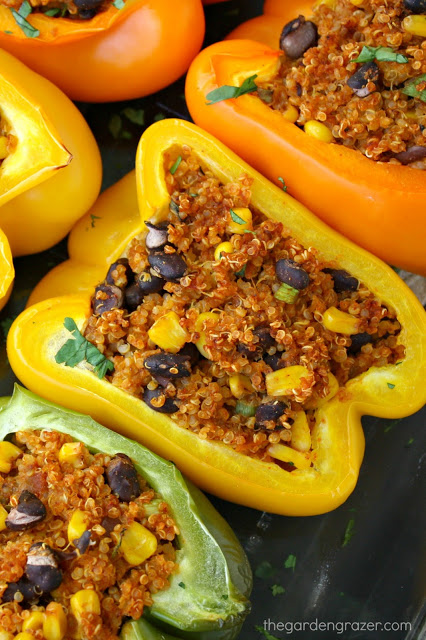 More Mexican-style favorites:
Disclosure: The Garden Grazer is a participant in the Amazon Services LLC Associates Program, an affiliate advertising program designed to provide a means for sites to earn fees by linking to amazon.com and affiliated sites. I only share things I absolutely LOVE and personally use! (There is no additional cost to you in clicking the affiliate link.)