Classic Beans & Rice gets a flavor-packed makeover with a satisfying blend of fiesta flavors in a simple creamy tomato sauce. Like a "fully-loaded" version of Spanish Rice! (Vegan, gluten-free, oil-free)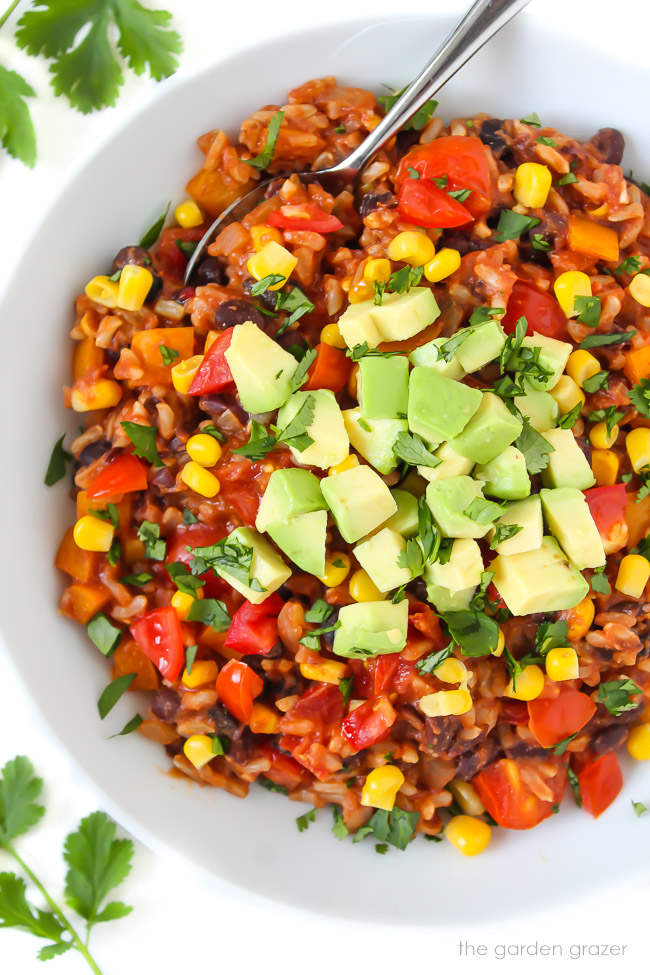 Let's get back to basics with this simple yet satisfying beans and rice dish! Black beans and brown rice combine with a medley of colorful fiesta veggies that are simmered in a creamy, cheesy, tomato sauce spiked with my favorite
homemade taco seasoning
blend. It reminds me of a "fully-loaded" version of Spanish Rice with a delicious black bean and veggie twist.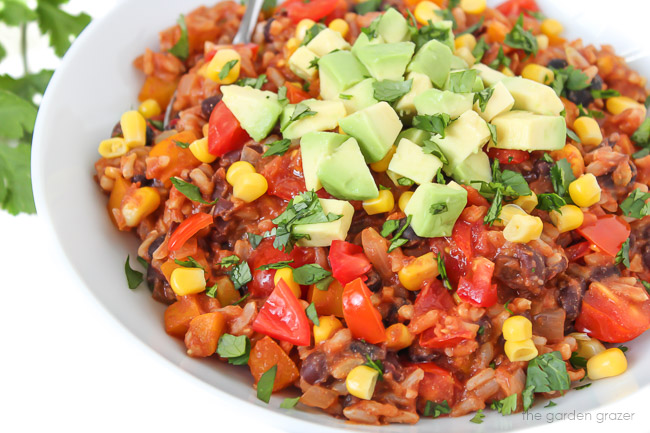 The "cheesy" flavor comes from nutritional yeast and you can add more or less as desired. (Or bump it up even more with your favorite dairy-free shreds for an extra-cheesy version!) This recipe makes a fairly large batch so reduce or halve if desired (however I can attest the leftovers are just as delicious… possibly even more so!) It's a great make-ahead meal for the week if that's your thing. Plus you can find creative ways to re-purpose it – try it as a burrito filling, chip dip, taco salad, layer it in a baked enchilada casserole, or whatever else your heart desires 🙂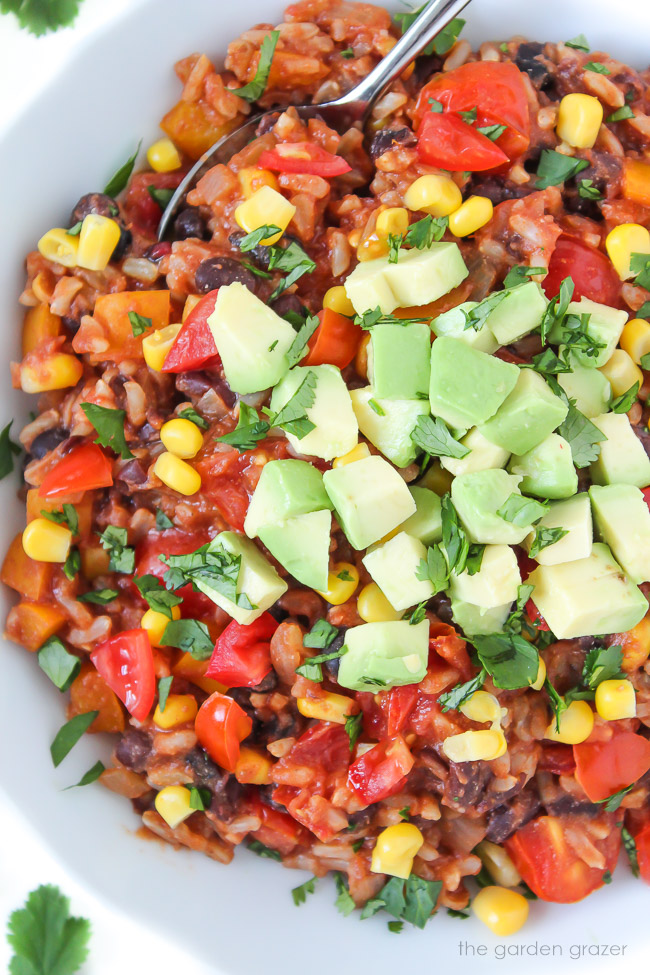 Vegan, gluten-free, oil-free

Ingredients
1 cup dry brown rice (uncooked)
1 small onion
1 orange bell pepper (or other color)
3 cloves garlic
2 Tbsp.
taco seasoning
15 oz. can tomato sauce
1/4 cup nutritional yeast (I use
this brand
)
15 oz. can black beans
1 cup sweet corn (frozen, canned, or freshly cooked)
1 cup cherry tomatoes (or roma, etc.)
Salt to taste
Toppings: avocado, cilantro, fresh tomatoes, hot sauce, dairy-free cheese shreds, tortilla strips
Directions
Cook rice according to package instructions.*
Meanwhile,
make the taco seasoning
and set aside.
Finely dice onion and bell pepper.
In a large skillet over med-high heat, saute onion and bell pepper for 8-10 minutes. (For no-oil sauté method, I use 3 Tbsp. broth/water to sauté and add more as needed.)
Meanwhile, mince garlic and dice tomatoes.
When onion is translucent, add minced garlic and 2 Tbsp. taco seasoning. Cook 1-2 minutes.
Reduce heat. Add tomato sauce, nutritional yeast, black beans (rinsed and drained), corn, and tomatoes. Stir and let simmer on med-low heat for a few minutes (or longer if the rice isn't finished cooking yet).
When rice is cooked, add to skillet and stir well. Heat for 5 minutes to let flavors combine. Salt to taste.
Serve with your favorite toppings. I highly recommend avocado (and tortilla strips for crunch!)
For an extra-cheesy version, add your favorite dairy-free shreds.
*Notes:
– Feel free to cook the brown rice in advance and store in fridge until ready. Brown rice typically takes about 40 minutes to cook, and the dish only takes about 20 minutes until you need to add the rice, so you can wait 20-25 minutes to begin the rest of the steps. (Otherwise it's totally fine to let the sauce gently simmer, stirring occasionally during that time until the rice is ready.)
– You could also substitute quinoa for the rice as it only takes about 20 minutes to cook and the timing would work very well here.
– This makes a fairly large batch so reduce/halve if desired.
– The homemade taco seasoning recipe yields 3 Tbsp. although you will only need 2 Tbsp. for this recipe. I like to make a double or triple batch and store in a sealed glass jar to have on hand.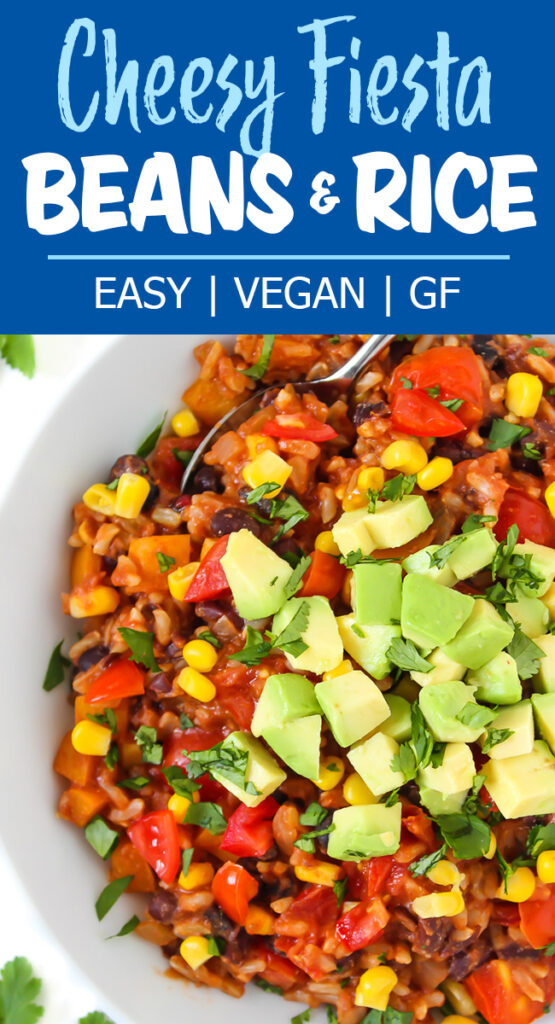 Disclosure: The Garden Grazer is a participant in the Amazon Services LLC Associates Program, an affiliate advertising program designed to provide a means for sites to earn fees by linking to amazon.com and affiliated sites. I only share things I absolutely LOVE and personally use! (There is no additional cost to you in clicking the affiliate link.)