A hearty, satisfying Roasted Chickpea Salad topped with creamy hummus and tangy balsamic! Plus it's easy to customize with your favorite salad additions or whatever is in season. (Vegan, gluten-free, oil-free.)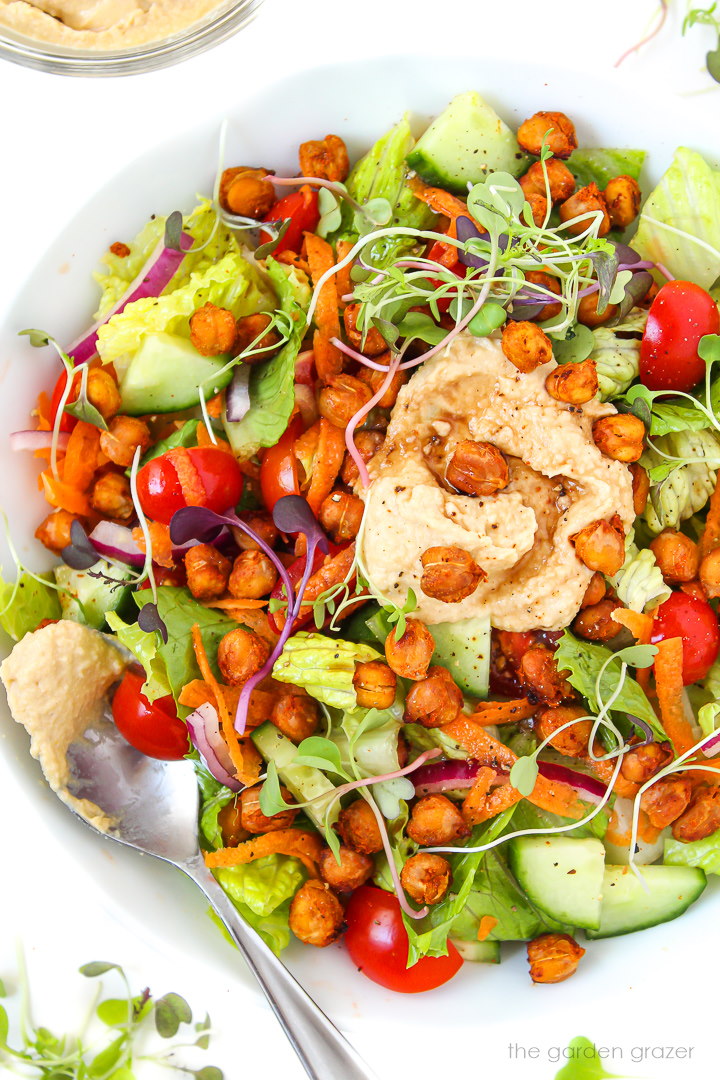 Chickpeas on chickpeas? Let's do this.

I love a good, hearty, satisfying salad. And this one's been heavy in the rotation.

We start with a fresh, nourishing base that you can customize with your favorite veggies.

Then we top it with protein-rich chickpeas... two ways! Both in creamy hummus form and crispy, savory roasted form. (Yum!)

There are endless ways to customize this recipe so have fun finding your favorite variations. It's also a great recipe to change up based on whatever's in season.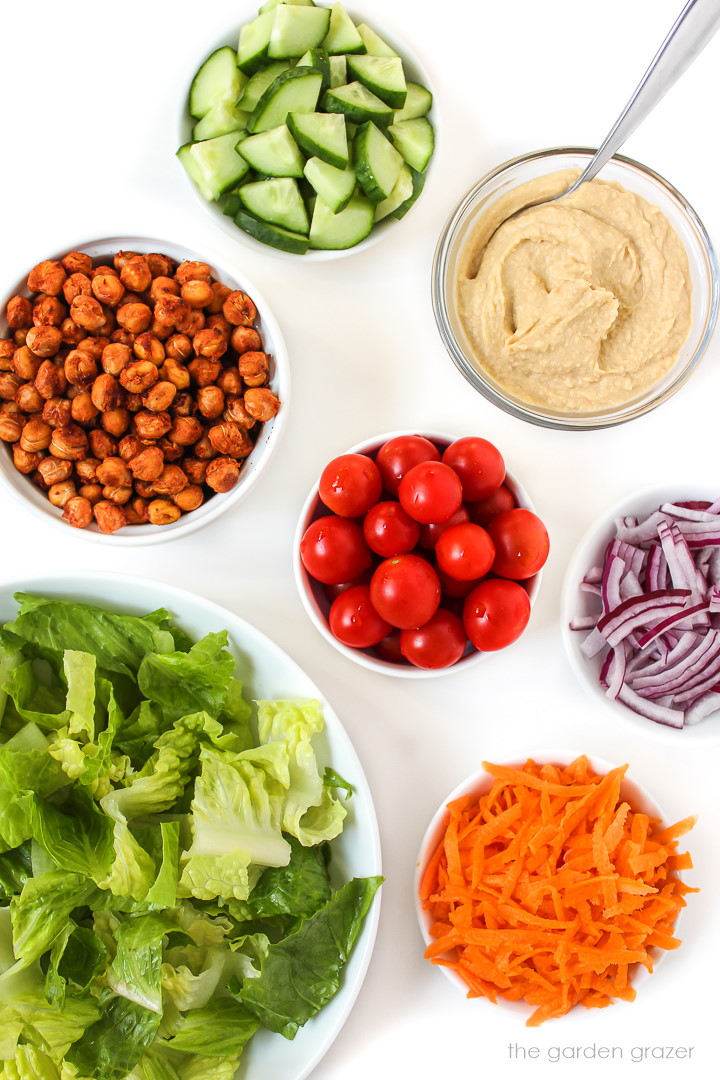 Ingredients for Roasted Chickpea Salad
For this recipe you will toss together in a large bowl:
Romaine lettuce: We will use one head romaine for this recipe, which is about six cups chopped. I prefer romaine for this recipe because the leaves are so fresh and crisp.
Cucumber: Most of the time I use hothouse cucumbers (also called English cucumbers). But you can use seedless garden cucumbers if desired.
Carrot
Grape tomatoes: Or you can use cherry tomatoes, roma tomatoes, plum tomatoes, or other garden tomato.
Red onion: For a milder flavor you can use green onions (scallions) instead.
Hummus: This adds so much creaminess and richness to the salad. I like using my homemade oil-free Hummus recipe, but simply use your own favorite or store-bought version. I often prepare the hummus in advance and store in a sealed container in the refrigerator so it's ready to go.
Roasted chickpeas: We'll roast these in the oven after tossing them with a flavorful spice blend that reminds me of vegan bacon-style flavors. You can either make one or two batches of these Smoky Roasted Chickpeas depending on how much you want to include in your salads. (I like a double batch for lots of crispy chickpea goodness.) Adding a warm ingredient to salads is a great way to change it up and make it feel extra hearty. Plus the chickpeas are a good source of plant-based protein and fiber.
Balsamic vinegar: A simple drizzle of balsamic vinegar adds the finishing touch to the salad. (It's delicious mixed with the hummus.) Feel free to include black pepper as well if desired.
Prefer a flavored hummus? Try this Chipotle Taco Hummus, Lemon Dill Hummus, or Cilantro Jalapeno Hummus instead!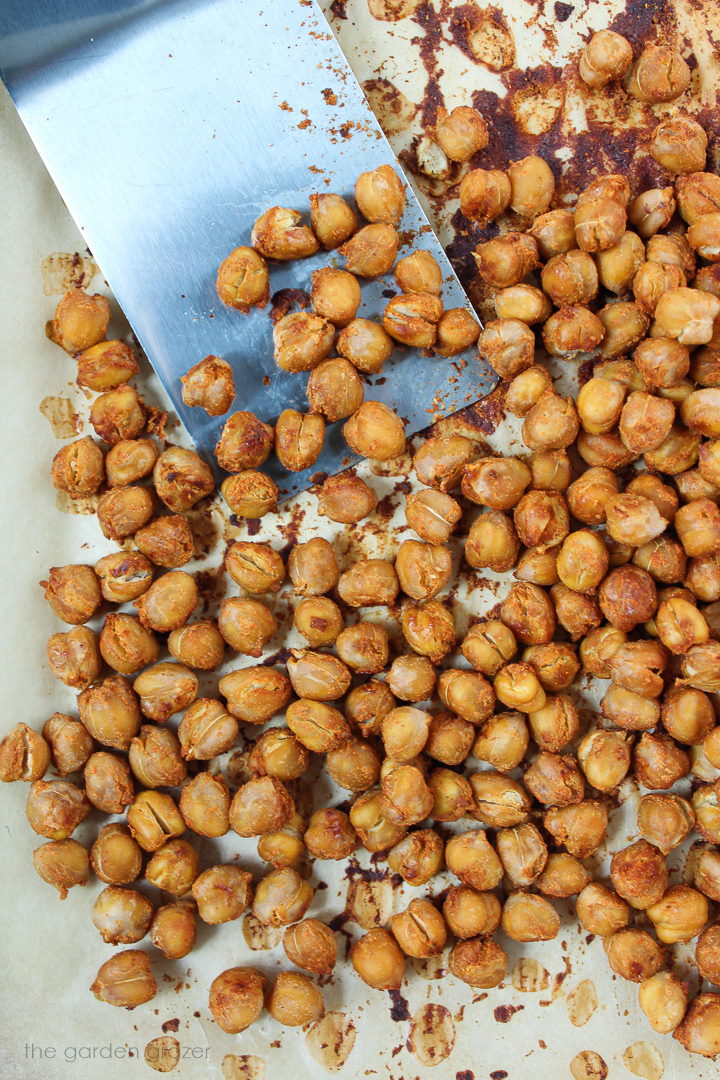 Customizing
Use this recipe as a template for building your own salad. It's highly flexible so you can make it just the way you like it. A few ideas include:

Vegetables: Swap in seasonal fresh veggies or your own favorites. Sugar snap peas, red cabbage, bell pepper, fresh sprouts, avocado, roasted sweet potatoes, sweet corn, or Kalamata olives would be great. Fresh herbs like cilantro, parsley, basil, and dill can add vibrant flavor as well.

Lettuce base: Instead of romaine, use your favorite greens like fresh baby spinach, kale, mixed salad greens, etc.

Nuts + seeds: Add sunflower seeds, pumpkin seeds, hemp hearts, slivered almonds, crushed peanuts, etc.

Grains: For an even heartier salad, add cooked rice, quinoa, farro, or your own favorite grain.

Dairy-free cheese: Sprinkle vegan feta cheese crumbles to taste if desired.

Dressing: I love the combination of creamy hummus and tangy balsamic. But change it up with your own favorite dressing! You can use Creamy Balsamic Dressing, Maple Balsamic Dressing, Vegan Ranch Dressing, Vegan Italian Dressing, Creamy Herb Dressing, or a simple squeeze of fresh lemon juice.
Prefer a wrap? Grab your favorite whole grain tortilla and wrap this salad up for a portable, on-the-go meal!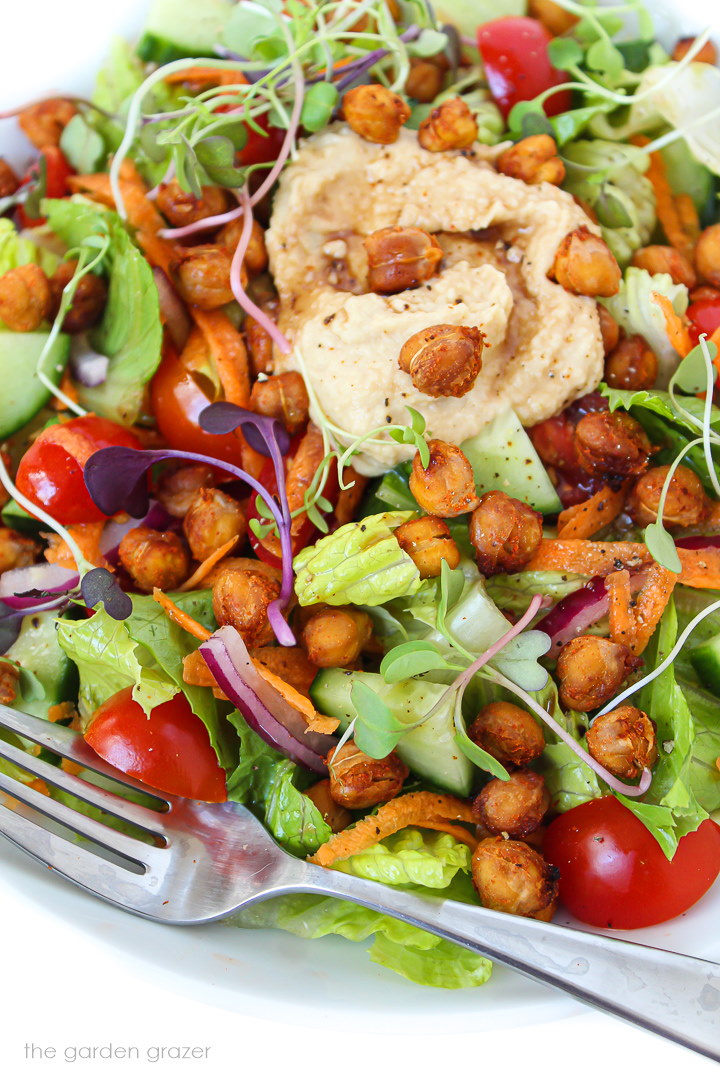 Serving
Family-style: Set out the prepared ingredients on the counter like a salad bar. Then let everyone assemble their own bowl just the way they like it!

This hearty salad is great for lunch, dinner, a side dish, meal prep, or even take-along lunches.
Storing
For best freshness, store the salad, hummus, and roasted chickpeas all in separate air-tight containers in the fridge. Then simply assemble when ready to enjoy.
Note: The chickpeas will lose some of their crispiness when stored, but they're still very tasty!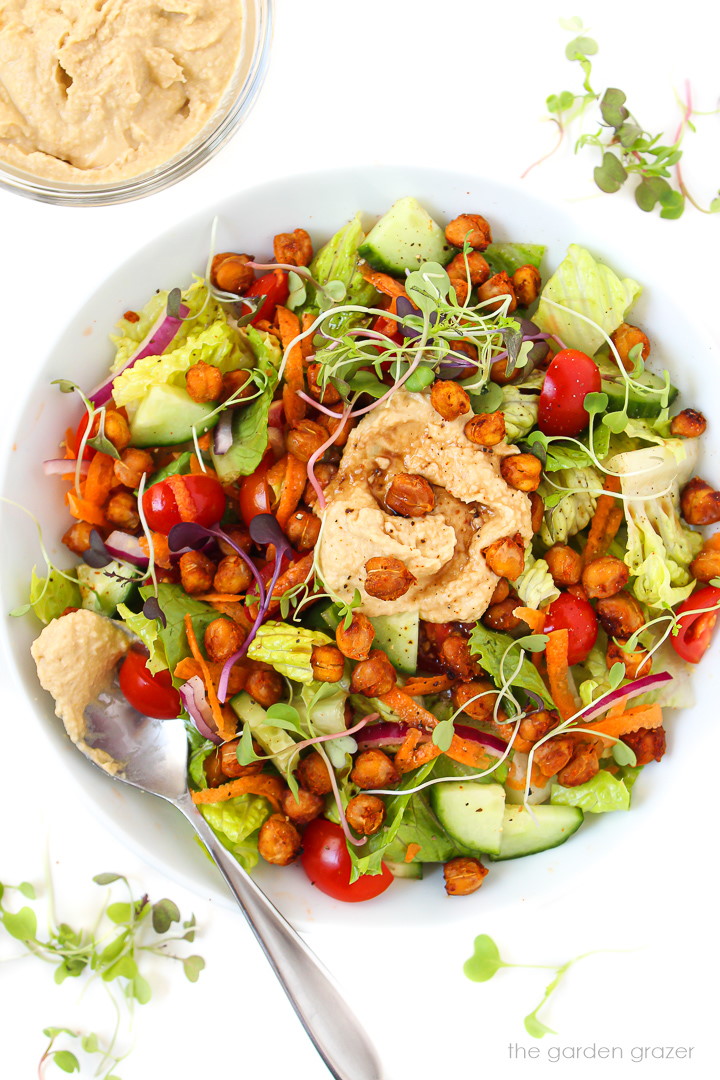 For more inspiration, also browse all chickpea recipes or easy vegan dinner recipes.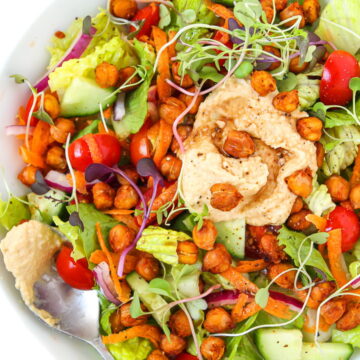 Roasted Chickpea Salad with Hummus
A hearty salad topped with creamy hummus, crispy chickpeas, and tangy balsamic. Easy to customize with your own favorites or whatever is in season!
Print Recipe
Pin Recipe
Comment
Instructions
Make hummus: While the chickpeas are roasting, make the hummus. (Or do this ahead of time and store in fridge until ready.)

Prepare the salad: Chop the romaine lettuce, dice cucumber, shred carrot, halve/quarter tomatoes, and thinly slice the onion. Place in a large bowl and lightly toss to combine.

Assemble salad: Place desired amount of salad in a serving bowl and top with roasted chickpeas, a dollop of hummus, and drizzle of balsamic vinegar (or other dressing of choice).
Notes
*Roasted chickpeas: Often I'll make a double batch (using two 15-ounce cans) because I enjoy lots of crispy chickpea goodness in my salad. But feel free to stick to one batch if desired.
Other possible additions:
Sprouts, avocado, beets, bell pepper, red cabbage, Kalamata olives, nuts, seeds, vegan feta cheese, etc.
Nutrition: The estimated nutritional content is calculated based on using one batch of roasted chickpeas.
Nutrition Per Serving (Estimate)
Nutrition Facts
Roasted Chickpea Salad with Hummus
Amount per Serving
% Daily Value*
* Percent Daily Values are based on a 2000 calorie diet.
Sodium: This is omitted as I cannot provide an accurate number. I encourage you to calculate your own to provide a much more precise reading based on the exact ingredients, brands, and amounts you're using.
If you are enjoying this Roasted Chickpea Salad recipe with hummus, also check out:
Follow The Garden Grazer on Instagram, Pinterest, or Facebook for more updates and inspiration.