Soothing Golden Turmeric Milk with cinnamon and vanilla. The ultimate cozy nighttime drink that's said to help promote more restful sleep!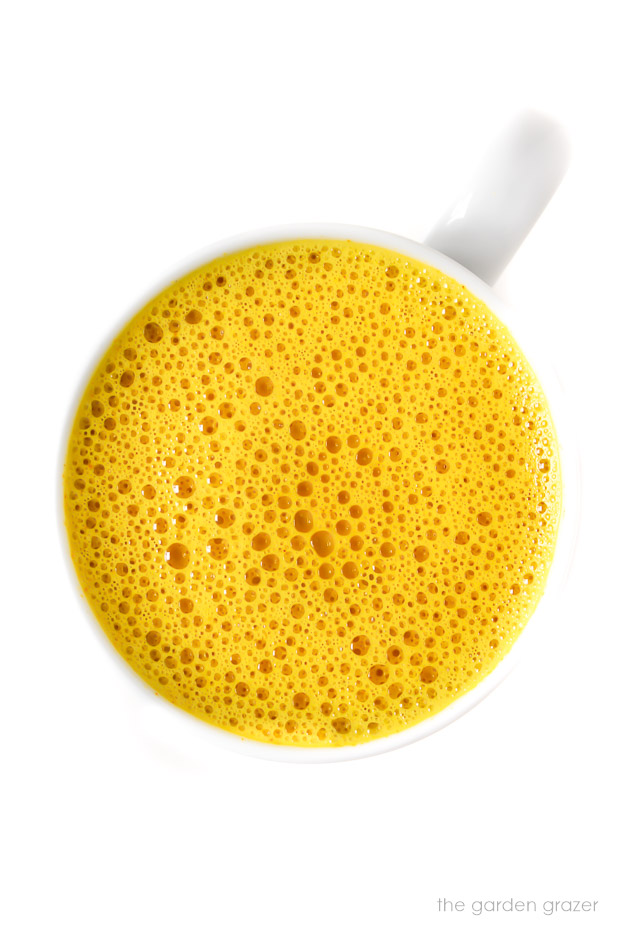 Have you tried golden turmeric milk lattes? We love this warm, soothing drink. I was surprised to notice I actually do sleep more restfully when I include it in my nighttime routine. (Usually drinking it a couple hours before sleep.) The nutritional benefits are wonderful, and it tastes so comforting. Earthy turmeric with a hint of sweetness and notes of cinnamon & vanilla – yum!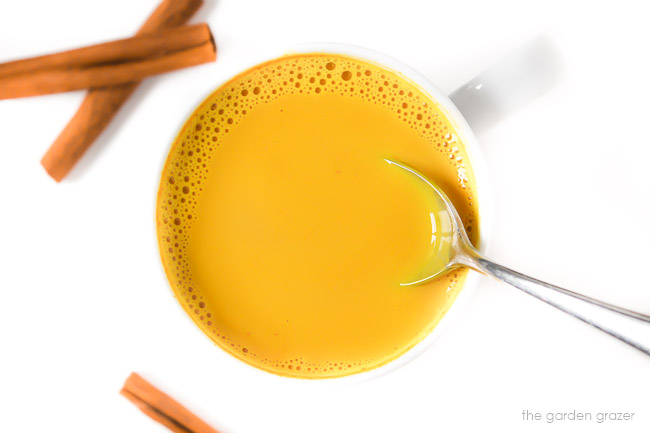 Historically, turmeric has been a staple in Indian cuisine and for centuries. It's widely used in Ayurvedic medicine for a huge variety of conditions. Studies show it supports digestion, enhances immune function and liver function, contains antioxidants, and reduces inflammation. (I absolutely love it in my 20-Minute Healing Turmeric Noodle Soup as well!)
Sidenote: if you're interested in learning about Ayurvedic medicine/lifestyle, I enjoy the teachings in these two beautiful books:
Ayurveda Lifestyle Wisdom
The Ayurveda Way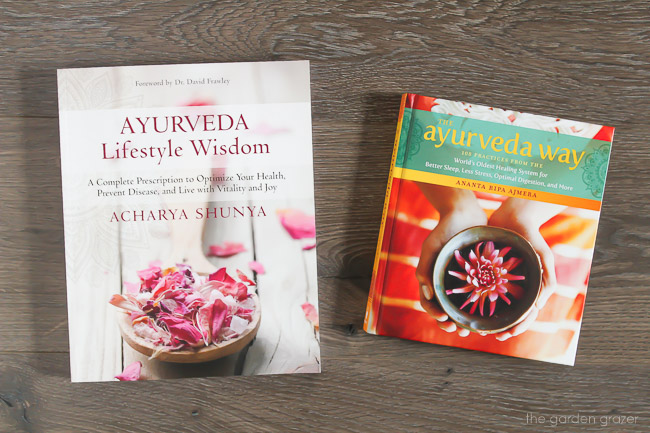 Traditional Ayurvedic medicine incorporates meat & dairy in the diet, but I adapt the methods and recipes to stay aligned with my plant-based lifestyle.
Now back to the turmeric milk… this color makes me smile! 💛
Bedtime Golden Turmeric Milk
Soothing Bedtime Golden Turmeric Milk with cinnamon and vanilla! The ultimate cozy nighttime drink. Customizable, easy to make, and is said to help promote more restful sleep.
Ingredients
2

cups

soy milk

(or other plant-based milk)

1

tsp.

ground turmeric

(more as desired)

1/2

tsp.

ground cinnamon

(I use Ceylon cinnamon)

2-3

Tbsp.

maple syrup

(depending on desired sweetness)

1

tsp.

vanilla extract

(more to taste)

Pinch

of black pepper
Optional
1/4 tsp. ground ginger (or freshly grated), cardamom
Instructions
In a small saucepan over medium heat, add all ingredients and whisk to combine.

Heat for about 5-6 minutes until milk is hot, whisking occasionally.

Take care not to boil (only warm & lightly simmer until the spices are dissolved).

Carefully pour into a mug and enjoy! Breathe deep, sip slow, be well.
Notes
I use plain, unsweetened soy milk, so adjust vanilla and maple syrup to taste if you're using a sweetened or flavored milk.
The pinch of black pepper is said to aid in the effectiveness of turmeric. As for absorption, I've read when eaten with fats & oils, it helps absorb turmeric in the gut. (Anyone with more info on this, I'd love to hear!)
Turmeric can stain, so pour & use cautiously.
Recipe adapted from Nutrition Stripped
Nutrition Per Serving (estimate)
Calories:
164
kcal
|
Carbohydrates:
21
g
|
Protein:
7
g
|
Fat:
4
g
|
Potassium:
428
mg
|
Fiber:
2
g
|
Sugar:
15
g
|
Vitamin A:
930
IU
|
Vitamin C:
17.7
mg
|
Calcium:
359
mg
|
Iron:
2.3
mg

Disclosure: The Garden Grazer is a participant in the Amazon Services LLC Associates Program, an affiliate advertising program designed to provide a means for sites to earn fees by linking to amazon.com and affiliated sites. I only share things I absolutely LOVE and personally use! (There is no additional cost to you in clicking the affiliate link.)