Soothing Bedtime Golden Turmeric Milk with cinnamon and vanilla! The ultimate cozy nighttime drink that's customizable, easy to make, and is said to help promote more restful sleep (plus all the awesome nutritional and Ayurvedic benefits!)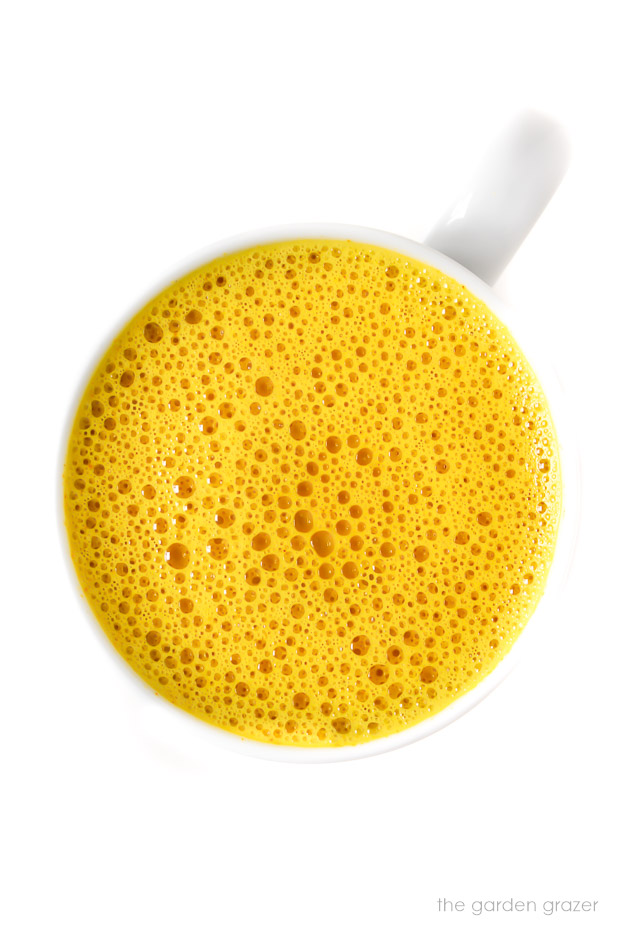 Have you tried golden milk? We love this warm, soothing, nighttime (or anytime!) beverage. I was pleasantly surprised to notice I actually do sleep more restfully and deeply when I include it in my bedtime routine. (Usually drinking it a couple hours before sleep.) The nutritional benefits are wonderful, and it tastes so comforting – earthy turmeric with a hint of sweetness and notes of cinnamon & vanilla. Play around to find your own favorite flavors! Add the optional ginger, cardamom, more/less sweetness, etc.
Turmeric has really been picking up momentum in the United States. Historically it's been a staple in Indian cuisine and for centuries it's been widely used in Ayurvedic medicine for a huge variety of conditions. It's been said to support digestion, enhance immune function and liver function, contain antioxidants, and reduce inflammation. (I absolutely love it in my 20-Minute Healing Turmeric Noodle Soup as well!)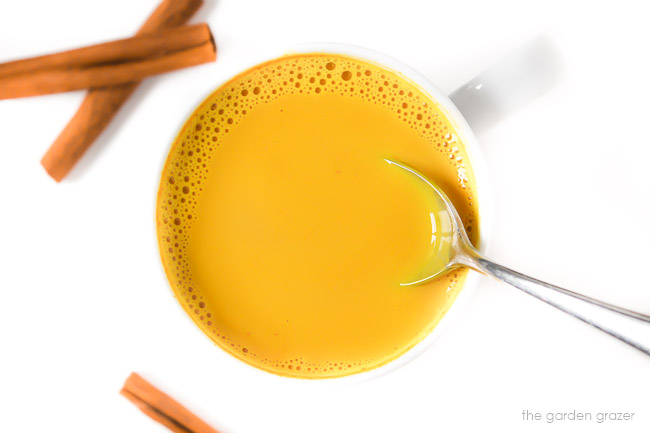 On the topic of sleeping better, I also notice eating an earlier dinner so my body has time to fully digest before bedtime definitely helps promote better sleep. (And not snacking before bed.) It doesn't always happen, but I strive to finish eating at least 2-3 hours before bedtime, and drink more water during the first half of the day and taper it down the last few hours. This turmeric milk has been the perfect solution, helping both curb my appetite for late-night snacking as well as providing all the sleep-enhancing benefits – win/win!
Quick sidenote: if you're interested in learning about Ayurveda medicine and lifestyle, I really enjoy these two books:
Ayurveda Lifestyle Wisdom
The Ayurveda Way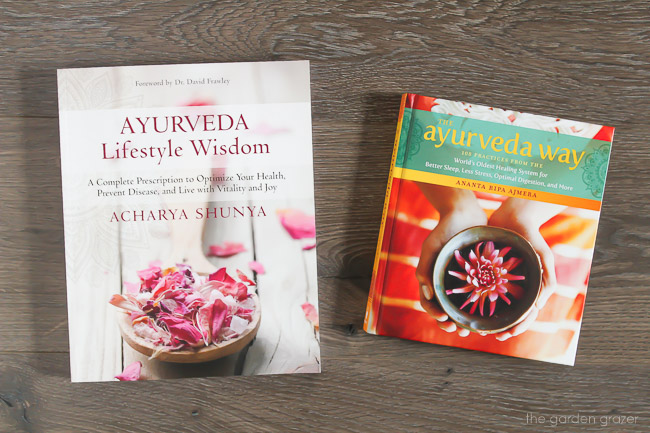 Traditional Ayurvedic medicine incorporates meat & dairy in the diet, but I adapt the methods and recipes to stay aligned with my plant-based lifestyle. There are many things I've put into practice from both of these amazing books and am really enjoying the benefits. Would love to hear if you've tried any Ayurvedic methods as well!
Now back to the turmeric milk… this color just makes me SMILE! 💛
Vegan, gluten-free, oil-free
Makes 2 servings
Adapted from Nutrition Stripped
Ingredients
2 cups soy milk (or other plant-based milk)
1 tsp. ground turmeric (more as desired)
1/2 tsp. ground cinnamon
2-3 Tbsp. maple syrup (depending on desired sweetness)
1 tsp. vanilla extract, more to taste
Pinch of black pepper
Optional: 1/4 tsp. ground ginger (or freshly grated), cardamom
Directions
In a small saucepan over medium heat, add all ingredients and whisk to combine.
Heat for about 5-6 minutes until milk is hot, whisking occasionally.
Take care not to boil (only warm & lightly simmer until the spices are dissolved).
Carefully pour into a mug and enjoy! Breathe deep, sip slow, be well 🙂
Notes:
I use plain, unsweetened soy milk, so adjust vanilla and maple syrup to taste if you're using a sweetened or flavored milk.
The pinch of black pepper is said to aid in the effectiveness of turmeric (not necessary, but helps.) As for absorption, I've read when eaten with fats & oils, it helps absorb turmeric in the gut. (Anyone with more info on this, I'd love to hear!)
Turmeric can stain, so pour & use cautiously.

Disclosure: The Garden Grazer is a participant in the Amazon Services LLC Associates Program, an affiliate advertising program designed to provide a means for sites to earn fees by linking to amazon.com and affiliated sites. I only share things I absolutely LOVE and personally use! (There is no additional cost to you in clicking the affiliate link.)