Classic Potato Salad gone vegan! This delicious summertime staple is packed with a flavorful, creamy base and refreshing crunchy veggies. Easy, 20 minutes, and only 8 ingredients!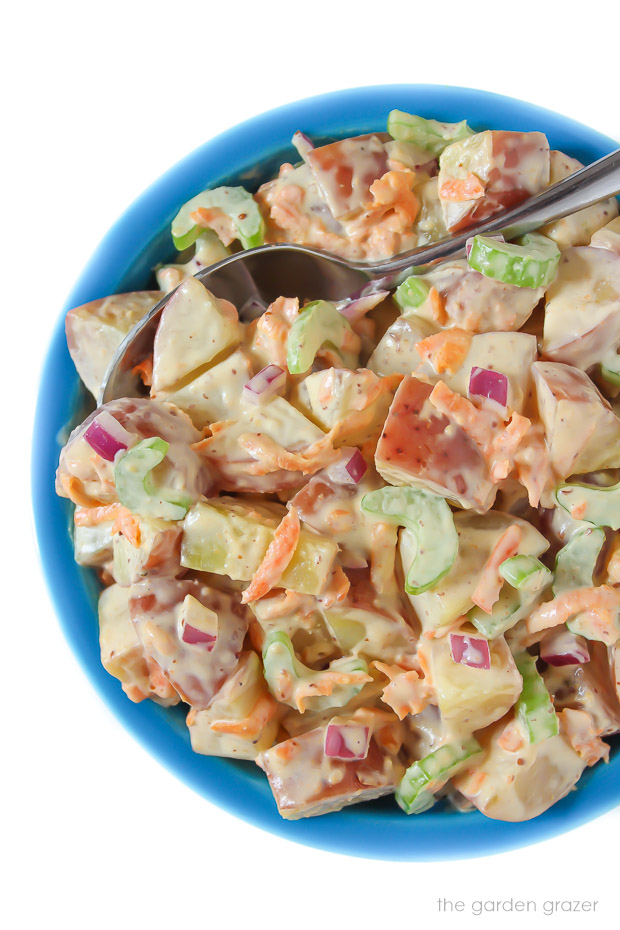 We're absolutely CRAZY about this potato salad! It's super easy to make and only takes 20 minutes and 8 ingredients. Plus it's a great meal to make ahead of time if you're planning to bring it along to a picnic or party – the flavors only get better as it sits! I typically like to keep processed foods as minimal as possible (i.e. store-bought vegan mayo) but for this traditional-style potato salad I just had to have the "real" stuff. Trust me, it's GOOD! I've always been a huge potato fan of any and all kinds and this is definitely my latest obsession. I find it hard to walk away from the bowl and continually venture back to the fridge if it's just sitting in there… I even ate it for breakfast one day! (Do I admit that?)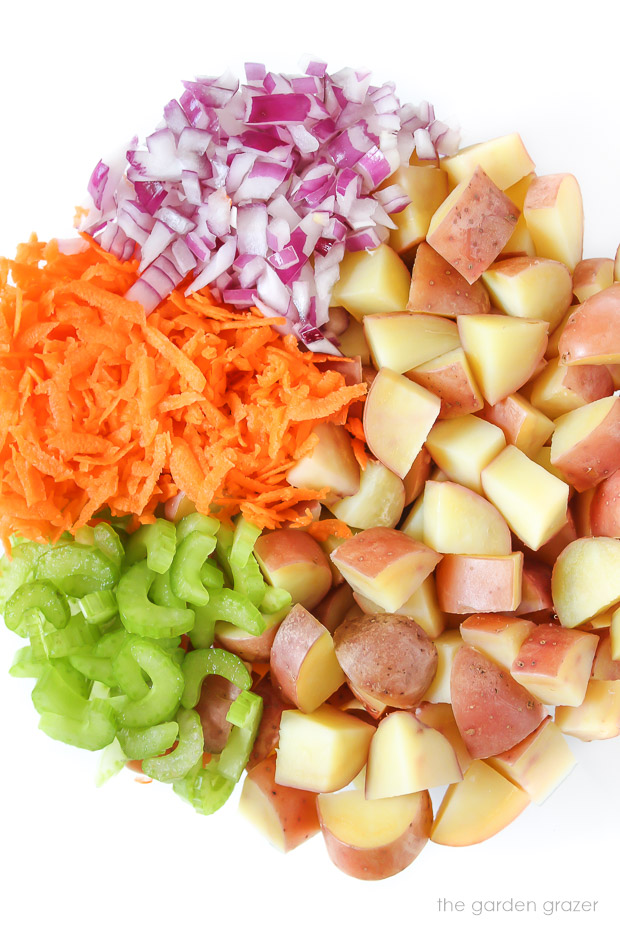 That said, I'm also currently testing a lightened up (mayo-free/oil-free) fresh herb potato salad for those who like other options so stay tuned! Red fingerling potatoes are my favorite to use with this recipe – the size is perfect. Plus they have a firm texture that hold up really well during cooking, and the skin is delicate (and pretty!) so no need for peeling. No worries if you can't find them in your area though… regular red potatoes or Yukon golds work just fine! Hope you enjoy as much as we do. Pro tip: it tastes even better when eaten outdoors in the sunshine 😉
PS – I'd love to see if you make this! Come join The Garden Grazer on Instagram 🍓 and share your pic!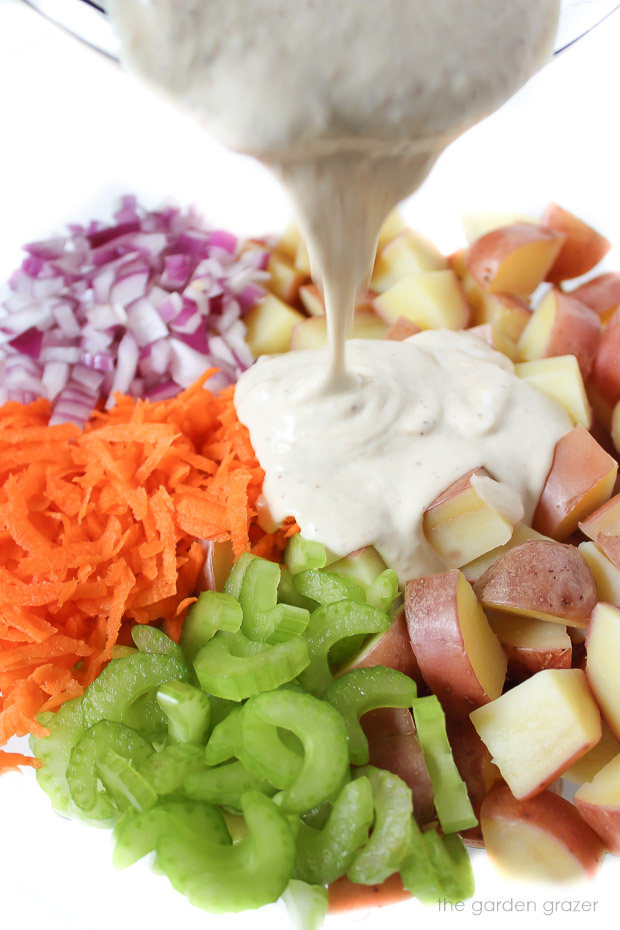 Vegan, gluten-free

Ingredients
2 lbs. red or yukon potatoes (I use organic red fingerling)
1/4 cup red onion (or 2-3 green onions)
1 carrot
2 stalks celery
3/4 cup vegan mayo (I like Vegenaise by Follow Your Heart)
3 Tbsp. stoneground mustard
2 Tbsp. Dijon mustard
1 Tbsp. pure maple syrup
2 tsp. salt (plus more salt/pepper to taste if desired)
Other additions: fresh herbs (parsley & dill are wonderful), chives, chopped pickles or pickle relish, capers, lemon juice, smoked paprika, bell pepper, etc.

Directions
Rinse potatoes and cut into about 3/4-inch to 1-inch chunks.
Place potatoes in a medium-large saucepan and fill with water to 1 inch above potato line. Add 2 tsp. salt to water.
Place over high heat on the stove, and bring to a boil. Once boiling, reduce heat to med-low and simmer for about 5-6 minutes or until fork-tender (but not too mushy!)
While potatoes are cooking, prep veggies: dice red onion, slice celery, and shred/grate carrot. (I use a box grater.)
Make dressing: in a small bowl, combine mayo, both mustards, and maple syrup. (Feel free to mix in some fresh herbs if you'd like!) Stir well to combine.
In a large mixing bowl, add drained potatoes, veggies, and pour dressing over top. Toss well to coat.
Salt/pepper to taste if needed. Garnish with fresh herbs, chives, smoked paprika, etc. if desired.
Notes:
Great served chilled or at room temp.
Can serve immediately, but the flavors will beautifully intensify after it sits and "marinates" for a little while! (It's a great option to make a day ahead.)
Initially it may look like too much dressing, but I find the potatoes soak it up quite a bit as it sits. Feel free to reduce it to your liking however!

{Printer Friendly Version}

Disclosure: The Garden Grazer is a participant in the Amazon Services LLC Associates Program, an affiliate advertising program designed to provide a means for sites to earn fees by linking to amazon.com and affiliated sites. I only share things I absolutely LOVE and personally use! (There is no additional cost to you in clicking the affiliate link.)