2016: International Year of the Pulses
Every year, the United Nations observes an issue of international interest or concern. (See the list here – very interesting!) It's an amazing way to help connect and unify the world in a positive way. This year, 2016 was declared "International Year of the Pulses".
What are Pulses?
Pulses are a subgroup of the legume family which includes dried lentils, beans, peas, and chickpeas. (Some of my favorites!) The international year was declared to showcase pulses as a primary source of protein and nutrients. Plus increase awareness of their many benefits including environmental and sustainability, high nutritional value, affordability, and potential to address global food security. Please take a moment to check out this awesome infographic. It's a quick and easy reference that touches on each benefit!
Vegan Lentil Recipes
Below I'm highlighting one of the amazing pulses (lentils!) with 50 diverse vegan recipes. I encourage you to learn more about pulses through the official Food and Agriculture Organization's 2016 IYP website. Plus cook more meals with them, or share your knowledge about health and sustainability with family and friends. Let's continue raising awareness about these wonderful, tiny legumes. Hope you enjoy the recipe inspiration!
Lentil Soup & Chili Recipes
Lentil Spinach Soup (pictured above)
Smoky Tomato Lentil Soup
Red Lentil Sweet Potato Stew
Black Bean Lentil Taco Soup
Lentil Stuffed Pepper Soup
Rustic Lentil & Potato Soup (tastes like veganized beef stew!)
Mexican Red Lentil Stew – Kalyn's Kitchen
West African Peanut Lentil Soup – Vegan Richa
Lentil Chili – Whole Foods Market
Curried Lentil Soup – Cadry's Kitchen
Lemony Lentil Soup – Yummy Mummy Kitchen
Lentil Chili with Roasted Red Peppers – Kalyn's Kitchen
Crushed Lentil Soup – Veggie Chick
Middle Eastern Green Lentil Soup – Lands and Flavors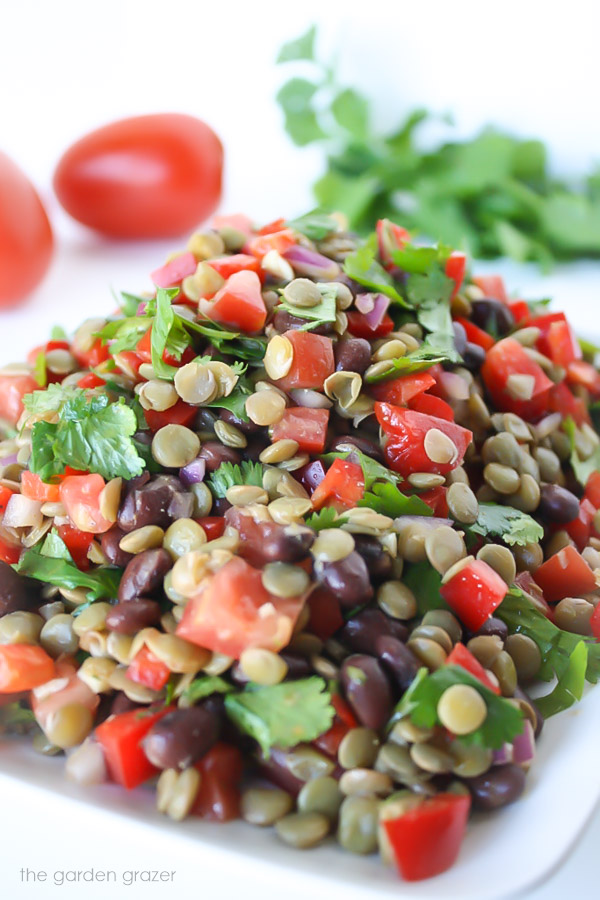 Vegan Lentil Salad Recipes
Black Bean Lentil Salad with Cumin-Lime Dressing (pictured above)
Lentil Quinoa Salad
5-Minute Lentil Tomato Salad
Lentil Salad with Capers and Balsamic-Dijon Dressing
Lentil Panzanella w/ Herbed Thyme Dijon Dressing – Well and Full
Turkish Lentil Salad – Hurry the Food Up
Lentil and Brussels Sprout Salad – Green Evi
Warm Puy Lentil Salad with Beetroot and Hazelnuts – Rebel Recipes
Lentil Taco Salad – Veggie Primer
Indian-Inspired Lentil Recipes
Vegan Two Lentil Dahl – Blissful Basil
Red Lentil Dal – Forks Over Knives
Vegan Lentil Curry – Simple Vegan Blog
Red Lentil Kofta – Ceara's Kitchen
Dal Makhani – Elephantastic Vegan
Lentil Tacos, Burgers, Sandwiches
Black Bean Lentil Tacos (picture above)
Lentil Walnut Taco Meat – Oh She Glows
Slow Cooker Lentil Quinoa Taco Filling – Healthy Slow Cooking
Vegan Lentil Burger – Contentedness Cooking
Sloppy Lentil Sandwiches – Veggie Inspired
Vegan Lentil Burger with Basil Mayonnaise – Vegan Heaven
Baked Red Lentil Cakes with Roasted Red Pepper Sauce – Cookin' Canuck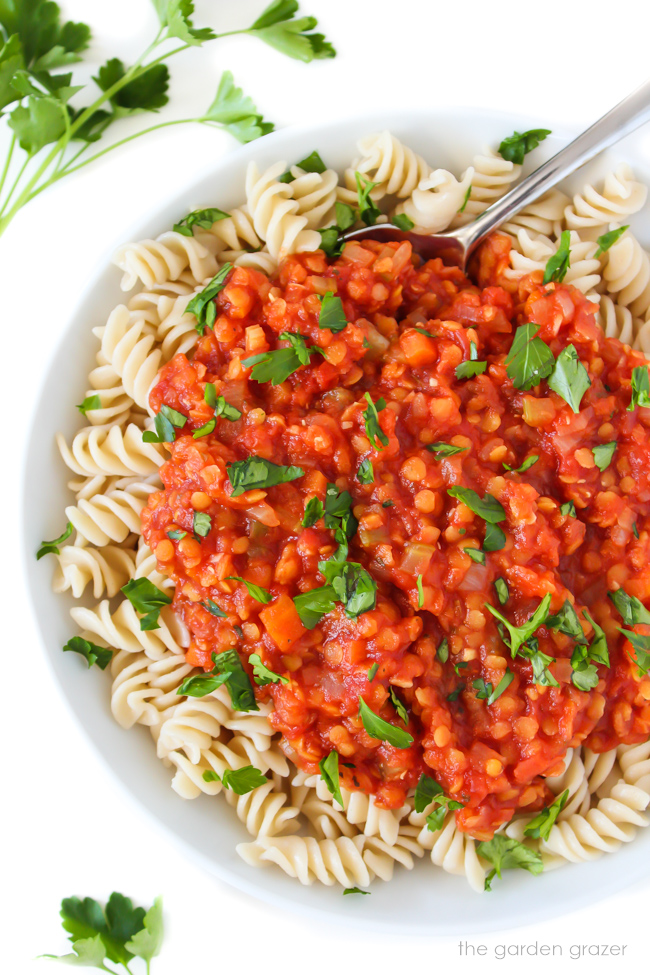 Vegan Lentil Pasta & Sides
Vegan Lentil Bolognese
Sun-Dried Tomato & Lentil Bolognese – The Tofu Diaries
Red Lentil Buffalo Hummus – Blissful Basil
Roasted Red Pepper and Lentil Crackers – Vegan Lovelie
Green Lentil Hummus – Vegetarian Gastronomy
Lentil Burritos, Wraps, & Rolls
Lentil Spinach Burritos (pictured above)
Thai Lentil Lettuce Wraps with Miso Sriracha Peanut Sauce – Vanilla and Bean
Lentil Spring Rolls – Vegan Family Recipes
Vegan Cabbage Rolls – The Minimalist Vegan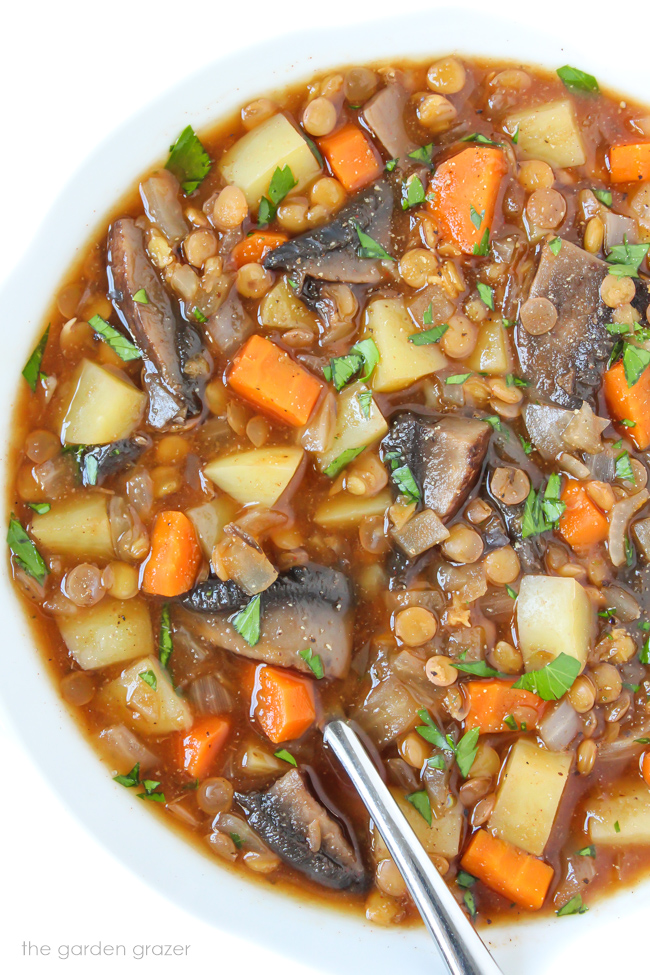 Other Savory Lentil Recipes
Portobello Mushroom & Potato Stew with Lentils
Vegan Lentil Loaf with Roasted Carrots, Onions, and Portobellos – Veganosity
Vegan Walnut-Lentil Chorizo – Blissful Basil
Broccoli with Red Lentil Sauce – Hello Nutritarian
Lentil and Rice Stuffed Portobellos w/ Caramelized Onions – Pumpkin & Peanut Butter
Spiced Tomato Red Lentils – The Viet Vegan
Barbecue Lentil Stuffed Sweet Potatoes – Emilie Eats
Lentil and Vegetable Pie – Vegan Sandra