It's been a long winter, and I wanted to celebrate the weather getting warm enough to break out the flip-flops. (Woo!) So here's a collection of 12 of our favorite healthy vegan salad recipes to refresh and replenish. They're all vegan, plus have simple, homemade dressings for big-time flavor bursts. Happy (almost) summer!

Come join The Garden Grazer on Instagram and share a pic if you make any of these! I love seeing your beautiful recreations.
Healthy Vegan Salad Recipes
My all-time favorite salad! (And one of the most popular recipes on the blog.)

"Oh my goodness. I just made this tonight. It was incredible! One of my guests said "I want to marry this salad." Well put. We are all raving. This will be my go-to salad for guests. Beautiful and delicious." -Debbie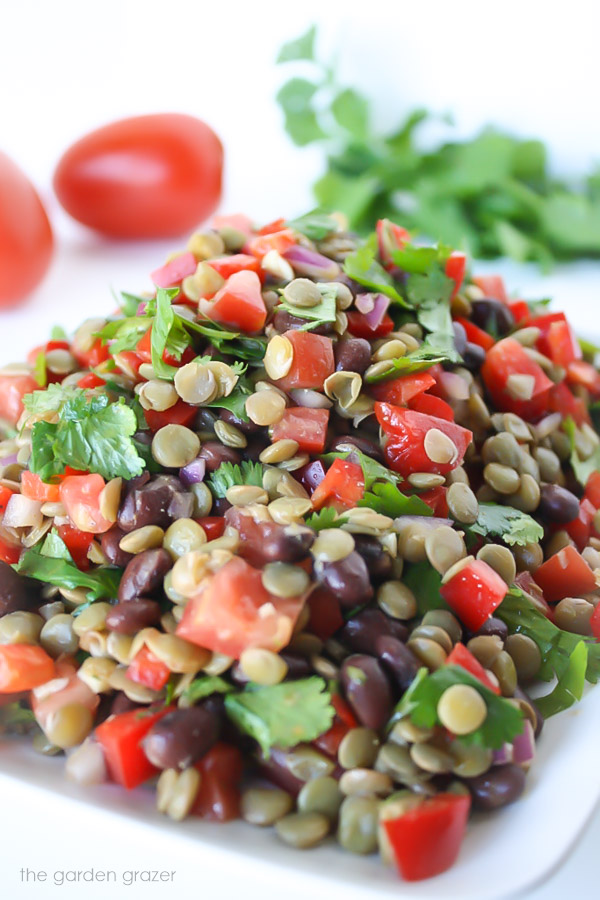 Protein-packed salad that's awesome for packed lunches, picnics, potlucks, etc.

"This is a very tasty recipe. A great side dish, we also enjoyed it as a snack with tortilla chips, so yummy. Thank you." – Anonymous

"Fantastic!! I mixed some spinach leaves and mushrooms in the salad, too and everything was great! Thank you!" -Barbara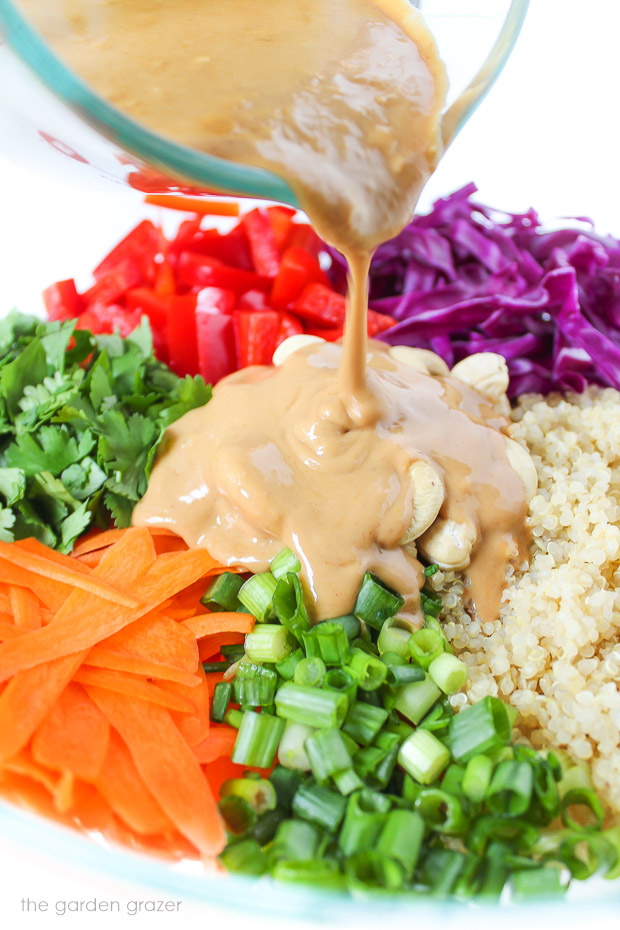 Colorful, crunchy Thai Quinoa Salad tossed in the most delicious garlic-ginger peanut sauce!

"I made this for a family gathering. It was so delicious! Loved it!! It was devoured, I'll definitely be making this again." -Kat

"This was an amazing recipe. So colorful and nutritious. I'm afraid it won't last long! Thank you thank you. A real winner." -CK

"I made this today for lunch for my husband and myself and wow! It was delicious. I added edamame to my serving and my husband ate his in lettuce wraps. So good!!" -Lisa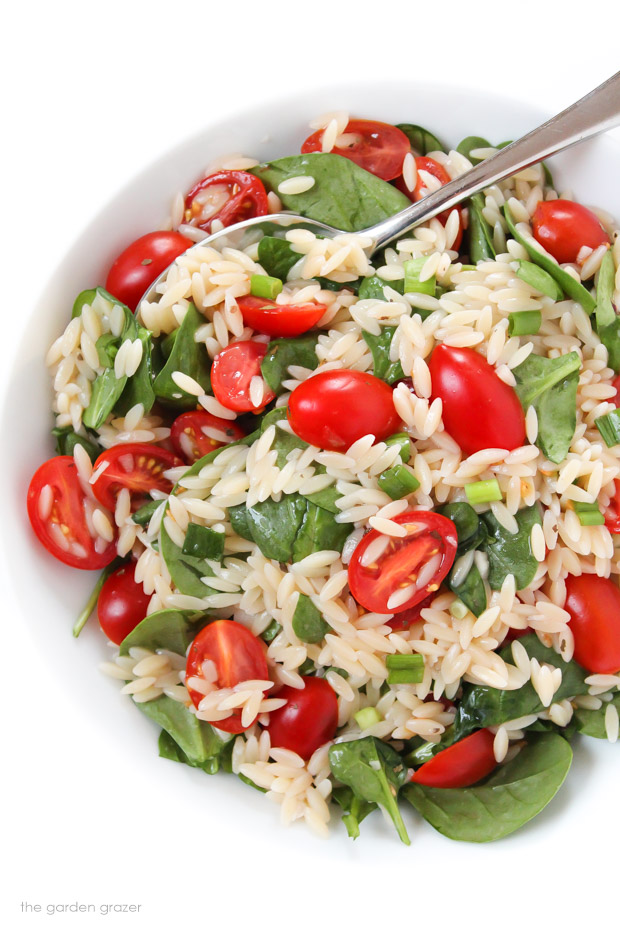 Simple, only 30 minutes to make, and tossed in a delicious red wine vinegar-garlic-basil dressing!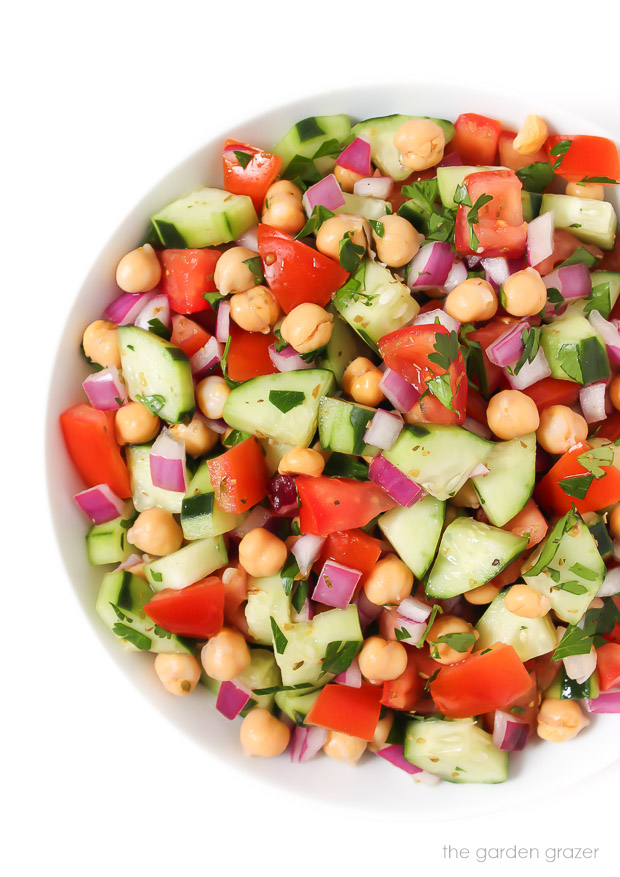 One of my most-made salads! Super crisp and refreshing… with a garbanzo bean boost!

"This is soooo good!!! I've made it several times – it's quick and easy to make, and perfect for a snack at work! Hubby likes it too. Thanks for the recipe." -Caryn

"This was delicious and so refreshing! We've been eating it all week. Thanks!" – Stephanie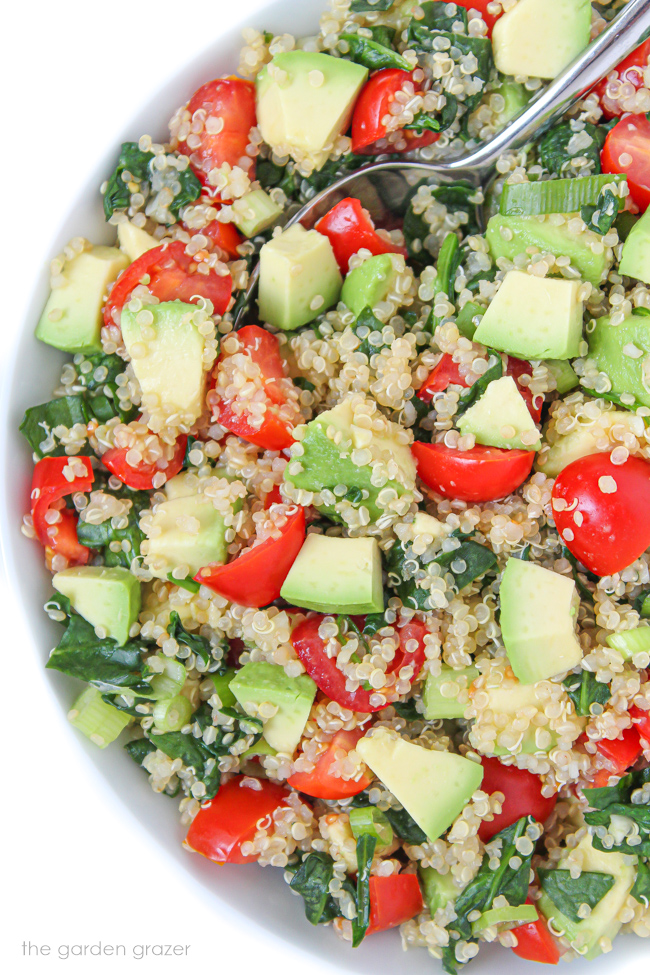 Only 25 minutes to make, and full of healthy, energizing plant-based goodness!

"I saw this on Pinterest and I was so excited that I had all the ingredients on hand that I made it right away for lunch. It was soooo good! Thanks for the awesome recipe. I'll be making this over and over again." -Eleni

"This was amazing! Even my 7 year old loved it! I doubled the spinach and added lemon … YUUUUMM! Thank you for a great recipe!" -Veronica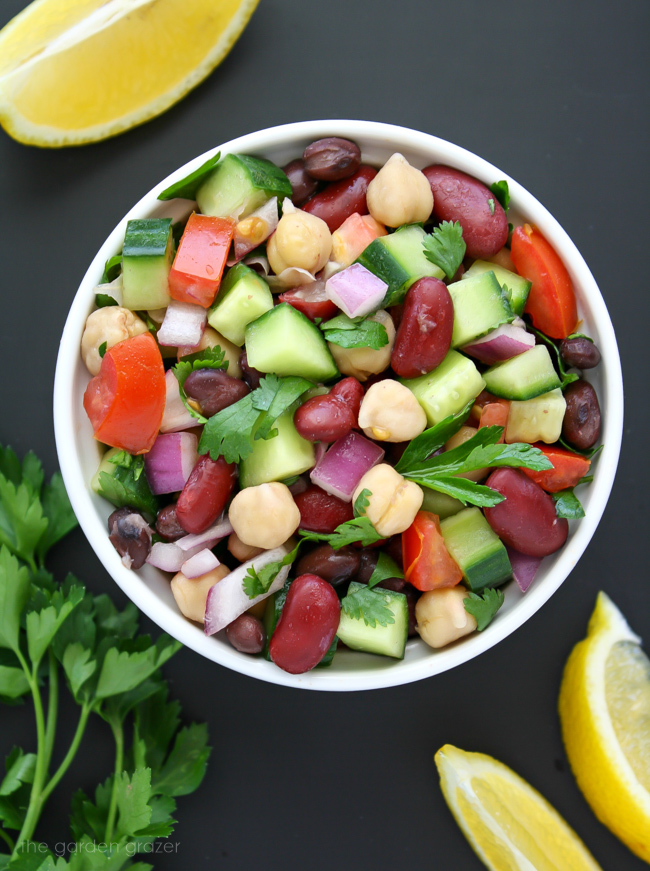 Super flavorful three bean salad with fresh herbs and a lemony dressing! Great for picnics and take-along lunches.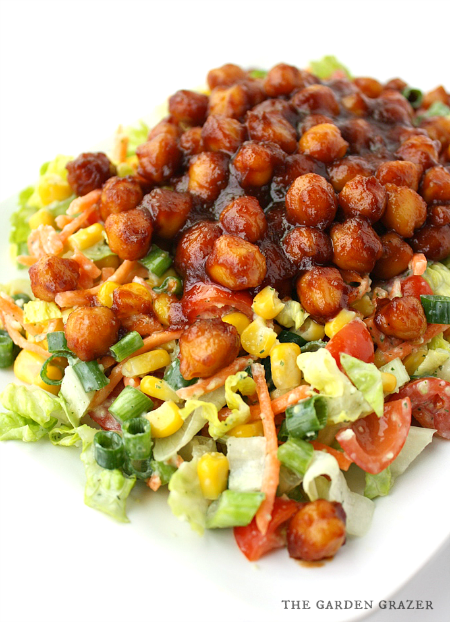 A vegan version of the BBQ Ranch Chicken Salad – made healthier and just as delicious!

"I made this for dinner the other night and my husband and I gobbled it up. Another great recipe! Thank you! Your recipes have consistently been some of our favorite vegetarian/vegan meals." -Mandy

"Very easy to make, and i had most of the ingredients on hand. Delicious!!! The dressing is creamy and thick." -Melissa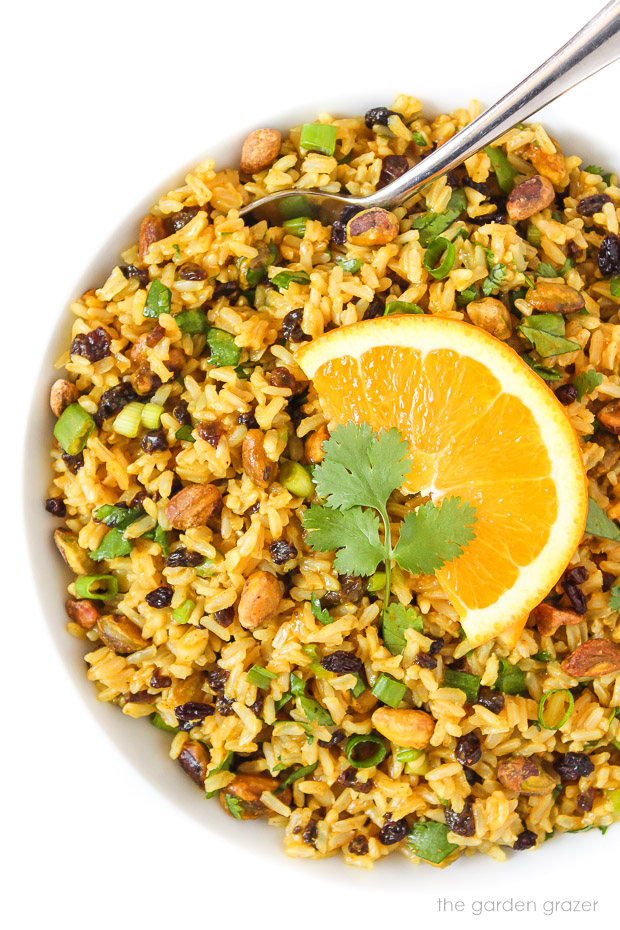 Rice and pistachio salad with a flavorful, sweet curry-orange dressing!

"Really tasty and super simple! I had everything on hand, but modified a bit by adding some chopped mint, cooking the rice in veggie broth and adding a tablespoon of olive oil to the dressing. Served with chutney. Thanks for the plant-based inspiration." -Josie

"I made this last night with a wild rice blend. It was really delicious. I think that I might use just a little less curry powder next time and try blended dates instead of maple syrup to make it a little more WFPB. I also added a very small amount of the orange zest because I love orange flavor. My husband had this to say, " Winner, winner vegan dinner!" We will be adding this dish to our rotation." – Anonymous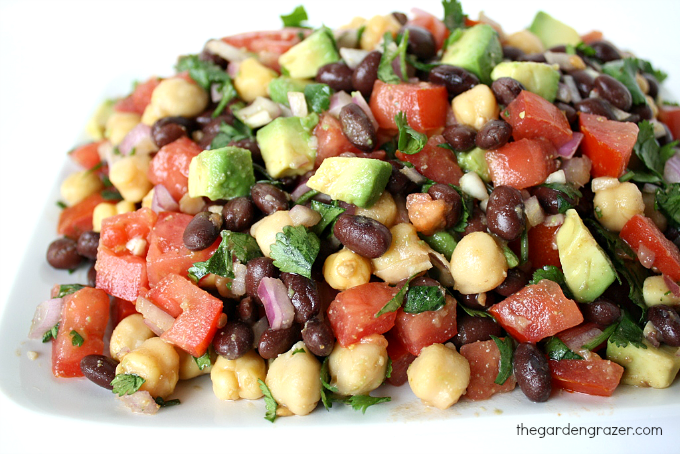 Two bean salad with a southwestern flavor punch of garlic, cumin, and lime. Plus creamy avocado!

"Thanks so much! Tried it for a large group and it was a hit! Will be my go to salad now!" -Ken
Pure summer goodness! Crunchy cucumber, creamy avocado, and juicy tomatoes are the perfect hot weather salad combo.

"Made this for dinner tonight! Delish!!!!" -Marianne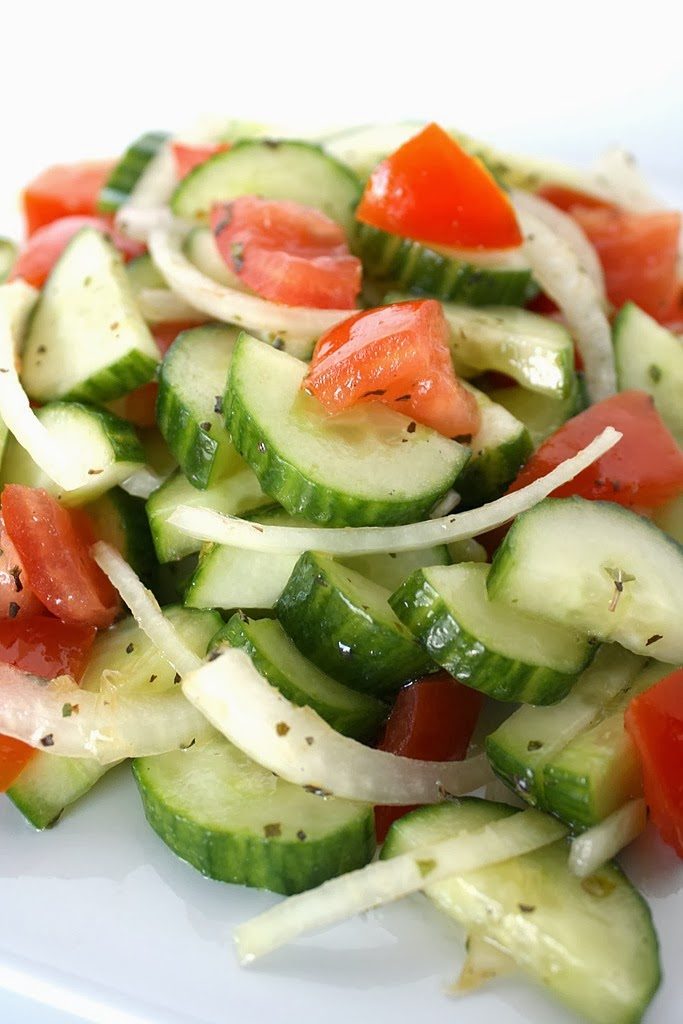 Deliciously refreshing cucumber tomato salad with a simple vinegar dressing. Great for garden-fresh produce!

"I made this yesterday for lunch but with cherry tomatoes! This is my absolute favorite salad and I too eat it all year round!" -Courtney

"I just made this.. Amazing!!! Fresh!!! Love it." -Carly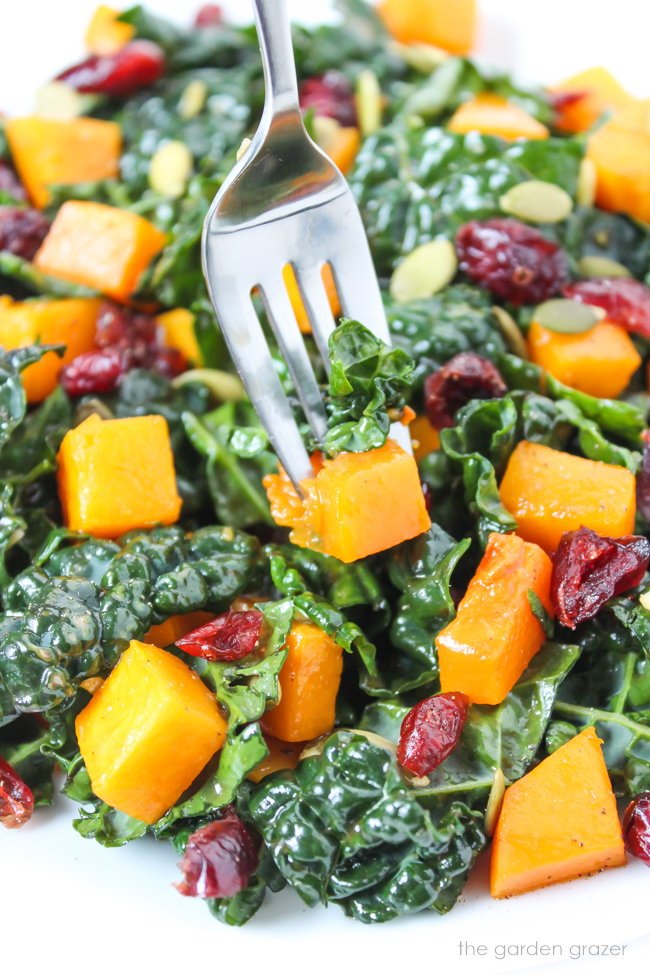 One last bonus recipe geared towards autumn, winter, and holidays! A hearty kale salad with roasted butternut squash and the most delicious rosemary-infused maple balsamic dressing.

"Just made this salad for lunch and holy amazing!!!! The dressing has such great flavor. New favorite fall salad." -Julie
Craving even more vegan salad recipes? Feel free to browse the full "Salad Recipe Archives" on the site for more fresh plant based inspiration!